Friends, it's kitten season.
Every spring, animal shelters brace for the furry *boom* that comes in the form of kittens birthed by un-spayed female cats.
Although kittens are admittedly adorable, the world absolutely doesn't need *this* many cats. There just aren't enough people to care for them or take them into their homes. This adorable surplus is partially to blame for the large stray and feral cat population present in may areas, cities and towns.
Thankfully though, there are effective programs that help keep the cat population down. One such program is TNR, which stands for Trap-Neuter-Return.
According to Alley Cat Allies, TNR is a "humane and effective approach" for caring for stray and feral cats. The organization adds that "scientific studies show that Trap-Neuter-Return improves the lives of feral cats, improves their relationships with the people who live near them, and decreases the size of colonies over time."
I recently trapped my first feral cat.
This surly-looking boy's name is Frankie, short for Frankenstein. I was able to easily trap him in a humane trap I rented. Once trapped, I took him to a feral cat clinic where he got neutered (he also got much-needed medical care in the form of an antibiotic shot and a shave for heavy matting), a rabies shot and a microchip.
One of the reasons I was able to scoop him up and transport him with ease is thanks to my freelance, work-from-home lifestyle.
And a day later, he's free, thirsty, trying to start mischief, and back under the deck. Catch ya later, Frankenstein. #communitycats #cats 🖤 pic.twitter.com/g36XBCykcf

— Abbie Stutzer (@AbbieStutzer) March 12, 2021
This got me thinking…
I, like many of you, follow Sydney Leathers on Twitter. If you follow Leathers, you are most likely aware that, in addition to her work, she cares for her own cats and routinely TNRs community cats.
I recently reached out the Leathers and asked her about how she got into TNR and the cats she's helped. We also discussed how her work gives her the flexibility to TNR cats with ease. Check out this useful information about a great thing the "work from home lifestyle" can facilitate, as demonstrated by a member of our cammunity!
—
YNOT Cam: What got you interested in TNR?
Sydney Leathers: I first got interested in TNR a couple years ago when I started noticing feral cats in my neighborhood. I knew I wanted to help them, so I started feeding them and began TNR from there. I bought a few traps and watched videos on YouTube to prepare. I highly recommend Kitten Lady's TNR vid for beginners!
💗 https://t.co/J7Ro2Sb4l4 💗 pic.twitter.com/09y7px9i2J

— Sydney Leathers (@sydneyelainexo) March 18, 2021
How many cats do you think you've helped in this way over the years?
I've kind of lost track of how many cats I've caught so far, but I'd estimate between 20-30. I still trap in my neighborhood but have also helped my friends with ferals in their neighborhoods too.
In general, how much money do you think you've put toward this work?
The price is very reasonable. It's about $50 per cat, and they get vaccinated too. I do this at a local humane society. It's significantly cheaper than it would be if I took them to the vet. They still get the same level of care, just at a cheaper cost since it's a community program.
What's your most memorable trapping story?
My most memorable trap was my first! I was trying to catch one of the couple cats I had been feeding, but instead I caught a random fluffy gray cat I had never seen before. He was totally feral then, but after getting fixed, he eventually decided he was obsessed with me. He now lives inside full time with me and is the happiest kitty! It's very special. I feel lucky he chose me.
"This gray kitty is my boy Seymour, the first cat I TNR'd who is now a happy house cat." — Sydney Leathers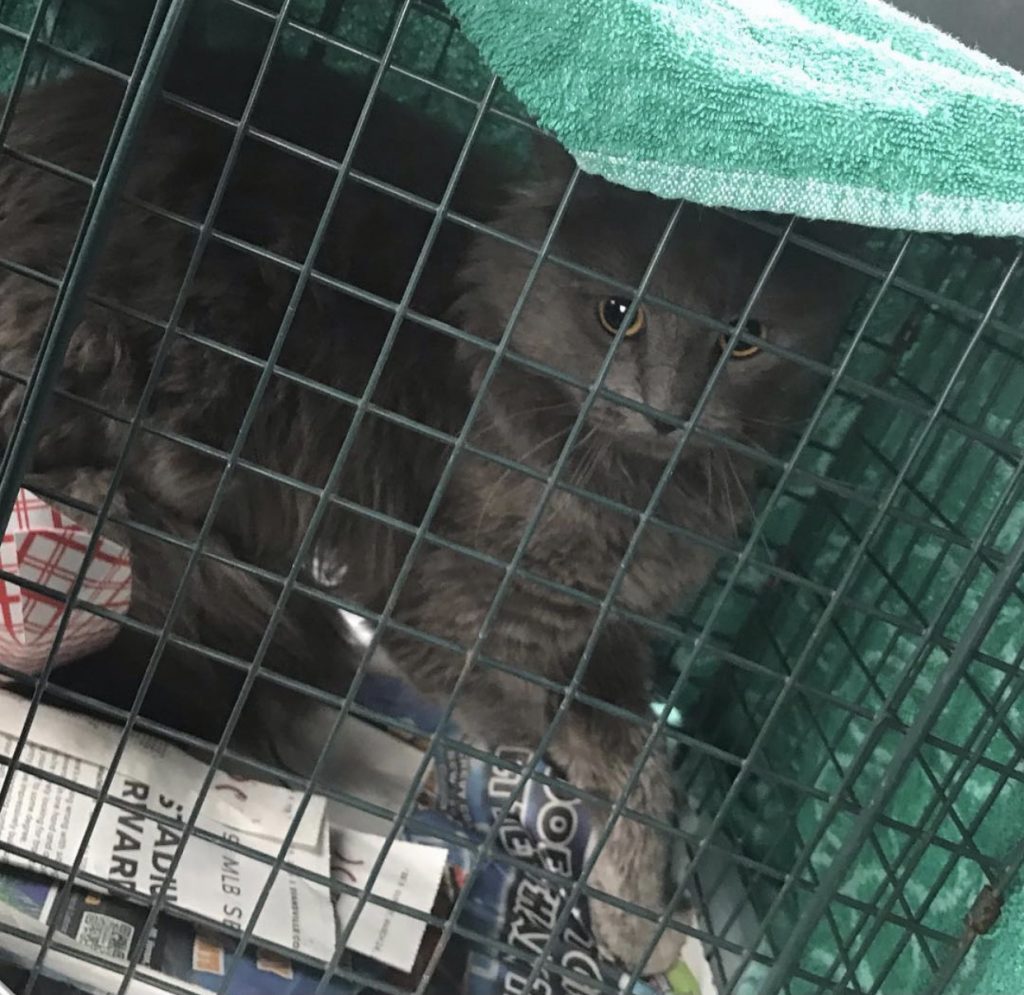 What's your favorite thing about helping the cats in your neighborhood?
Any of the cats in my neighborhood that show signs of being friendly I try to find homes for. Feral cats belong in the wild because they're wild. But any I'm able to tame, I want to get inside.
My favorite thing about TNR is knowing this one act permanently impacts the lives of these cats and all the cats they encounter. They live much happier, healthier lives this way. It always melts my heart when I see the cats I've TNR'd thriving in their environment.
Do you think your work-from-home occupation allows you to do this type of giving-back work easily?
Working from home definitely helps when it comes to TNR. The local shelter only takes TNR cats twice a week, so I set traps on those days, and I'm able to stick around at home to monitor them and transport the kitties.
Seymour, recently.
the many faces of Seymour pic.twitter.com/TtPz9cLWCv

— Sydney Leathers (@sydneyelainexo) March 19, 2021
—
Abbie Stutzer is a queer, non-binary writer living in Kansas City, MO. You can find them doing witchy stuff at home with their numerous pets or at the local animal shelter saving lives. Contact Stutzer via abbie@ynotcam.com.
Background header image via Unsplash here.