Happy spring!
Although we're just at the start of this glorious new season, new social media updates are *always* "in season" …and plentiful.
The following are just a few recent social media updates that caught our eyes.
Finally: Twitter Tests an "Undo" Option
Although Twitter has yet to test out or create the hotly desired edit button, it seems the social media platform is making an "Undo" tweet feature as a compromise.
"[This] new option would enable you to recall your tweet within a 5-second window, which could be enough time to quickly check over your witty observation and catch any clumsy errors before it's unleashed," Social Media Today reported.
Social Media Today added that there are a few possible benefits to Twitter's proposed undo button:
1. Most obviously, it will allow people to catch errors. (Although, I never find my errors within five seconds after I hit send. It's always at least a half-hour later when I'm laughing to myself about what I posted… Then I go to look at the tweet to relive my glory, and I only find shame.)
2. Re-think the tweet. They wrote that, "Small elements of friction like this within the tweet process can often be enough to provide a moment of clarity, and may stop users from sending offensive or unintended comments as a result."
Screengrab via PopSugar.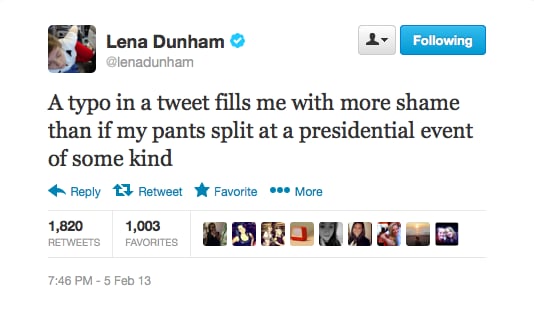 TikTok Adds Comment Review Options
TikTok is now allowing people to filter the comments that appear on their clips.
TikTok stated: "With our new Filter All Comments feature, creators can decide which comments will appear on their videos. When enabled, comments aren't displayed unless the video's creator approves them using the new comment management tool."
TikTok already allowed content creators to filter out offensive and spammy comments and comments that contain keywords the account owner selected to filter.
Social Media Today added that people will still have to read comments to review them, which may seem like a no-brainer, but other apps have figured out "AI-powered" workarounds for comment filtering. These AI tools help "detect potentially offensive remarks and remove them without the user ever having to view them at all."
Instagram Tests Auto-Captions for Stories
Accessibility advocates, rejoice! Closed captioning may be coming to Instagram stories.
According to Social Media Today, Instagram is testing "closed caption stickers" that will generate "automated captions for your Stories clips in a range of text formats."
Once the "Captions sticker" is added to a video clip, the creator will see a "transcribing audio prompt" on their screen. From there, the Stories maker can "view the text" from their video, which "displays in time" with their speech.
The article adds that Instagram is testing four text style options.
"The option is similar to the same tool that Instagram added to its separate Threads app late last year, which quickly saw Threads rise up the download charts," Social Media Today explained. "But it wasn't because people wanted to send messages to their Instagram inner-circle – a large number of users downloaded Threads in order to make clips using the auto-captions feature, which they then uploaded to TikTok with the on-screen text."
Cool stuff!
Image via Insta here.
—
Abbie Stutzer is a queer, non-binary writer living in Kansas City, MO. You can find them doing witchy stuff at home with their numerous pets or at the local animal shelter saving lives. Contact Stutzer via abbie@ynotcam.com.
Background header image via Unsplash here.