On April 22, 2017, Twitter user @joker4u2nite tweeted some exciting news:
@effy_elizabeth_ @AutumnKayy_ @_autumnkayy You two are fucking famous! Go check it the series on Netflix. Hot Girls Wanted: Turned On – E6 pic.twitter.com/KO7dfVn6eZ

— Mia's Joker_X (@joker4u2nite) April 22, 2017
Little did he know that, rather than getting to share a positive bit of supportive attention from a major media production, his message informed models Effy Elizabeth and Autumn Kayy, the entire webcam community and adult entertainment in general about another slap in the face from mainstream Hollywood.
Here's what happened.
Hollywood royalty Rashida Jones and a team of Disney-related ladies set out to investigate contemporary adult entertainment, resulting in 2015's Hot Girls Wanted. The film — I am purposely not referring to it as a documentary, cuz it's 100-percent a movie telling a story — relied on unsubstantiated number-figures, slut shaming and fear mongering to explore what's described as "pro-am" in South Florida. The entire thing is a hot mess — and, sadly, a wasted opportunity. Rather than investigating the lives of sex workers in an even-handed manner, or even considering wider social issues that shape human behavior, it's a judgey, slanted debacle that foregrounds Disney-Jones' "correct" ideas about sex and sexual expression.
Needless to say, the producers got a lot of strongly worded notes from a wide variety of people inside and outside the industry.
Fast-forward to April 21, 2017, and the release of Hot Girls Wanted: Turned On, a six-part short film series streaming on Netflix that explores various aspects and corners of sex and sexual expression in today's technology-saturated world. In many ways, the producers do do a more diverse job than they did in the original. They consider women porn producers (Episode 1), webcam (Episode 4), and in Episode 6, entitled "Don't Stop Filming" … well, they talk about teens, Periscope and laws struggling to catch up with lightening-fast changing behavior trends in young people shaped by ever-evolving and expanding technology.
I could go on and on about each episode, but Episode 6 — surprisingly — is where we run into some majorly fucked-up footage. Within the first four minutes of "Don't Stop Filming," viewers are faced with an alarming picture: TEENS ARE BROADCASTING THEIR LIVES ON LIVE-STREAM APPS AND THEY CAN'T STOP! THERE'S EVEN SEXY STUFF! PERISCOOOOOOPE.
Then it happens: Immediately following a newscaster's voiceover stating "Live streaming at the touch of a button can be a dangerous tool in the hands of teenagers…" the picture narrows to a smartphone-sized view. Then, for 10 full seconds, we see Effy and Autumn interacting with viewers as they Periscope during a live broadcast on MyFreeCams.
Let me say that in another way: Two professional models are working, yet footage of their adult-aged, job-related interaction with viewers is taken out of context and placed within a narrative about the dangers teens face online.
"It's supposed to bring light to our work, and I got randomly put onto an episode about a couple live streaming a rape?" Effy asked rhetorically when I reached out to her via Twitter DM. "I do not want to be attached to that. I'm not some careless teenager on the internet like they've [presented]."
The overall theme of Episode 6 is akin to "Teens are powerless to maintain their own good judgment in the face of hypnotic technology." Producers recount the story of Marina Lonina, who recently was convicted on counts related to live-streaming a rape in 2016. This is what Effy very reasonably does not want her work attached to. And yet, the nonconsensual misrepresentation of her image (and Autumn's) are at the top of Netflix as we speak.
Distortion of the footage is just the first issue. Per Effy, this Periscope footage was originally broadcast in February, and neither she nor Autumn were alerted in advance to its use in Hot Girls Wanted, much less asked for permission. When Autumn reached out to the producers via Twitter, she received this message, offering to explain fair use (screen grabs used with permission):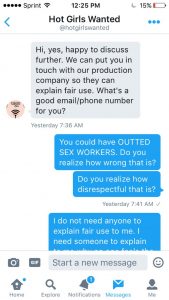 Grabs of Autumn's attempts to correspond.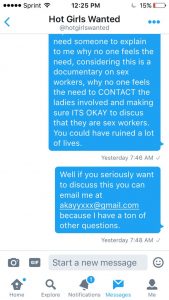 Upon writing this (Monday afternoon, April 23), Autumn still has not received any additional response from the filmmakers.
Here's the thing: The makers of Hot Girls Wanted: Turned On are probably correct. They probably have fair use rights to Periscope footage. I'm not a lawyer, but I'm willing to bet they have a team of them that reviewed all of this long before @joker4u2nite and the rest of the free world saw Episode 6. But though this may be absolutely legal, it is ironic and extremely exploitative. In using this footage, as well as slow-panning thumbnail galleries from webcam networks, the producers of Hot Girls Wanted put every single person pictured at risk of outing — and everything that comes with it. The irony of a band of fancy Hollywood ladies looking to shed light on various dimensions of sex work — and I'm not at all convinced of the nobility of the effort — while simultaneously exploiting models in this way is ultra-fucked-up. There is no other way to lay it down.
Which brings us to our inevitable takeaway. Models, though your work is legal and viable and real and good, the law is not on your side. Always be aware that in a battle between you and Rashida Jones, our culture continues to be on the side of alarmist pearl-clutching and the sustained narrative of "correct" sexual expression.
#fact
—
Tweet to Hot Girls Wanted at @HotGirlsWanted and #HotGirlsWanted.