We recently heard about an event — "Kink & Chill 2021" — which will be happening on April 24th.
In addition to being an interesting professional networking and education opportunity, this event info also introduced us to pro domme, educator and sex worker advocate Mistress Marley. Marley is the mastermind behind the "Kink & Chill" event, and she seems awesome.
Take a look at more details below and maybe take the opportunity to explore learning from this incredible community mentor.
—
New York, NY — Sex educator and pro domme Mistress Marley recently announced the "Kink & Chill 2021: An Interactive Summit for SWers, Kinky Folx, and Allies." The afternoon of entertainment, education, networking and good times will happen on Saturday, April 24, 12:00 PM PDT/3:00 PM EDT.
Marley, aka The Chocolate Domme, is a New York City-based sex educator, sex worker advocate, mentor and professional dominatrix that specializes in financial domination. She is also the impetus behind the Black Domme Sorority mentoring collective, a safe space for Black and Afro-Latina women to come together in order to network, promote one another's content and offer a true support system for each other as underrepresented professionals in the industry.
"The Kink & Chill Interactive Summit was created with the intention of bringing some positivity and personal connection after a year of socially distancing," said Marley. "It's important during this time to be extra-supportive in our efforts to help our fellow friends, colleagues and industry peers by creating a welcoming space, as well as resources and opportunities that benefit us as a community."
Marley will host the three-hour "Kink & Chill" event entirely on Zoom. The exciting lineup of inspiring entertainers and educators includes:
Burlesque
Mandarine Moon Fly
Carmen Caliente
Kinky Demonstrations
King Heff — Heart Space Connection and Bootay Tenderloin Activation
Lotus Rope Wolf and The Green Gawdess — Sensual Rope Performance
Naked Trumpeter — Impact Play, Breath Play, Hot Wax, Knife Play
Bria Thee Goddess — Pet Play
Wiley Wolfe — Sploshing in Puppy Training
Kink Education
Perverts of Color — Spirituality of Sadomasochism
Ashley Young — Creating Sex Magic: Enchanting a Honey Jar Candle
Sex Toy Talk
Pleasurable Seductions — Pleasure Workshop
Carly S — Toy Workshop
Visit EventBrite.com to purchase tickets for "Kink & Chill" 2021. Early Bird tickets can be purchased for $40 through April 16. General Admission tickets are $50 thereafter. A portion of the event's ticket proceeds will be donated to select sex worker organizations.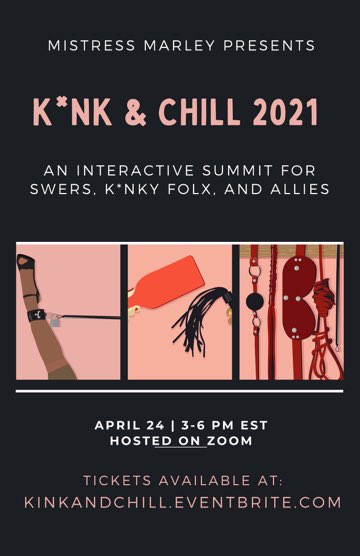 —
Erika is a sex positive people watcher (and writer). Email her at erika@ynotcam.com.