OnlyFans recently banned porn and then quickly changed their mind, doing a rapid 180 on their decision — but is it too late for some creators?
After rumors ran rampant that OnlyFans was banning sexually explicit content, they finally announced that these rumors were indeed real. They sent out emails to users about their decision to update their acceptable use policy, which stated that any new content containing sexually explicit content will be prohibited. Many users were left wondering why they decided to make this change and prohibit the content that has made the company millions of dollars.
Then, in a rapid backpedal, they ended up changing their minds, but is it too late for some creators?
The Decision to Ban Porn on OnlyFans
Rumors have been running wild for a while now that OnlyFans was banning pornographic content, but until recently that was all they were. It was until a couple weeks ago when OnlyFans finally admitted that the rumors were true and left many people wondering why they would do away with the content that has made their company the most money. The answer is that the banking institutions which facilitate payments between the fans and creators of the website have certain requirements and OnlyFans wanted to do what they could in order to comply with these regulations.
OnlyFans relies heavily on these institutions, so they put this new rule in place in order to ensure the long term sustainability of the website since there are other creators than sex workers who use the platform. However the majority of the people who use the website are sex workers and that left so many users angry at this decision. OnlyFans took to their Twitter account to state that while they are aware that the website would not be what it is today without the pornographic content they backed up their decision and assured users that they are working on coming up with a solution.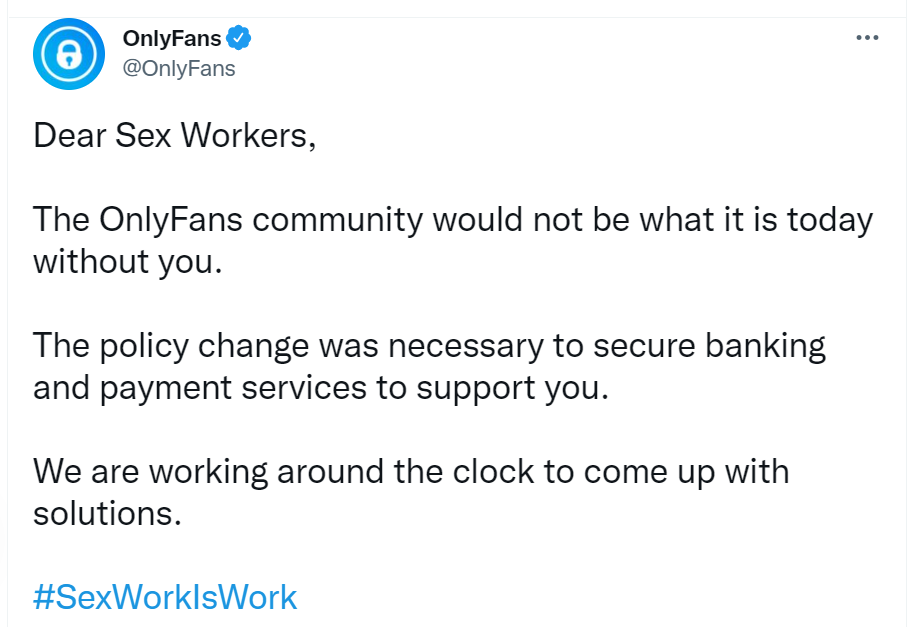 OnlyFans Reverses Porn Ban
When OnlyFans announced that they were working on coming up with a solution I don't think many people had high hopes that they would indeed find one. However, less than a week after their announcement to ban porn on their platform, they changed their minds stating that they were able to secure an agreement with their payment processors. 
Another email was send out to creators which stated that their policies were not going to change due to the fact that their banking partners assured the website that they can continue to support creators of all genres, including sex workers. They also stated that they are "committed to providing a safe and dependable platform for all creators and their fans."

What's Next for NSFW Creators?
Since the majority of the NSFW content on OnlyFans is pornographic in nature that left many creators looking to find a new platform to post their content to. In less than a week many creators, like Rave Queen, had already started making the switch to other platforms. She stated that she no longer trusts OnlyFans and has been in the process of moving all of her content over to Fansly, which seems to be the top platform NSFW creators were switching to. 
"I'm really annoyed about it," Rave Queen told us. "I don't think they care about sex workers at all. They were just silly enough to think that their platform could survive without us and then quickly realized that it couldn't."
She went on to say, "They made so much money off us and then just tried to toss us aside like we were nothing." 
If OnlyFans would have went through with this porn ban, they would have been leaving a lot of people out of a job, as this is the sole income of a large majority of sex workers who use the platform. Not only would these creators be losing money, but OnlyFans would have lost a lot of money as well since the majority of their creators are sex workers.
The whole ordeal sounds like a giant mess, and it should not come as a surprise to OnlyFans if they start losing creators over this.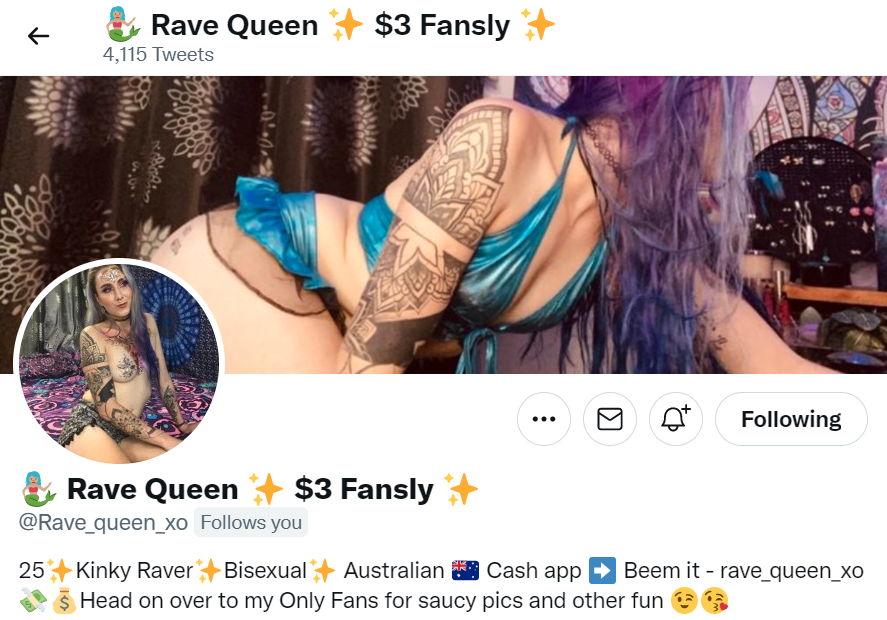 —
Ava Rose is a 420-friendly lingerie model and adult content writer. Find her on Twitter @Ava_Rose420 and email her via ava@ynotcam.com.
Screengrabs but the author. Background banner image via Unsplash here.