The Free Speech Coalition (FSC) and FanCentro's Centro University are hosting a special webinar tackling potential ethical issues in content trades, clips and fan content this week/tomorrow!
The webinar, "How to Be An Ethical Creator," will be hosted by FSC Board Member Lucy Hart on Tuesday, November 16 at 11 am PT.
"Thanks to fan sites, adult performers have more control over what they shoot and how they shoot than ever before," said Kat Revenga, Vice President of Marketing at FanCentro. "But that doesn't mean that it's entirely free of ethical concerns. As proponents of the ethical porn movement, we wanted to have a frank discussion to help creators keep their productions, businesses and relationships fair and consent-based."
Event organizers state the event is 100% for:
— Influencers
— Cam models
— Industry newbies
— Industry experts
— Sex workers
— Performers
The "How to Be an Ethical Creator" webinar brings together leading creators and influencers to talk about the discussions creators need to have before they shoot, how to negotiate, and how to be legal as well as ethical when dealing with fellow creators. Rachel Starr, Jet Setting Jasmine, King Noire, Casey Curses, Tilly Toy and Chrissy LeBlanc will join host Hart for the discussion.
"All of these creators have shown through their content, online presence, and reputations that they're who to look up to in terms of how to be more ethical," said FSC Industry Relations Advocate Lotus Lain. "People ask me all the time, 'Who makes ethical porn?' I tell them it's not in the product, it's in the treatment of people."
Details
"How to Be an Ethical Creator"
Tuesday, November 16, 2021
11 am PT/2 pm ET
Register right here!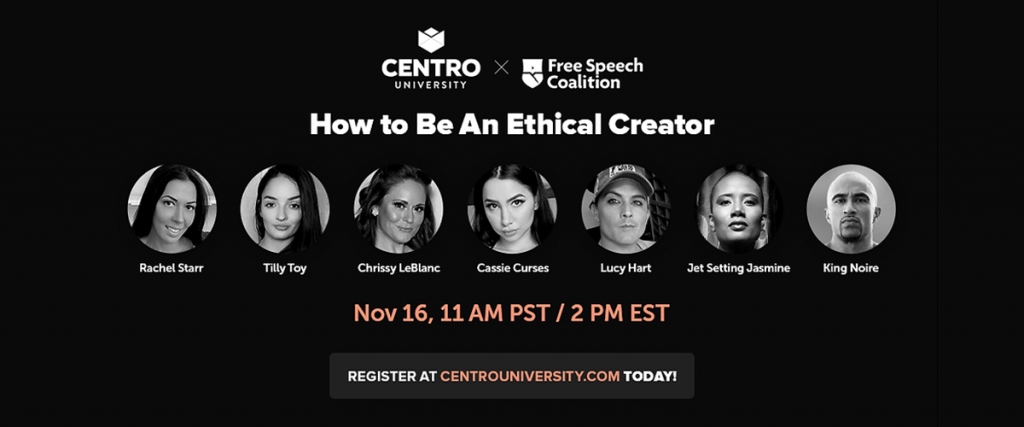 —
Erika is a sex positive people watcher (and writer). Email her at erika@ynotcam.com.