We can't always control what's in our food – it can be nearly impossible to assure that everything we're consuming is 100% safe, from animals that have grazed on grasses affected by acid rain to soil that has lost its nutrients from being over farmed, from high fructose corn syrup that sneaks its way into products – but one thing we can do, is to be aware of fruits and vegetables that are heavily doused with chemicals and avoid them.
Pesticides have been shown to be incredibly toxic to our system and can cause asthma, nausea, diarrhea, headaches, cancers, cardiovascular disease, and more.
In an article by Consumer Reports, Devon Payne-Sturges, DrPH, an associate professor at the University of Maryland School of Public Health in College Park stated it best "Pesticides are chemicals that are specifically designed to kill living organisms." So yes, that means they'll wipe out insects that'll wreak havoc on a piece of broccoli… but newsflash… you are living too, so too much of a pesticide and you're gonna get wiped out as well.
The Environmental Protection Agency (EPA) regulates how much pesticide is too much, but according to Consumer Reports the tests to make sure what is being sold in the marketplace is safe are inaccurate. Therefore, one should err on the side of caution, and buy organic as much as possible… right?
In theory yes, but buying organic is expensive, so what do you do to be kind to your pocketbook?
I turn to a list which is called The Dirty Dozen and The Clean 15 put out by The Environmental Working Group(EWG).
The Dirty Dozen is the produce you want to avoid buying non-organic because they're heavily doused with chemicals. The Clean 15 are the ones deemed safe to buy conventionally grown. If the produce you're contemplating buying isn't on either list, I'd err on the side of caution and just buy the organic version.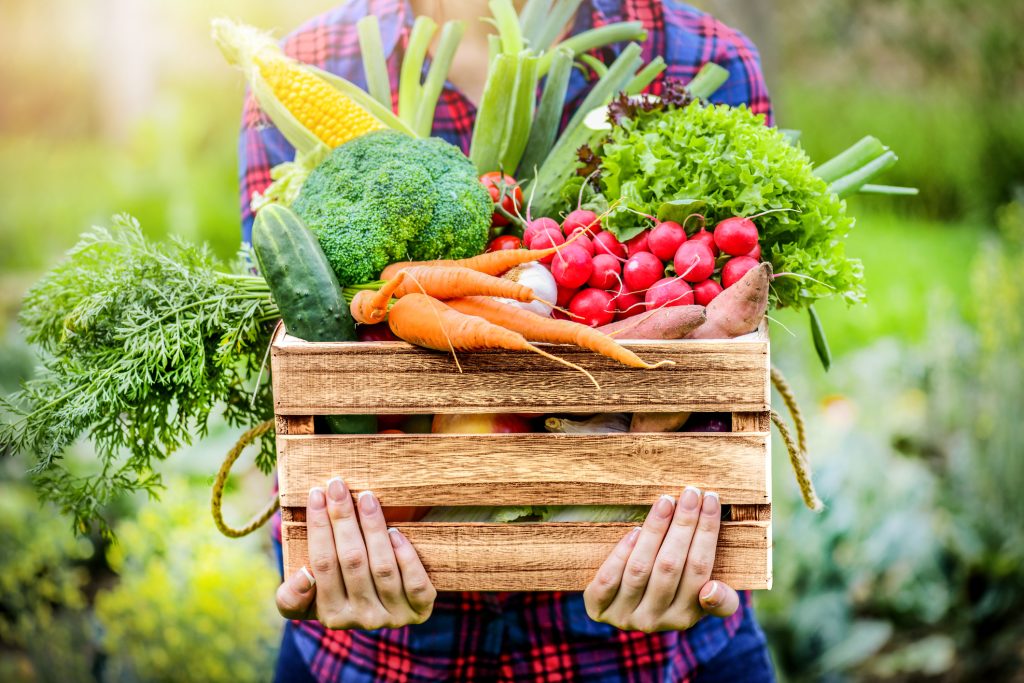 | | |
| --- | --- |
| The Dirty Dozen | The Clean 15 |
| Strawberries | Avocadoes |
| Spinach | Sweet Corn |
| Kale, Collard, Mustard Greens | Pineapple |
| Nectarines | Onions |
| Apples | Papaya |
| Grapes | Sweet Peas (Frozen) |
| Bell & Hot Peppers | Asparagus |
| Cherries | Honeydew Melon |
| Peaches | Kiwi |
| Pears | Cabbage |
| Celery | Mushrooms |
| Tomatoes | Cantaloupe |
| | Mangoes |
| | Watermelon |
| | Sweet Potatoes |
As a caveat, one very important item is missing from this Dirty Dozen list – coffee.
Coffee is one of the most chemically treated crops out there. I know organic coffee is super pricey – but I will tell you when I went organic, I no longer got headaches if I skipped a few days. I don't know if the pesticides were causing my headaches, but I've never had a problem since going organic.
In closing, another thing you can do to protect yourself is always wash any fruits and vegetables thoroughly. To make things even more confusing, that means organic produce too, because though organic is most likely always safer, sometimes they're contaminated as well.
The College of Naturopathic Medicine suggests any of these three ways to clean produce:
Soak in salt water – preferably sea salt or Himalayan for 20 minutes. Rinse.
Soak in baking soda – add 1 teaspoon to two cups of water then soak for 15 minutes. Rinse.
Soak in vinegar and water – Use 1 part vinegar to 4 parts water for 20 minutes.
Main photo credit: iStock.com/VesolvaElena
Second photo credit: iStock.com/MilanKrasula
—
Alyssa Collins hails from Minnesota, where snowy days were the perfect excuse to stay warm inside and write. Over the years, she turned that joy into a career and has authored numerous articles for various publications (under pen names). Email Alyssa via alyssa@ynot.com.