German trans girl cam model, creator, and adult performer, Emily Adaire produces her own amateur content, and has done pro-scenes for Grooby, Legal Porno, Insatiable Pictures, and more. Fans know her as a size queen, adventurer, and international traveler, but Emily can't be put into a box!
An art school dropout who left because everyone in her circle was talking about art instead of doing it, Emily embraced her unique qualities, became comfortable in her own skin, and in only a short time after discovering camming she's became a top trans studio and an award-winning content creator – going on to win Best Trans Clip Artist from the TEAs.
If you've ever felt unsure about yourself, Emily has some advice and insight from hard earned learning of her own that she shares in this interview. Enjoy!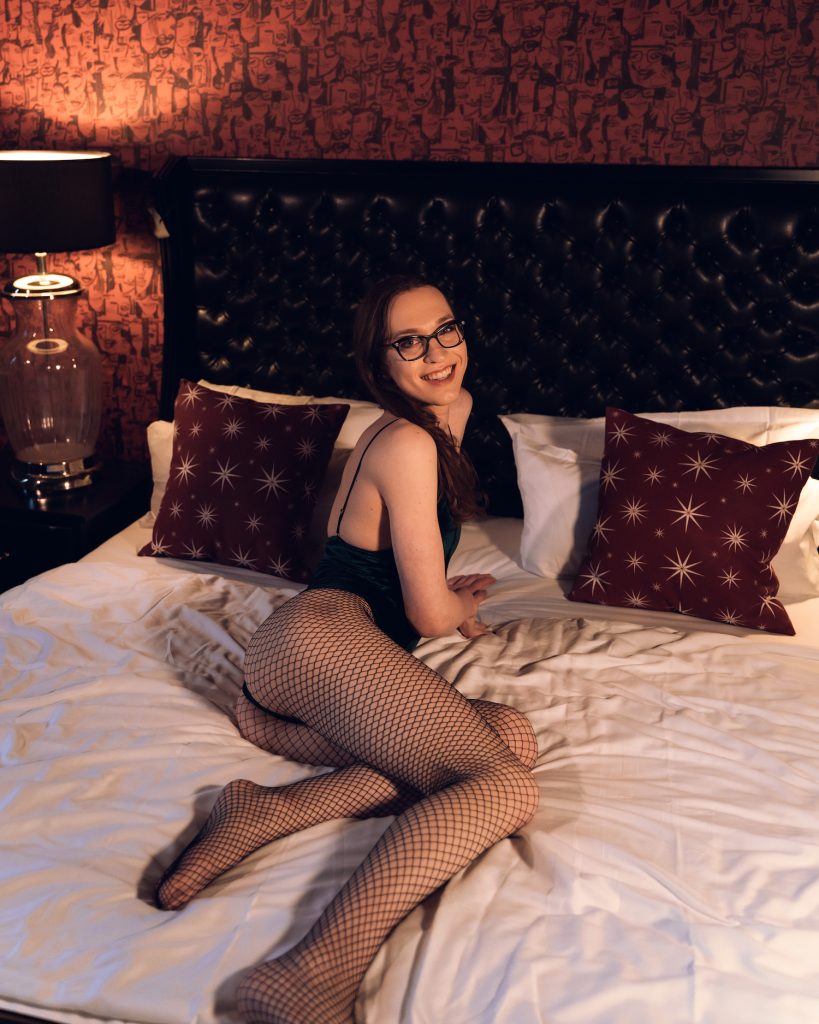 How did you get your start and was it difficult to do your first show?

I did my first webcam show during the initial lockdown in March 2020, after making some small videos the months before. So, it helped me to know beforehand that I felt comfortable in front of the camera. And I just really enjoyed myself, as I felt lonely at home and was happy to be talking to people!
What do you think are the most important skills one needs to have to be a successful cam model?

The most important skill is to have clear boundaries.
There will be many different people with different expectations, and you can't cater to everyone. But, if you stay true to doing what you enjoy, the right people will become your audience.
What is your pet peeve about the industry that you wish would change? And on the flip side of it, what do you love most about the industry?

What really annoys me is how unrealistic earning expectations are created and reinforced.
Often, platforms or people profiting off their recruitment links claim that everyone can make exorbitant amounts of money, even though 90% of people won't. Sex work is work and not a shortcut to getting rich quickly.
What I love about the industry is its honesty. No one cares about your degree. If you do a good job, deliver consistently, and maintain a good reputation, that's almost all you need.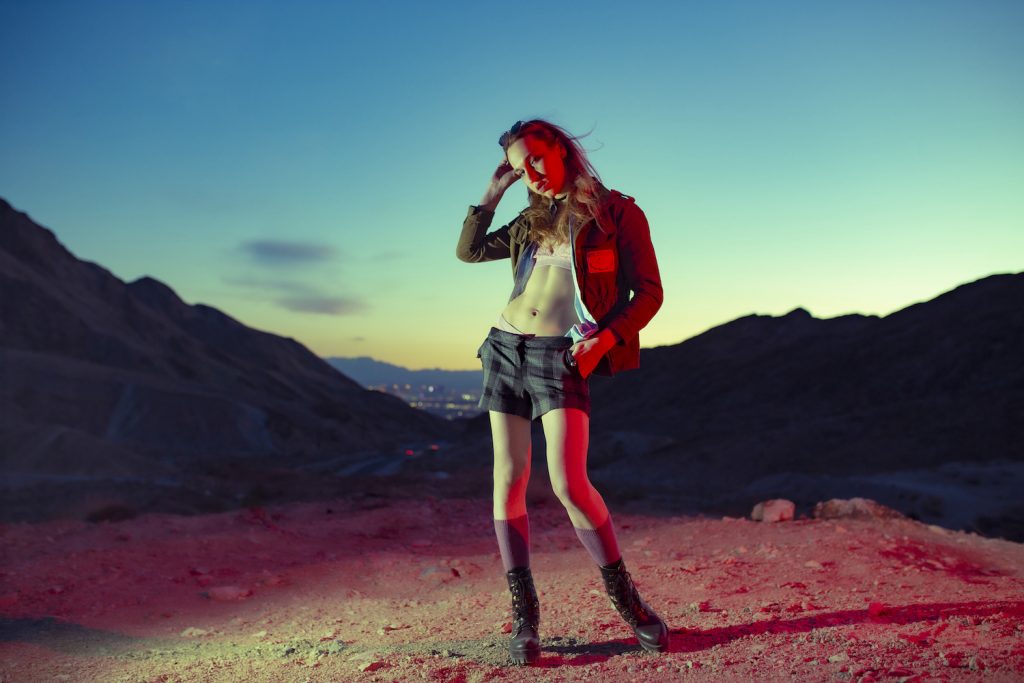 You went to art school and proudly mention in your bio how you dropped out, what's the story behind that and how did it make you the person you are today?
I spent almost a decade in the fine art scene until I realized it didn't really make me happy.
I loved creating things and wanted to make stuff that people enjoy, but I learned that no one would take you seriously as an artist without an academic background. So, I went to fine art school. But instead of creating things, it was all about talking about creating things. That wasn't for me. In the adult industry, I can just do my own stuff, and if people enjoy it, that's all that matters.
You love to travel, what are some of your favorite places in the world and why?

That's a difficult question. There are just so many amazing places to see!
My favorite place in Germany is Hamburg, where I currently live. The redlight district around the Reeperbahn is awesome too. There are so many cool bars with amazing people to meet, and recently, I found a place with an old-school pinball machine!
I enjoy traveling by train in Europe because the ride is as beautiful as the destination! The train rides through Switzerland are especially lovely, as well as the ride on the old Euro city train from Dresden to Prague.
There's still so much I've got to see in the US, but I really enjoyed all the places I've been. One of my favorite things there is probably IHOP – and some American friends make fun of me for that. But, once, I went there at 4am before my flight home, and I felt like I was part of an Edward Hopper painting. It's remarkable how things that are so mundane and boring to the locals can be the most interesting to a foreigner.
You're so confident in who you are, how did you get to this place and what advice do you have for others struggling to be comfortable in their own skin?

Well, it took a long time. And probably the most important thing I did was give myself the time I needed.
When it comes to being trans, I know many people, myself included, who feel like they came out too late, started HRT too late, etc. But instead of beating yourself up for that, appreciate that you can do it now. And don't rush to do things you feel you have to do to be valid. Try out stuff, see what you need and don't need to feel better, and most importantly, enjoy the process.
Also, it helps to document your journey. Looking at pictures of myself from when I first came out or reading old journal entries helps me appreciate how far I've come.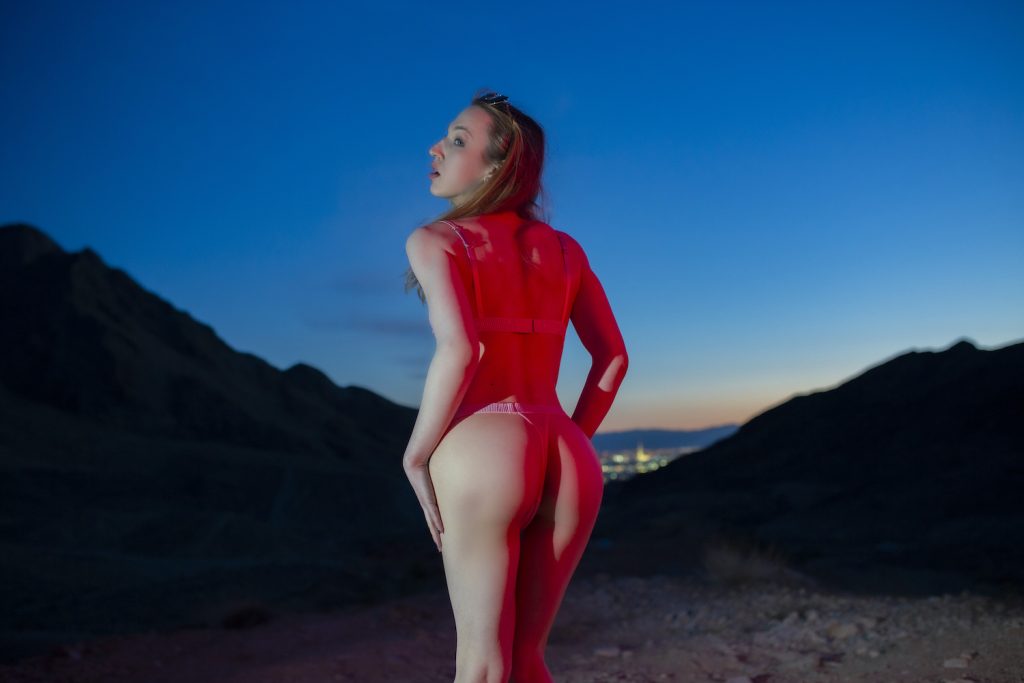 What do you find gratifying about the kink culture and how did you discover your niche and embrace it?

I love that there is so much stuff to discover, and I'm far from done with that!
Whenever I meet new people, there are some new kinks I get to try out. And sometimes, I'm surprised by how much something turns me on that I never expected. For example, I never thought of myself as someone who's into feet, but when I filmed a foot-worshipping scene earlier this year with Goddess Lilith, I had such a good time!
What's a fantasy you have that you wish could be fulfilled? What turns you on?

Two things I want to try out are being the center of a gangbang and being tied up in suspension bondage. And one of these I have planned for the near future, and I can't wait for it! Of course, what turns me on depends on the person I'm with, but some of my favorites are good kissing, anal play, and bondage.
What makes you feel attractive; what do you do to spoil yourself?
Getting my nails done or doing them myself. It's such a small thing, but it gives me so much confidence. Also, I never really figured out how to do my hair, so sometimes I treat myself before a shoot with a visit to the hairdresser to get curls or a Dutch braid. It's amazing what that does for my self-esteem.
Where would you like to be ten years from now?
I'd like to still be in the adult industry, probably more behind the camera than in front.
I love performing, but I'm also super interested in the production side of things. Figuring out the camera equipment, getting the best lighting, and what kind of magic you can do in post-production excites me.
Follow Emily Adair on Instagram @emilyadairets, Twitter @emilyadairets.
—
Alyssa Collins hails from Minnesota, where snowy days were the perfect excuse to stay warm inside and write. Over the years, she turned that joy into a career and has authored numerous articles for various publications (under pen names). Email Alyssa via alyssa@ynot.com.