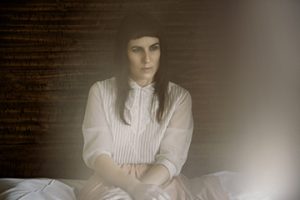 This week, I'm excited to share an interview with Inka Winter – the director and creator of the all-woman adult production company, ForPlay Films.
Started in 2017, ForPlay Films specializes in content that will "turn women (inclusive of cis, trans, genderqueer) on at every level by bringing their pleasure and fantasies front and center."
Their productions have screened at top festivals around the world including the Berlin and Vienna Porn Film Festivals, the Royal Academy of Arts London, BRIEFS Oakland 2019, the Newport Beach Film Festival, and CinkeKink NY. In addition, ForPlay's short film The Alley, won the award for "Best Sex" at Dan Savage's Film Festival HUMP.
It's clear Inka understands what resonates with female viewers (and many men for that matter) and how to make quality content. Read on to learn more about ForPlay Films, Inka's feelings on the industry, and how you can bring eroticism to your own work.
How did you get your start in the industry?
After a difficult event in my 30s which led me to temporarily lose my desire for sex, I turned to porn to reignite my drive. But I was turned-off by the objectifying and degrading images I found. Where was the porn that was sensual and sexy? Where was the porn that showed women enjoying sex, rather than existing solely for the man's pleasure?
I searched and searched and when my searches came up empty, I decided to make the type of films I wanted to see, the type of films that could help myself and other women feel sexually empowered. That's how ForPlay Films was born.
What do you find are the main differences between the type of porn women want to see vs. men?
I would like to first mention that though I create erotica with a female viewer in mind, many men also enjoy our content. So, I would like to answer this question in terms of what is different from my films compared to mainstream porn. As a sidenote, since mainstream porn is geared towards and sufficient for many men, I don't want to claim that my films are what men want to see just that they too enjoy them.
In mainstream porn women often exist merely for the pleasure of the man. They seem to be objects used to get the man off. They are often degraded or do sexual acts that they pretend to enjoy. And mostly there isn't much attention given to the visual of the scene.
In the films I make, shot through the female gaze with a female viewer in mind, I let the talent explore whatever it is that feels pleasurable to them and let women take the lead in expressing what brings them pleasure. This way talent has autonomy over what happens in the scene. In addition, I let talent choose who they want to work with to bring real intimacy and chemistry to the screen.
Further, ForPlay Films focuses on cinematography, wardrobe, and locations to give everything an editorial feel. Women experience sexuality and sensuality with all their senses so what it looks and feels like is important.
What advice do you have for models to bring more sensuality to their performances?
First, I would like to say that I think bringing sensuality to one's performance is equally valuable to a male or female viewer.
1) I believe it makes the performance more authentic – real pleasure is the biggest turn on.
2) Being sensual means connecting to yourself and that is valuable for the performer and how they feel about what they do. It also helps to promote better boundaries which is important for one's sanity in the world.
Second, sensuality comes from being connected to oneself and one's wants, needs, and boundaries.
A few things one could do to practice being in touch with your sensations is through a body scan. I have one available on forplayfilms.com. Also, pay attention to your breath. Just take a few minutes to sit in a quiet space, then put one or both hands on the center of your chest and concentrate on breathing in and out.
Another thing to do is to take time throughout the day – maybe set a reminder – to stop and ask yourself: "What am I feeling right now? What am I thinking right now?" Just let that be there, don't try to change anything. If there is discomfort, or judgment, notice that.
All of this will help you to become more aware of yourself which simultaneously makes you more connected. And if you can, take these things into your performance and stay in that place of connectedness as much as possible for you at that moment.
Tell us about "ELEVATE" – your partnership last month with Streammate. 
ELEVATE is a new endeavor by Streammate to go beyond sex work.  In their own words "ELEVATE intends to change the narrative around what it means to be someone who is engaged in – or works adjacent to the adult space. ELEVATE highlights some of our industry's best parts – assets often overshadowed by long-held social stigmas."
For the month of November, I was their community partner. I did a weekly sex education stream on Streammate where myself and a few performers (Megan Mistakes, Jasmine Teaa, and Nicole Kitt) answered questions about "How to Please the Vagina" or anything else related to sexuality that the viewers were curious about. We had a great response and I hope to be able to continue this service for the community.
You've talked before about creating "ethical" porn. What does that mean to you?
To me, in some way ethical is synonymous with consensual. That means that everything that happens on set, in front and behind the camera is mutually agreed upon.
I also think that overall working conditions and diversity are part of creating ethical porn.
What do you think is the most important skill an adult model needs to be successful?
I think that success depends on so many things. What I can speak to better is that I think having good boundaries is fundamental for a model to be content and feel empowered in this industry and to not further traumatize any wounds that might already be there.
What are your goals for the future with ForPlay Films and your career?
I am working on a sexuality workshop that will be available to members to learn more about their own sexuality, their beliefs, and how those affect them. It will also include learning more about how to bring mindfulness and sensuality to your sexuality.
—
Follow Inka Winter on her Instagram @inka.winter and ForPlay Films on their website at forplayfilms.com, Twitter @forplayfilms, Instagram @forplayfilms,and Facebook @forplayfilms.
—
Alyssa Collins hails from Minnesota, where snowy days were the perfect excuse to stay warm inside and write. Over the years, she turned that joy into a career and has authored numerous articles for various publications (under pen names). Email Alyssa via alyssa@ynot.com.