At age 34, Monica Ginger West is a MILF in adult industry terms. Does that bother her? Not at all. In fact, few know her age and those who do don't care. She's sweet, silly and smart — and a bit of a chameleon. Fans never know whether they'll find a Farrah Fawcet lookalike, a living Barbie doll or the girl next door in her cam room. Whoever they encounter, though, they adore her quick wit and joie de vivre.
What's your favorite pastime when you're not online?
Being creative! This takes many forms from painting to sculpture to decorating my home.
This summer, I've taken up gardening and have had amazing success with my veggies, so this is one of my newest fave pastimes.
As a model who's been camming for five years, what's the most important thing you've learned over time?
That it's OK to just be me. When I started, I felt like I had to "fit in" and be like the other girls. But I learned that the times I earned the most money on cam were when I was being kind of goofy and just being my true self. Guys can tell when a girl is being real and when she's putting on an act.
What's your best tip for dealing with trolls in open chat?
Just ignore them and they'll go away pretty quickly.
What's your best tip for dealing with that obnoxious guy who always wants to take you private even when you'd rather not?
Go with it. If he wants to take you private, he wants to spend money on you. This is your job, isn't it? Honestly, no matter how obnoxious a guy is, there's going to be at least one thing I can find to appreciate about him, and I focus on that.
What music (artist, genre, whatever) keeps you going? Why?
Depending on my mood, I can go from techno to jazz to cheesy '80s dance music. Techno is my caffeine, jazz is my "get in the mood" music and cheesy '80s is, well…cheesy, like I can be sometimes.
Social media: useful for work, or just a distraction?
Very useful but can turn into a distraction if I'm not careful.
How does social media factor into your presence online? Regardless whether it's your favorite, what's the most work-useful social media platform you've come across?
I rely heavily on social media to let my fans know I'm online. As for most work useful, I'd have to say Facebook is No. 1 with Twitter coming in at No. 2. But a new player in town, 2HOT4FB.com, has been great for helping me get my images out there and promoting the links to the cam sites I work on, as well as my Facebook fan page. It's definitely my favorite outside of the usual social media platforms.
Do you see cam as a type of dating? 
I guess in a virtual sort of way, yes. My real-life dating has diminished since I started camming, and a few of my regulars do kind of feel like boyfriends.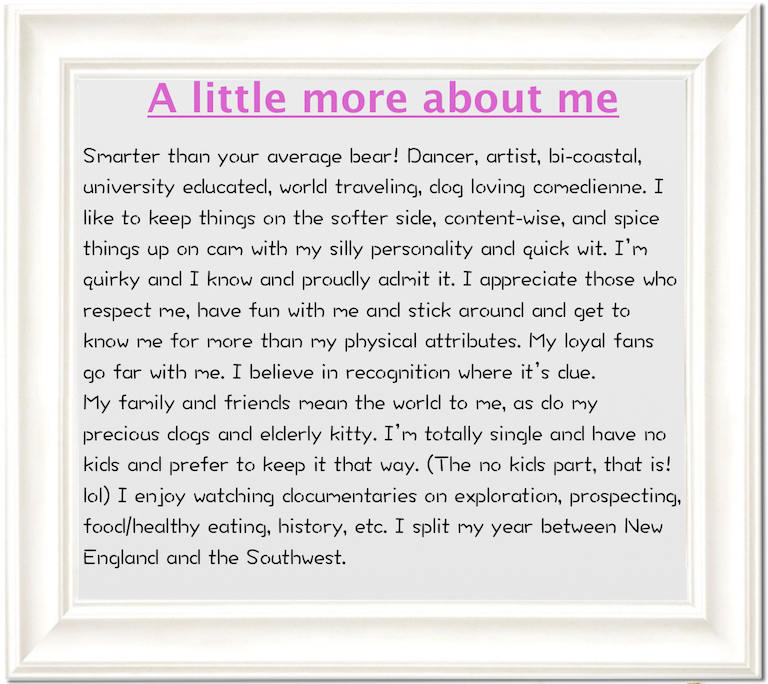 Why did you decide to get on cam? What keeps you going?
I made the decision at a time when I had injured my back and couldn't work as a stripper for a while. I needed the income so I began investigating cam work. It was essentially the same as being a stripper without the physical aspect of doing pole tricks and stage work. It was a great fit! Even though I'm now able to dance again, I continue to do cam work. It's a nice balance.
If your life was made into a movie, who would play you?
Natalie Portman. Our personalities are very similar, and I love her acting style.
Cats or dogs? Why?
Both! Cats hang with you on their terms and are so cuddly and lovable when they're "in the mood." And when they're not, there's the dog, wagging his tail and ready to love you on your terms.
Give us three reasons why you love your job.
1. Guys are fun to play with!
2. The money is awesome.
3. I can set my own schedule so I don't miss out on all the wonderful stuff that life has to offer.
If you were a plant (flower, tree, vine, anything), what type would you be? Why?
I'd be a Datura. They grow quickly in tropical climates, have gorgeous flowers that bloom only at night and their scent is literally intoxicating. But if you take a bite, look out! Their flowers, leaves and seeds all make your mind spin.
What kind of equipment do you use for camming?
My behind-the-scenes cam area is pretty high tech. I have a big-screen TV with a few smaller screens above it so I can post on social media while I'm camming. That way, my fans know where to find me. I use a Logitec HD webcam but am hoping to upgrade soon to one that zooms and pans/tilts with a remote.
How do you prepare for a camming session? Got any routines?
Typically, I shower (I know guys can't smell me on cam, but it makes me feel sexy when I know I'm nice and clean) and do my hair and makeup. Then I pick out a few sexy outfits and shoes. Everything I'm not wearing on cam is carefully laid out nearby so if a customer asks for a certain look like pantyhose or a naughty nurse outfit, I can put it on and be ready to play.
Do you specialize in any type of content (niches, fetishes, etc.)?
I seem to have a lot of younger men who want to act out the stepmom-and-18-year-old-stepson fantasy. I must admit it gets me pretty hot. But it's a very fine line since I do not do underage play. I also enjoy the foot fetish lifestyle. I have more pairs of sexy shoes than I can count and love showing them off on cam. I've been told I have "monkey toes" because they're long and dexterous — a big plus in the foot fetish community.
What kind of on-cam performance really turns you on? 
Being able to interact with my client when he turns his cam on so I can see and hear him as opposed to waiting for him to type something really is my favorite thing. It turns me on to watch him touch himself and get off.
What do you do in your spare time?
Attend cocktail parties, garden, knit, play with my dogs, hike, ride my bike, take photos of scenic places, hang out with my mom, spend time with my besties, create art, watch how-to vids on various topics… But most important, sleep. I love and value my sleep time and if I don't get enough, I simply can't function.
Reveal one thing people don't know about you.
I'm the granddaughter of a former well-known New York socialite, and I have two degrees from a top-25 university. My family has no idea I have an "adult" side job!
Find Monica on Twitter, Facebook, Instagram and tumblr. She cams on Chaturbate and MyGirlFund.