Lola Davina is a longtime veteran of the sex industry and author of the upcoming Thriving in Sex Work: Heartfelt Advice for Staying Sane in the Sex Industry, a self-help book for sex workers. 
* * *
Hi Sexy —
Thanksgiving is coming up, and for many of us, this means spending time with our families. Holidays can be an especially stressful time for many in the sex industry as we head home to loved ones who either don't know or don't approve of how we make a living. Adding to all the other stressors of the season, many of us struggle with feelings of guilt and shame when we keep secrets.
Sadly, there is a stigma attached to sex work, which can carry a price. Only you can decide whether or not it's the right thing to tell family and friends what you're up to, but it is perfectly okay if you decide not to share that part of your life. Furthermore, there's no need to punish yourself over that choice. Let's break down the reasons why.
But first, my feelings on the matter: You are under no obligation to tell anyone you are camming. Ever. Not your mother, your old roommate, your best friend. You are an adult. Nobody owns you. You can be sexual and make money any way you see fit – no one needs to know about it.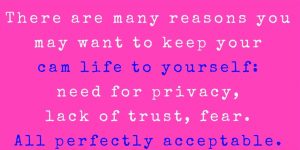 Now, it's true if you keep part of your life secret and a loved one finds out, there can be consequences. There may be anger, hurt feelings, or a betrayal of trust. You may even lose that person for a while. That is a risk you take. Only you can determine the balance of transparency and privacy that's right for you.
For some, that may feel like living a lie. I say that everyone has parts of their lives they keep confidential, and there can be any number of reasons why. You can decide not to share information because:
You are afraid. If that's the way you feel, that is reason enough. You have the right to protect yourself – from harassment, from intrusion, from criticism, from abuse — in any way you see fit.
You value your privacy. For many people, sex lives are a private matter. It's completely fine to extend that to your paid sexual life. You don't need to explain or justify that impulse.
You don't want the hassle. Many sex workers don't share because we don't want comments, jokes, inappropriate questions. We don't want to be turned into unpaid sex therapists. It's okay to shield yourself from other people's encroaching curiosity.
You like having a secret. Many of us get a thrill out of having a double life. You're allowed to enjoy having a side of yourself the rest of the world doesn't get to know about.
You can't be sure if you can trust. People love to gossip. It's tough when you have someone you want to share with, but you can't be sure they'll keep their mouth shut. If your gut tells you someone isn't trustworthy, trust your gut.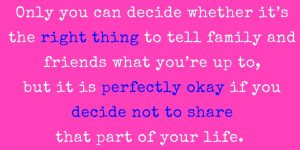 You may see yourself in any or all of these scenarios. In addition, you may be experiencing feelings that what you're doing is wrong or shameful as well. That is okay, too. You feel what you feel – those are just emotions. It's how you deal with them that matters.
If you feel camming is dirty or bad, maybe spend a few minutes and ask yourself, "Why?" Who are you hurting? What's wrong with it? Who makes you feel this way – your clients? Your coworkers? Is this because of what you were taught growing up?
You might not know right away, but if you sit with that feeling for a while, in a few hours or days, you might find answers come bubbling up, and you realize something you've known all along. It's worth taking the time to get clear on how you really feel and what you truly believe about camming.
Meanwhile, as we head into this holiday season, the most important thing is to make gentle, thoughtful choices. Keeping camming as part of your private life doesn't make you shameful or a coward or a liar. It makes you discreet. As the saying goes, discretion is the better part of valor. No need to beat yourself up about it.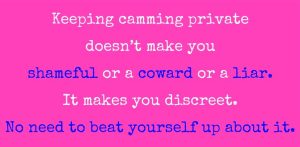 The art of coming out will be the topic of my next column in a few weeks, but until then, if you're thinking about telling someone you love something they may find hard to hear, check out this excellent website: Coming Out To Your Parents from the Colorado State University Pride Resource Center. Even though it's geared to LGBTQ folks and their families, their advice is invaluable on how to be compassionate to yourself and others during any difficult conversation.
Until next time, be sweet to yourself.
Lola D.
—
Contact Lola at Lola.Davina@ynotcam.com and visit her on Twitter at @Lola_Davina, on Facebook, and on Tumblr.
Image of Lola Davina courtesy Pat Mazzera.