There are few webcam models as elusive as LittleRedBunny.
Since first getting online in 2009, LittleRedBunny has become one of the most decorated and public models on the interwebs. She's been profiled by edgy mainstream media and weighs in with leading cultural spaces when cam-related issues like cyber bullying and trolling attract news coverage.
But for all this front-facing attention, the woman behind LittleRedBunny remains a bit of a mystery – Where is she from? What's her personal life like? Is she really a ballerina?! No one really *knows* anything about her, but guess what – the capacity to balance public and private in such an artful manner is one indicator of a highly skilled entertainer and model.
LittleRedBunny took some time out to share some insights and tips for success with YNOT Cam. Because just like any other successful campaign or career, there is work behind the mystery.
—
You are one of a very small handful of cam-only stars that are very publically known. How did you build yourself up to that level?
Honestly, I am not completely sure how this happened. All I know is that anything I have ever done or accomplished in my life has never come easy. So this path was a lot of hard work, with lots of hours and attention involved. I have always maintained a high work ethic, dedication, and passion for what I do – and more than anything, I never approached webcam as "just" a job or as a way to become anyone special. I always just wanted to have a good time and share this good time with others. This was enough to bring me a feeling of satisfaction and the level of gratification that would make me happy to come back and meet everybody in my room again and again every day.
What is one key piece of advice you can offer other models for building up a clientele or fan base?
Building up a clientele is not something that happens overnight. I think the dimension it takes will be proportional to the level of time and effort you put into it. Having a steady, consistent amount of hours online and the level of relationship and attention you give to people visiting your room will all impact the growth of your fan base.
Of course, we are also in an era where social media can be quite influential. [It] helps to expand your new clientele while keeping a more intimate contact with the existing ones. It's really not one of my strengths personally, but many younger or newer cam models master this aspect much better than I do, which can only be beneficial. I am old school, but I'm trying to catch up with this social media-savvy new generation of models. It is time consuming and a long-term investment, but I am quite positive it will pay off over time.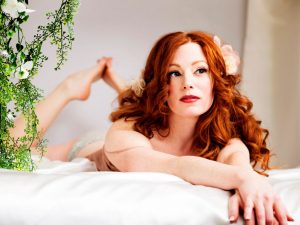 Webcam is more popular than ever in 2016, with more and more models signing up and logging on every day. What are some major changes that you have seen happening recently?
The last year or two I've had the impression that the amount of models registering might be higher than the number of customers, and this might be saturating the market in a way. It has become harder to keep busy and earn income, but more than that the input and demand on what we have to do as performers has increased. People and the cam sites not only expect us to work online as much as possible, they also expect us to bring traffic by being very active on social media. Bringing traffic was originally the reason why the cam site would take such a huge percentage out of each dollar members paid when they bought credits or tokens.
The more we have to do different things, the harder it is to manage time and energy. When I started, it was much simpler. I logged on, worked the most and best I could – and when I got tired, I logged off – then repeat again the next day! But today, while [models] are investing time into growing our social media networks, that's time we are not investing on cam. And it's not just social media, but also content like videos and pictures for our model pages. Most social media work is REALLY a long-term project, so it takes time to even see if it's paying off.
I read something you said on Crave regarding porn versus cam: "[Cam] strives for intimacy, whereas porn is a quick and convenient medium to relieve a sexual urge. The person watching porn is on the outside, witnessing only a sexual situation. With the webcam, it's interactive, social, and much, much more personal." When compared to porn, it seems like cam must satisfy a different set of needs?
When I do interviews I try to reach the mainstream media as much as possible to help make people understand how cam girls and camming are different than the porn industry. I want them to appreciate the difference and tease their interest and curiosity enough to eventually jump in and get a peek at what it is about.
I think this has helped enticed a lot of people to grab at a slice of the pie, which seems to be slowly sliding the porn industry off to the side of the table. This has not only gotten more people to give a try at becoming webcam performers – it also led to the creation of more cam sites, affiliate sites, award shows and conventions, and business-to-business events. So while [the webcam industry] is spreading out further, it is also bringing us closer together as the business emerges and coalesces. Competition is not always bad. It's challenging and some amazing changes and innovations can come out of it. So while it seems over-saturated from one point of view, it is most probably germinating on a large scale, and I expect great things to bloom out soon as a result.
What is one key piece of advice you can offer other models to stand out and get return clients?
I would say a very simple line, which is a go-to line of mine: "Less is more."
I do believe that being yourself, or whatever aspect of yourself you want to present online and be comfortable with, will attract people who will like THAT person or THAT trait. Trying to be someone or something that is not part of you will not be easy to keep up for a long period of time. Doing that will most likely bring you people who you won't enjoy as much as if they connected to you because of who you really are.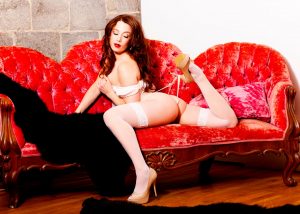 Authenticity and being genuine have always been my thing, but I know many girls that do great by being a character or role-playing so-to-speak, which is why I don't want to narrow choices down too much here. I believe you attract what you give and share, and to me, the key was to never feel like I was working – rather, just having a good time bonding with great people whom I would get along with in real life too. So for me, in order to not feel like it's just a job, I just enjoy myself and try not to see time go by. Simply being myself was the best way because I ended up being surrounded by many interesting people.
Your personal site is also a Live Jasmine affiliate site – and for those who don't know, an affiliate site is a way for models to maintain their own space online while monetizing their personal traffic by plugging into a network's models and resources. What prompted your decision to go the affiliate route?
To have an affiliate site just seemed like the logical way to go after I won my first award – The Sex Awards' Best WebCam Girl in 2013 – and even more so after the AVN Award for Favorite WebCam Girl in 2014. Afterwards, I started to have a lot of interviews in both the adult and mainstream media, which I believe was a first for the webcam industry. The business part of my brain was telling me, "Well if they all ask me where they can find me broadcasting live, I should send them to a place where I can get a higher share of my earnings," because I'm getting traffic there because of my name, reputation, and media recognition. So to me, it was a logical way to go. If people wanted to see me live, they could do so through my affiliate site instead of just promoting the main site and not getting a penny from all of my hard work.
That sounds like something that you'd need to have quite a large following for to make it lucrative though, right?
I'm not sure how worthwhile the work would have been without achieving a certain reputation first. However there are people who generate a lot of money just by having an affiliate site and are not working as a cam performer online. It's like having another full-time job on top of being a cam model, so it can be a lot to handle. I didn't invest tons of time and effort in making my affiliate site lucrative, but it helps me to make a higher percentage of each dollar for my time online. And if members register on your site but private others, you could be sleeping or on vacation and still generate a certain amount of money without even being online.
It's a slow growth process that requires a lot of time, work, promotion on social media, and attention. I would not suggest that for a new model, but after building a regular following and being present on social media, it might be worth the time and investment. At worst, you might still get some dollars for the effort of trying to make it work, especially as your name, popularity, and reputation grow.
I do not know how all cam sites work in this regard, but many now offer ways to help generate referral income by bringing in new customers on social media by showing models' live chat links. This usually gives a good increase in the percentage of dollars earned as new members sign up as well and is most likely less time-consuming than creating and handling an actual affiliate site. So make sure you get this information on the cam site you are working on.
You seem to really have an eye for business and income diversity. What new projects are you working on?
I recently partnered with DivaTraffic, which is developing a great project to help independent models and cam studios be more in control of traffic instead of being 100% dependent and reliant on cam network sites. (The project is still in beta and should have a full release in January 2017.)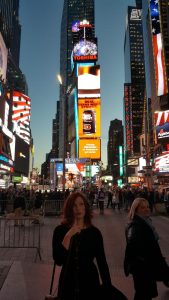 Newer models – and even some veteran models – may not be fully aware of how important traffic can be, and this is a tool that will help them with it. You could be the best model in the world, but if you don't have anyone to see you, nobody can appreciate you or private you, which limits your ability to help your popularity, get visibility, and have your earnings go up. It would be like being the world's best singer but only singing to yourself in your room, or in the shower.
Anyway, it is a project I find really interesting because in all the years I have worked online, the way to increase your earning potential has been to get higher up on the ranking pages. So giving the performer or studio the ability and power to influence their own traffic is really nice in so many ways. For example, a new model to a site would normally have to work many hours a day for weeks, sometimes months to try to get up on rankings to be seen or have more visibility. DivaTraffic can help to shrink this timeline down and get it done faster.
After this much time on cam, what do you still love about it?
I have had the pleasure to travel and attend conventions and awards in many different countries. Though it involved a lot of sacrifices on my part, it did bring me amazing opportunities I never expected. Being able to travel, discover different countries, cultures, and meeting other webcam performers from all over the world was and is a great opportunity. I got to learn about many different aspects of the whole industry and what is involved in making it work. My knowledge grew and like the old saying goes: "The more you learn, the more realize how much you don't know anything." I have met many amazing people and discovering all the facets of the industry makes you realize you are just a small little piece of a giant puzzle. It is humbling yet fascinating at the same time.
Though I am not planning to stop performing on cam anytime soon, I was always concerned about what I would do after this because – let's be honest – a cam model does have a limited shelf life. I am still concerned about it today, mostly hoping that all the many years and hard work I've invested would bring me to some longer-term opportunities.
But I love this industry! I love all the people who make all this magic happen, which is also why I cherish every trip and encounter I've had. I love meeting anybody that has a part in this industry and I especially love to get to meet other cam models. It gets me excited to go back to events so I can meet those I've met before, shared a drink and created bonds with, and I always look forward to meeting new friends too. Although this industry is growing by leaps and bounds, I feel a stronger, tighter bond to it like it's a great big close-knit family. I hope this feeling will remain no matter how big this family gets!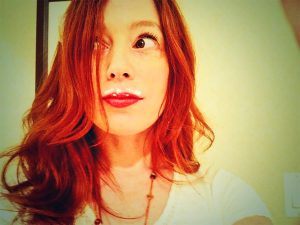 —
For more biographical info about LittleRedBunny, read her profile on The Daily Beast here.
Visit LittleRedBunny on Twitter at @LittleRedBunnyx and on LittleRedBunny.com.