We recently received the following information regarding an ongoing survey sponsored by the LittleRedBunny Academy.
The LittleRedBunny Academy's State of the Webcam Industry Survey for all Webcam Models and Studio Owners is entering its final stages. The goal of the survey is to better understand the strengths and weaknesses of the industry and improve productivity, revenue, working conditions and to bring the webcam community closer together.

The 100% ANONYMOUS survey ends on April 15, and we hope as many models and studio owners will participate in the survey as possible! We NEED YOU to not only PARTIPATE, but also help SPREAD THE WORD on social media, person-to-person, model to model and studio owner to studio owner to models!

"The ultimate goal is always to improve work environments, income and overall well-being at all levels of the industry, including among platforms and other businesses involved with webcamming," said LittleRedBunny, founder of LittleRedBunny Academy.

"I see contributing to this survey as not only an opportunity, but a responsibility to help improve an industry that many people, including myself, really love being a part of. My hope is this will be many little steps towards big change and improvements for everyone," she added.

Join the hundreds of models from around the world who have already taken the survey and add your feedback and experience to help shape the future of camming for yourself and everyone.

To take the survey or get more information, you can go to LITTLEREDACADEMY SURVEY and become a part of this historic event.

For additional news and updates about the survey look for and use #LittleRedAcademySurvey and follow @LittleRedAcadem on Twitter.
This survey is being conducted by a very significant member of the cam community. You can read our interview with LittleRedBunny herself right here — she's really interesting!
That said, YNOT Cam is in no way affiliated with this survey or LittleRedBunny Academy, nor can we comment on the quality of the instrument's design or the comprehensiveness of its scope.
Also, one word of caution: Nothing on the internet is fully anonymous, nor is anonymity necessarily a good thing. Sometimes, making sure your respondents are actually the people who should be answering your questions is important. Put another way, if this survey is truly anonymous, there there is no way to know if it's being completed by models… or fans… or SWERFs!
Like with anything on the interwebs, be multi-faceted and thoughtful in what you share. Contributing to LittleRedBunny's efforts here seems like a positive thing for the #cammunity overall.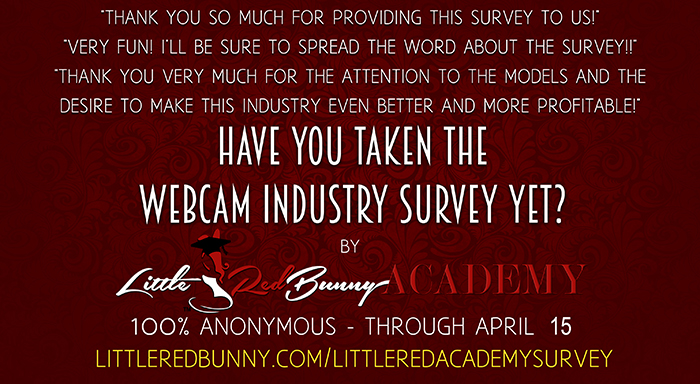 —
Erika is a sex positive people watcher (and writer). Email her at erika@ynotcam.com.