Princess Snowy Angel comes by her name honestly. She hails from one of the snowiest, coldest places in the United States – Massachusetts – and then grew up in a small town in New Hampshire.  
She started camming on Chaturbate in early January 2017 but switched over to Streamate in February of the same year. In spite of finding a site that was a better fit, however, Snowy Angel was itching to spread her wings. 
"Once I started camming at twenty years old, I was living in an even smaller town than my hometown of nothingness and realized I was ready for a change from the cold weather and many closed-minded individuals around me," she explained. "So last year me and my boyfriend Jay Beanz packed up our tiny car and moved cross country out to the West Coast in Arizona."
According to Snowy Angel, the move was was the best thing she and Beanz could have ever done.
"I've been able to attend so many more industry related events such as the expos and awards shows held in Las Vegas or LA throughout the year," she said. "Many more opportunities for additional studio work on location in LA, Las Vegas and Phoenix have been made available to me as well, which would've been impossible to do if I stayed in NH. 
It's hard for Snowy Angel to believe the turn her lifecourse has taken since she got into cam – but turn it has, and she's much better for it. She took some time out to share more about her expereinces and her plans with YNOT Cam.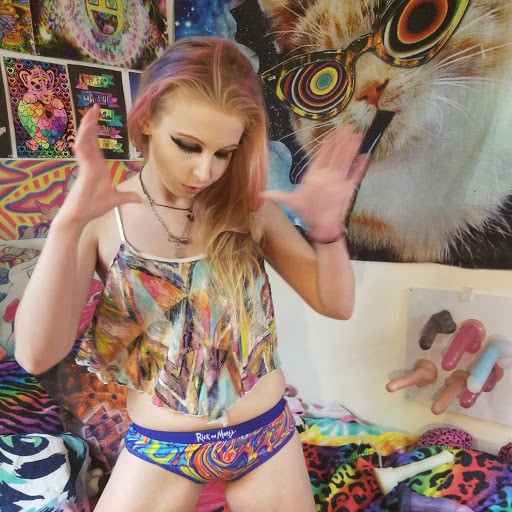 YNOT Cam: What prompted you to begin your career online?
Princess Snowy Angel: Prior to entering the adult industry, I was working a boring 9-to-5 office job. I grew very tired of the monotonous days while greatly lacking interest in the type of office business I worked for at that time. I never really felt like I fit in there, either. My style was always sticking out like a sore thumb — and not in a good way — plus I never had anything to talk about with my coworkers since we had no similar interests at all.  
I ended up getting into a huge rut financially since my car totally broke down and was going to cost thousands of dollars to repair. Plus, my boyfriend lost his job at the same time, so we weren't sure how we were going to afford that month's rent, the car repairs and other bills all at once. So, we decided to broadcast on Chaturbate seriously to begin making profit on cam, whereas before we used to just occasionally broadcast together for fun.
After only two short weeks working at the office by day and camming by night, I already made double my original weekly pay and couldn't even believe how fast my success and funds were growing! (My boyfriend ended up taking over the promotional and technical side of my cam career since he was more eager to learn everything behind the scenes and work that way versus being on cam.)
It turned out staying at the office five days a week working eight hours each day was making me lose money since I had to take time away from increasing my popularity and success on Chaturbate, so I quit my office job just two weeks after I began camming. It definitely couldn't have worked out at a better time!  
And once I began camming full time, the increase of my yearly pay sky-rocketed up to double or triple what I used to make. Camming has been my savior to help me afford to live and survive comfortably for the first time ever, plus I've never felt more eager to wake up and start working for the day.
Besides being financially lucrative, what other positive aspects of camming have you experienced?
I feel some of the best things about my career in the adult industry is the way I've been able to let out my true kinky, sexy side like never before and be able to express my more alternative rocker and psychedelic style for the first time. In addition, when I started camming on both Chaturbate and Streamate full-time, it boosted my self esteem and level of confidence being able to control my own limits on what I do in my shows. I've grown to be more assertive in order to control my cam room and take a more dominant side of being stern with members that had certain sexual requests I would not do. I have the ability to tell them "no" and use the block button on Streamate to my advantage when needing to block any users getting out of hand or rude.
It feels empowering to be able to have a control over what goes on in my cam shows so members will not go beyond my levels of comfort and never trick me into their "freeloading" ways. My self discipline and motivation to accomplish so many tasks needed for my day has also never been stronger since I've been camming. Having the freedom to be my own boss and set my schedule and work my own hours has only made my productivity go more smoothly.
sexy pic of @KenzieReevesxxx and myself @avnawards ???#sexyNHchicks pic.twitter.com/x13R77USOE

— ❄️SᑎOᗯY ᗩᑎGᕮᒪ❄️ (@princesssnow757) February 2, 2019
Nothing can be all perfectly good though, so what's challenging about camming?
The biggest challenge I've faced in the time I've been a cam model is probably just learning new site dynamics or technical settings for my webcam, microphone, video editing software and learning to film quality shots of scenes with different angles. Although my boyfriend handles most of that aspect of my camming work and does a great job helping me understand it all, I still feel it can be more difficult than anything else I've done. However, even if learning some parts to a program or how to set a specfic setting on my webcam or microphone are tedious or take some time to learn thoroughly, it still feels well worthwhile for me to put the effort into knowing more about these aspects of camming.
Overall, the challenges and accomplishments, highlights and observations throughout my short time being in the adult cam industry have all been beneficial and only enhanced so many parts of what I do to be the absolute best. I'm looking forward to what other opportunities will be coming my way to keep things on a successful path and persevere to the furthest extent. 
#NewProfilePic pic.twitter.com/nn9MSTMpSN

— ❄️SᑎOᗯY ᗩᑎGᕮᒪ❄️ (@princesssnow757) December 28, 2018
Can you tell us more about "Sinners and Saints" for the #bmovietv Roku channel?
I am so excited to announce that "Sinners and Saints" will be a new tv show starring myself and co-hosted by my boyfriend Jay Beanz. It will be premiering in this month on the B-Movie TV channel found only on Roku.
I don't want to give away too much about the show, but I can tell you that I will be playing an angel character with my name, Snowy Angel. I appear very innocent and look just like an angel but have a super dirty and naughty side as well. My boyfriend's character will be a devil that is always trying to calm me down from being so naughty but can also have a sinful side, hence his character's name being "Mr.Sin."
Once the show takes off with its first episode in March, you can look forward to a new one each week. There will be a "Camgirl of the Month" episode featuring a camgirl interview with the most out-of-the-ordinary questions asked. Another thing you can look forward to on the show is a review episode where I will be reviewing a certain type of sex product and will feature a link to me actually using them afterwards to show the truthfulness to the review I give during the show. And lastly, the other episodes of the show will feature previews of certain porn parodies of popular movies and TV series that me and my boyfriend will perform in, showing a dirty twist on so many hits.
I'm so grateful of the opportunity to be able to host and star in my own TV show! It definitely would not have been possible without Pervy the Clown or B-Movie TV so I wanted to thank both of them for everything they've done to help make all of this happen. It really is an amazing dream come true.
You have a really unique makeup style. Can you tell us more about the look and what you do to achieve it?
I've always had a similar makeup look since I started wearing makeup at a very young age. The thick eyeliner and dark eye-shadow was influenced by two of my other favorite bands, Motley Crue and Marilyn Manson, since they always wear thick, dark makeup and stand out as their own type.
I felt that my makeup is a way I can stand out as well and be my own person, plus I think the look really does suit me better than going for a light makeup. It has progressed slightly since I've started cam modeling. I added the eyeliner wings to my look and have also upgraded to using better quality cosmetics to make my look very long-lasting. In fact, I filmed a shower video recently and had to rub my eyes hard to give myself a smeared look since all the products I use are super waterproof.
I take my time to apply everything and sometimes take a full hour until I'm finally happy with it, but I feel the time I take is worth the end results without a doubt!
Can you give us a rundown of your process?
I start with tinting my eyebrows to a light brown since I think it shows off my eyebrows more. I use Loreal Paris Brow Stylist Designer Pencil in Brunette for this. Next, I apply my eyeliner and use Loreal Paris Infallible Lacquer Eyeliner in Black, which is a great eyeliner that has a bold black color and gives you control over how thick you want it to go on since the eyeliner ink is able to be dipped with a brush they give you. It is also very waterproof like I mentioned before and is great for drawing my eyeliner wings.
Next, I apply my eyeshadow, which is from the LoveSick Noir eyeshadow palette which has various colors. Depending on what my mood is that day, I'll apply either a dark orange, purple, grey, silver, white, black, dark grey or pink. I love how this eyeshadow stays on all day with the same gorgeous color that does not fade whatsoever!
I've switched up what mascara I use a lot but have been really happy with the current mascara I am using now, which is Loreal Paris Voluminous X Fiber Mascara. The best part about this mascara is that its not only waterproof, but it also has two separate wands for mascara primer and the regular mascara. I feel it gives me way more volume and does not clump my lashes at all so it's definitely a win-win!
Next, I apply my foundation face primer, which is Rimmel's Fix n Perfect Pro Primer. Although it is a cheap primer, it does not make my skin break out and goes on lightly while still maintaining longer foundation wear-time and a lasting, gorgeous look for about 24 hours. I used to be able to buy it at Walmart or Target but it seems like only Amazon is selling it now so I'm hoping it doesn't get discontinued!
As for my foundation, I have recently switched up my foundation to Estee Lauder Double Wear Maximum Cover Camouflage Makeup for Face and Body in Cool Bone. This is my holy-grail foundation now since it matches my skin tone perfectly and has the best matte look I could ask for with completely full coverage.
As for my lips, I will put on various lip glosses or chapsticks but am not specific to a certain brand or type. I mostly get lip glosses as gifts so I'll take whatever is given to me.
Outside of work, what are you most passionate about?
I love to watch scary movies and comedy movies and tv shows with my boyfriend. I also enjoy hiking with my boyfriend on so many cool trails we have local to us and within the whole state of Arizona.
I'm a huge shopaholic for online shopping on Amazon and Wish.com and sometimes Ebay. I recently finished collecting the whole set of Rick and Morty Mystery Minis for the first series they had out and loved shopping on Ebay and Mercari to finish this set. I can't wait to complete Series 2 very shortly!
I am also very passionate about music and my favorite bands which are Tool, A Perfect Circle, Motley Crue, and Marilyn Manson. I'm usually always playing Tool in my cam room which many of my fans that are also Tool fans have appreciated and love visiting my cam room even more for that reason.
I've recently read Unleashed: The Story of Tool, which tells all about how Tool started as a band and their progression as a band through the years. It was an amazing read and recommend it to any Tool fans, especially new fans that want to know more inner details about them. I'm looking forward to reading more books this year about the music artists I'm so passionate about, one of the books is A Perfect Union of Contrary Things, which is an autobiography about Maynard James Keenan's life, the lead singer of Tool and A Perfect Circle. I'm also excited to read Marilyn Manson's autobiography The Long Hard Road Out of Hell.
Drove to LA for a birthday show @BakedPotatoJazz and got to meet danny Carey from @Tool! Made my week for sure!!! pic.twitter.com/4E6R7EJ0mb

— ❄️SᑎOᗯY ᗩᑎGᕮᒪ❄️ (@princesssnow757) August 7, 2018
If you could change one thing about today's world, what would it be and why?
I would definitely change the aspect of people creating drama and being judgmental — or the drama caused by people being judgmental.
I feel if everyone just focused on bettering themselves and doing things they were passionate about to surround their life with positivity and happiness, everyone would be able to live more peacefully. It's unfortunate that no one will ever be able to change this or control other people, but I feel that it's best to just surround yourself with as much positivity as you can doing things you love or are passionate about throughout your life always.
Find Princess Snowy Angel on Twitter at @princesssnow757 and on her site, princesssnowangel.fun.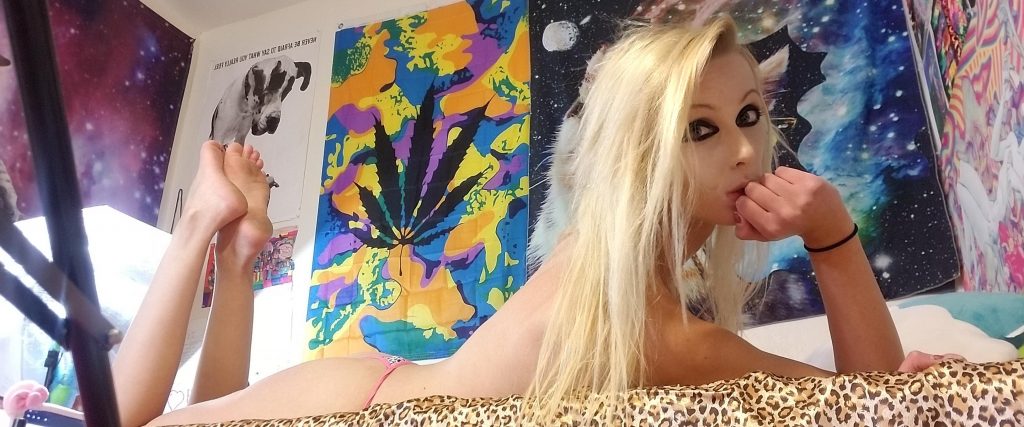 —
Erika is a sex positive people watcher (and writer). Email her at erika@ynotcam.com.