Princess Snowy Angel hails from Massachusetts and grew up in a small town in New Hampshire. She eventually headed west for Arizona, which is where she currently calls home.
Snowy Angel started camming on Chaturbate in early 2017 but switched over to Streamate that same year.
We spoke to this dynamic creator back in 2019 about her career, then two years in. Recently, we had the opportunity to catch up with Princess Snowy Angel about what's been going on in her life – while the whole entire world changes!
Check out "Go West, Snowy Angel!" on YNOT Cam here, and read on for the new new!
—
YNOT Cam: A lot has happened to… humanity… since we last corresponded. What has changed for you within that context since 2019?
Princess Snowy Angel: During my past five years in the industry, I've devoted most of my time on Streamate performing live shows and selling videos. It continues to be my favorite platform, and I am truly grateful for the opportunities and sexy, creative freedom Streamate has given me. However, I feel it's crucial for all cam models to have back-up platforms and secondary sites they enjoy for spare income or future financial planning. And all in all, as the saying goes, "Don't put all your eggs in one basket." You just never know what could happen!
I feel having multiple platforms will not only boost your income but also keep you motivated to perform well and put out more sexy, creative content in various places. I've found operating a studio on Clips4sale and having a video store on iWantClips has helped spark my creative energy and filming ideas on a whole other level. I'm always thinking of kinky new fetish/femdom content, as well as vanilla masturbation content and anal videos.
I've been uploading videos multiple times a month on those platforms since the pandemic, and it's not only been extra cash flow from those clip sales but also a way to keep me on a consistent filming schedule. It's been refreshing to put out so much new content since COVID hit and get in a flow of creating new clips every month. I feel it's helped grow my fan base on an even larger scale as well as give those fans something really exciting and entertaining to look forward to — especially during a time when many could feel lost or depressed.
Since COVID hit and affected the world with quarantines and isolation, I feel it has definitely helped the camming industry expand lucratively with many new viewers that may not have looked into cam models before. Since everyone started staying in more, many were seeking an outlet to escape. I noticed a huge spike in my earnings on Streamate throughout 2020 and 2021. I also feel many of those viewers and fans were even more appreciative of the content we produced and/or our live shows as it was a place for sexy fun and a way to forget about the outside world for a bit.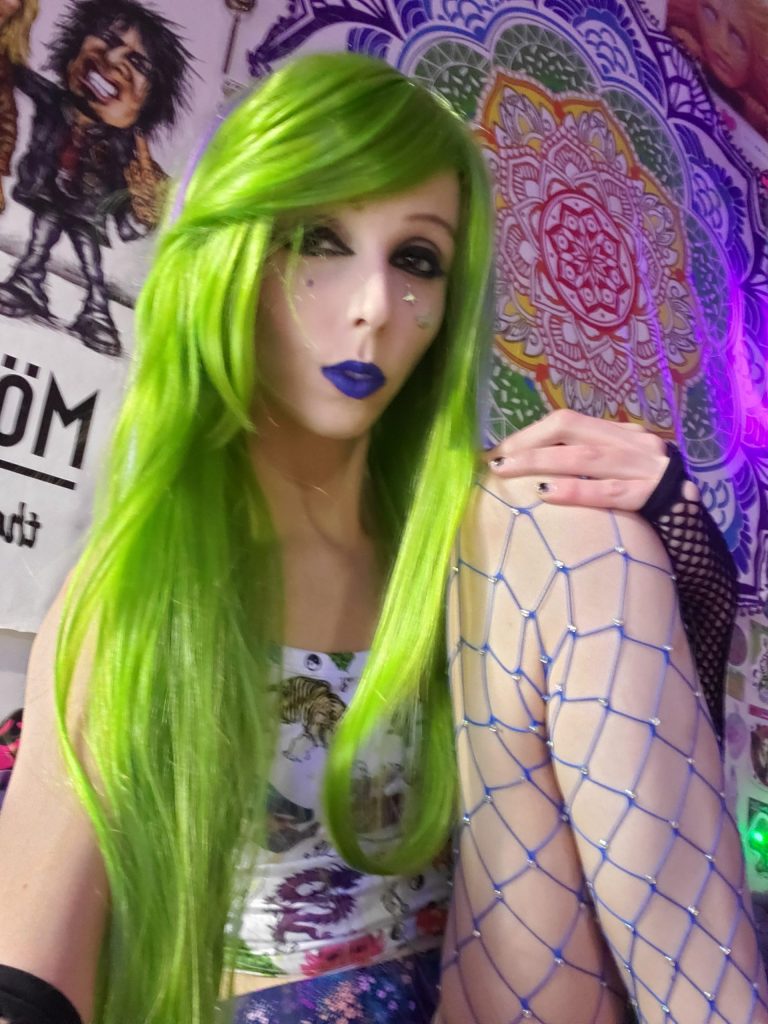 But now that the pandemic is (once again) changing, how are you focusing your efforts?
By the beginning of 2022, I had bigger financial goals and was seeking another way to make extra money on another platform for this reason. As soon as I was informed about the launch of a new cam site LiveUnicorns, I did some further research and was interested in certain aspects of their operation right off.
I thought it was very conscientious of them to hire models they felt were a good fit and took the time to meet and converse with them initially. I also appreciated the site's constant communication with both models and members. I feel listening to feedback as site developers is important and gives models and members peace of mind knowing the site is on their side and quick to answer any questions or resolve any issues that may arise.
I also enjoy how unique LiveUnicorns is with their site lay-out. Not only is their site a nice purple background and has a unicorn logo, but the viewers pay by subscription and payout is 90 percent. LiveUnicorns also offers an option to perform 30 minute scheduled shows. For the first six months on the site, they guarantee $100 for each 30 minute scheduled show. With all of these lucrative benefits and the opportunity to gain more fans on another platform, I decided to apply and give the site a try.
Me and the talent coordinator of LiveUnicorns instantly hit it off, and I couldn't wait to begin trying the 30 minute shows. After my debut week, I couldn't be happier with my LiveUnicorns experience. My favorite way to use the site is by scheduling 30 minute shows during the weekdays. I can get creative and have fun with a set theme for each daily 30 minute show. To me, it's almost like an "xxx" tv show… I feel being able to divide my time on Streamate and LiveUnicorns will be exactly the boost I need, both financially and keeping my sexy spark alive for new clips and all the more fresh live shows!
Whoa 😵💚 it got really green lol 😆 pic.twitter.com/0h8GcffHt7

— ❄️ SᑎOᗯY ᗩᑎGᕮᒪ ❄️ (@princesssnow757) March 15, 2022
Between outdoor photo and filming sessions and developing production style, how has your content evolved?
Going back on the topic of COVID and camming, I feel I had a lot of spare time once covid hit to focus on making my outfits and my cam room even more eye-catching and inviting. I've always felt I had an abstract, psychedelic style, with a mix of gothic/rocker considering my always heavy eyeliner. But when I mainly stayed inside for the year of 2020, I was planning and accessorizing! I added color changing LED party lights and two-toned blacklights, and it really made my cam room turn into the sex party room of my dreams!
I feel if you have a room you can make your own, why not go all out with it?! Plus having a cam room that's extremely colorful and inviting will not only make you feel good and want to spend as much time in there as possible, but your members/fans will feel the same way… I loved how much my creative looks were getting noticed, and it only raised my confidence and kept me doing it more. If this added flare kept turning more heads, I was ready to continue putting that sexy spell on them all!
I also had resolutions during the pandemic to continue evolving my ideals in life and to always stay optimistic. These resolutions included getting into better physical shape and starting a steady exercise routine and bringing out more aesthetics to my style that made me feel beautiful. Both resolutions continued to go hand in hand as I would venture outside and go hiking at certain spots where I live.
Hiking vigorous trails was a great form of exercise and safe to do especially when COVID was at its peak — and finding secluded spots at the top of mountains got my dirty mind wandering off as well. Then before you know it — bam! I couldn't resist having my significant other film me nude at the top of a mountain doing one naughty thing after the other in the great outdoors.
I am beyond thankful that me and my boyfriend make such a perfect team. He's always my designated photographer and cameraman for my outdoor solo shoots. He keeps me extra excited and motivated to really go all out in a scene and be my sexiest self. I couldn't ask for anything better!
I feel like once both of my clip stores were set up and underway on Clips4Sale and iWantClips while also trying to avoid boredom during the peak quarantine time were both major factors in how my outdoor shoots and various style/aesthetics really were brought to the surface and shown off in my clips and shows!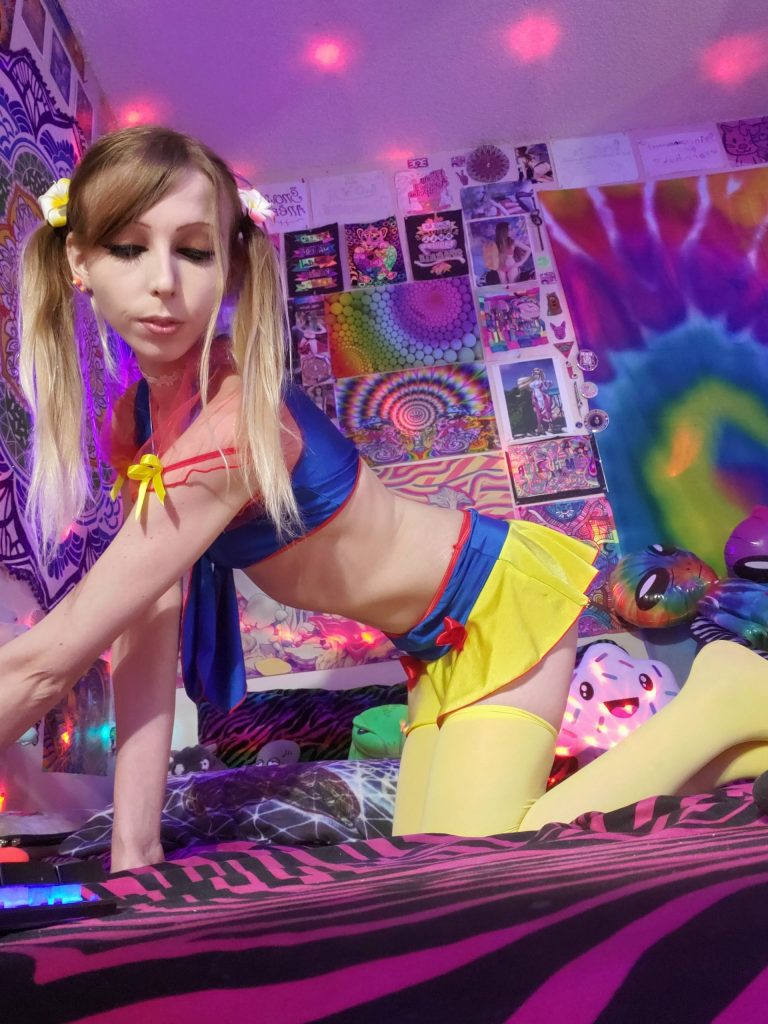 How have you evolved into more femdom and fetish content?
I would say my femdom and fetish content evolved slowly from my early years in the industry. For example, in 2017 and 2018 I began accepting fetish/femdom shows on Streamate and discovered how much I enjoyed indulging in these areas with customers. Some of my earliest fetishes were feet, JOI, anal gaping, SPH and CEI. Anal gaping really turned from just anal stretching to anal worship with stretching over the years.
By 2019 my persona really evolved from "cute to bratty" as a type of play. As a cam model that always loves to intrigue and shock fans, I felt this was something that really takes the cake! I enjoy talking all sweet and innocently until I go one on one in a show where I'm really humiliating or devious. Tease and denial became a major turn on for me and my fans in my live Streamate shows from 2019 on. I feel that year I really started to embrace my confident, domme side on a deeper level and wasn't afraid to bring that out.
Something about really going all out and sexy in my style while then teasing hard but denying at the very end really gets me going! I really enjoy how my fans react to worship, teasing and denial as well. So I feel the reactions and satisfaction I enjoy the most I tend to stick with.
🌻✌️🕊️ the horniest hippie is now online!!! https://t.co/1aEXfNpXMS pic.twitter.com/eKNxUqPCOQ

— ❄️ SᑎOᗯY ᗩᑎGᕮᒪ ❄️ (@princesssnow757) March 16, 2022
Have any of your own proclivities been a factor here?
I also always had my own fetish for feet. I love to wiggle and snap my toes and play with my own feet. I love being barefoot inside the house or laying outside with my toes dug in the grass. There's just some kind of feel I have for feet and totally can understand and  indulge with my fans on this as well. I enjoy taking the reins of each show and allowing fans to "give in" to what I command them to do or what part of my body to focus on if it's body worship. The fact that I know in my mind this is what they've been dying to do — especially for some of my favorite areas like feet and with ass play/anal — it totally wins over for me!
On a side note, I also intend to keep certain kinks private in my personal life such as taking on more submissive roles and would not enjoy producing content for others in this way.
Advice for any cam model: pick the content you enjoy performing for others the most and take off with it! Fans will notice how much fun you are having and how you love taking on that certain role or persona. They will continuously be drawn to you and "keep cumming back for it." If you don't like something you're doing or a specific site/platform, change it. Rebuild your brand or certain aspects that don't seem to work for you or that you dislike. Research a site that interests you from first glance and see if it would be fitting and go for it! There is so much variety and options in the cam industry. Don't give up and find what works ideally for you and your brand!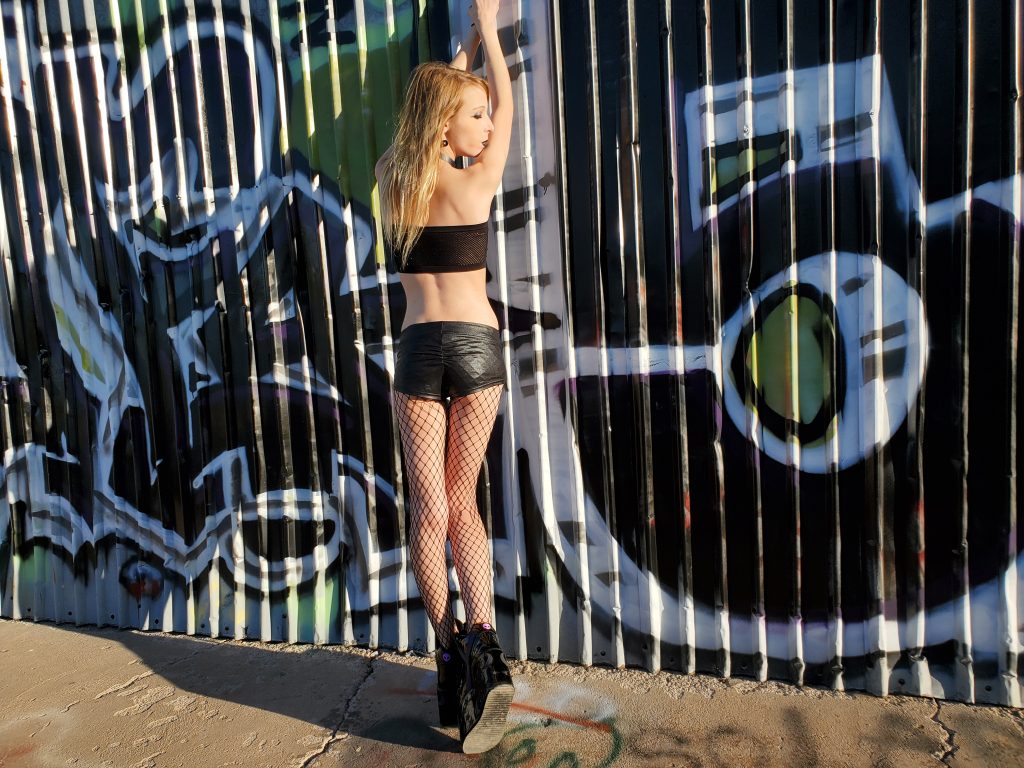 You won a 2021 YNOT Cam award! Congrats! What was that experience like? How has the win impacted your career since?
I previously won for best props in YNOT Cam's debut cam awards ceremony in 2018. I still can't get over I was nominated in my second year of camming and won this wonderful award.
I couldn't believe I was the winner for Most Creative Model during the 2021 YNOT Cam awards! It was, without a doubt, one of the most thrilling surprises of my entire life! I never expected to win but was hoping I could at least be nominated for a category I felt super passionate about. Winning felt like a dream come true. I feel that all of my goals and determination for filming various content and doing exotic sexy photoshoots really paid off and were shown off by winning for Most Creative Model. Even eyeing the trophy across my cam room still feels so exhilarating!
On another note, I felt like I was on a cloud when I arrived in Hollywood for the awards show. I couldn't believe how many cam friends I met in person, both old and new. It was the best feeling to be able to converse and hug so many models I looked up to and have always wanted to meet! I hope that won't be the last time.
I am very grateful for the unforgettable experience of the YNOT Awards 2021 and the debut year in 2018. It was a huge step in my five years as a cam model to win another award for such an amazing category. I feel throughout the time leading up to the award I was only developing and evolving my sexy creativity in my live shows and fetish/femdom xxx clips and this was a way to mark that it's only continuing on and getting better and better!
Working on editing the hottest content we have yet 😵❤️‍🔥 with @notyerbebe 🔥🔥🔥🥵 stay tuned freaks … pic.twitter.com/xKQYki1jCa

— ❄️ SᑎOᗯY ᗩᑎGᕮᒪ ❄️ (@princesssnow757) March 14, 2022
Can you tell us about collaborating with other cam models? How do virtual and in-person collabs vary? In the post covid world (whenever that happens), do you think the virtual collab will remain a thing?
I've had the best times working with models both in-person and through duo filming on Zoom. I will say one similarity between virtual and in-person collabs — nervousness is always normal! So fellow advice to new models doing a collab for the first time ever: relax, take a deep breath and envision all of the fun you can have creating with this other person or people. You chose to work together for a reason, and it's all about to begin. Remember it's just fun and the other person is probably just as nervous too!
But it all works out and after the first collab, it's almost a guarantee that you'll have more sexy ideas form for another time. I would definitely encourage, whether it's an in-person or a virtual collab, to discuss ideas and both of your dos and don'ts ahead of time. Don't leave any unwanted surprises, only room for the sexy flare and connection to strengthen within your clips. Therefore, discussing your favorite kinks you like to film and where your limits are will help make the most successful collab.
I began doing virtual collabs through Zoom thanks to a fellow Streamate cam model I started conversing with — Jade Ireland. Considering it was COVID times and also the fact that Jade lives all the way in Ireland while I'm in the USA, she thought of the idea that we could still work together and collab on some clip ideas if we did a Zoom meeting. And what an awesome idea that was!
Since May of 2021 to just recently, Jade and I have done collabs ranging from SPH to naughty foot parties to JOI games to girlfriend experience… Thanks to Zoom, it's brought cam models closer! We've even invited various other Streamate models to join us for collabs and are always open for new girls to join in on the fun.
Once I was vaccinated in mid-2021, I opened myself up for in-person collaborations with other models. I was so happy to find over a handful of other models that were local to me and that we were able to get to know each other more and set future plans to work together.
Attending the YNOT Cam Awards only helped push these plans forward. After meeting one of the nominees for "Emerging Cam Star" — Goddess Charlie Cake — we really hit it off and couldn't wait to hang out in-person and film some clips together. We discussed many mutual fetishes and femdom ideas we could do and WOW — did they get put into action when we met for a shoot!
With that being said, I do not feel virtual collaborations will die out even when COVID totally comes to a close. Because of long distance, Zoom can remain relevant and be a great tool for models to collab and connect together. It's always available and an affordable feature compared to traveling for in-person filming sessions. I hope to collaborate and film with many more of my cam model friends that live a distance away in the future — and of course in-person if possible as well!
Any last thoughts (for now)?
I wanted to mention that I am always open to answering any questions models may have about a platform or cam site, content creation, the ins and outs of the industry, relationships and camming. Really anything, just ask in a respectful way!
I'm always willing to provide my knowledge as best I can. I want to see all of us succeed together! I think all of us cam models should feel that way collectively and continue supporting and uplifting each other versus dragging each other down with any hateful jealousy, so don't be shy. I'd love to talk with you and give advice any time!
Find Princess Snowy Angel on Twitter at @princesssnow757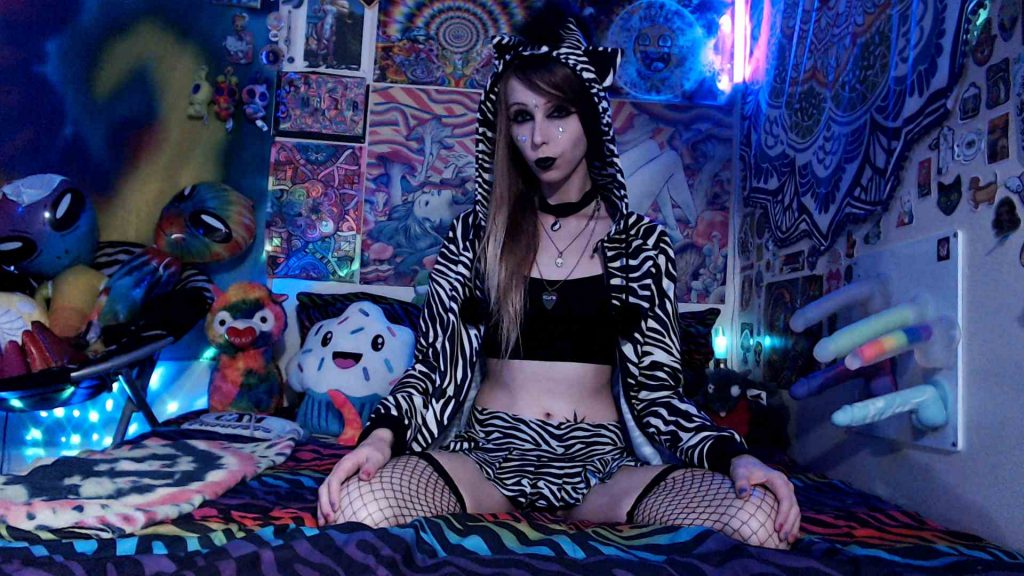 —
Erika is a sex positive people watcher (and writer). Email her at erika@ynotcam.com.