Tiffany Rose is a successful FemDom who found her niche more or less by accident.
The red-haired beauty started camming at the age of 18 on Streamate and Chaturbate. For the first several years she offered vanilla entertainment to her viewers… but something was off. She remembers that it didn't really interest her. And even more telling, the men she seemed to attract were submissives "I think they could sense that I was a budding Domme."
Once she keyed into what she truly enjoyed as a performer – power and control – she never looked back, gaining experience in the fetish world through modeling and camming, learning her craft, and working hard to be the best she could be on her favorite sites – Flirt4Free, NiteFlirt, LiveCamModelShows, Clips4Sale, and ManyVids.
Tiffany's journey to discovering where she fit as a performer is inspiring for anyone who struggles with what avenue in their career to pursue. Enjoy this interview where she talks about what she's learned and how she handles her calling as a FemDom.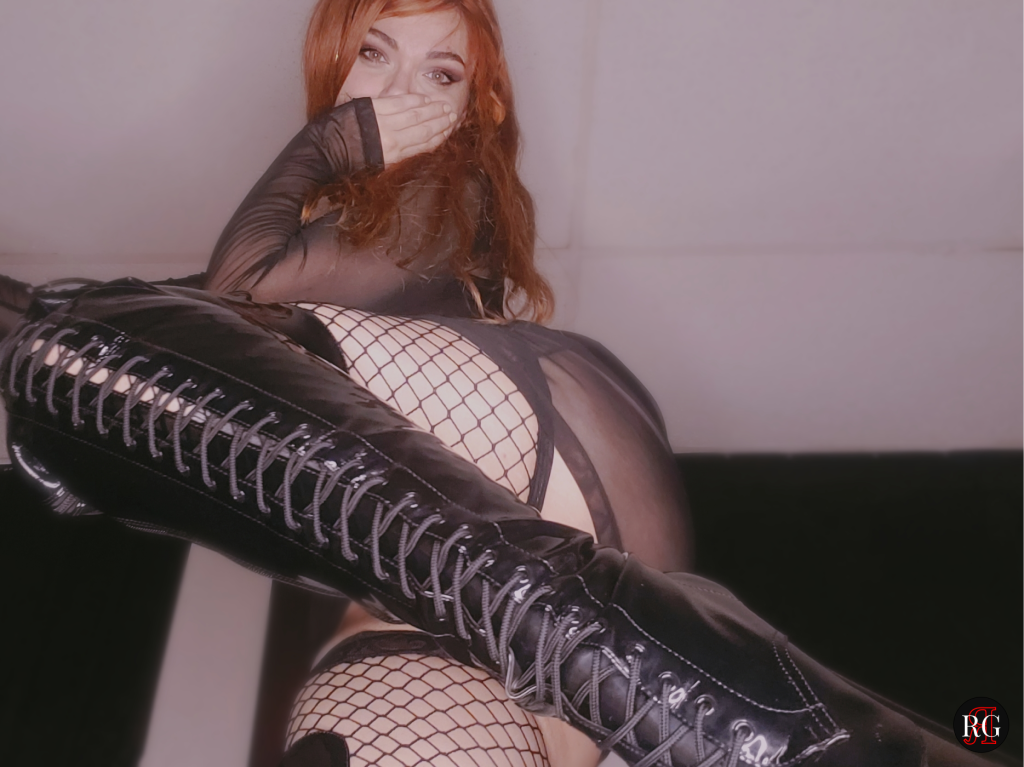 What has been the most difficult thing to learn in becoming a Domme? And where did you learn your skills?
I think the most disheartening thing for me is when someone can't communicate their needs to me. There's nothing worse than trying to evaluate what kind of scene a guy wants, without ever talking to him beforehand. Occasionally I'll get a guy who wants me to read his mind, and unfortunately, that's not something I can do very well yet. I still struggle a bit with being warm enough to help them open up a bit more and tell me what they're after. But it's a two-way street.
I learned everything over time while live performing. The types of guys I was getting, skewed almost entirely into the submissive category. So even when I was still new and not advertising myself as a Domme, I'd still get plenty of Domination-style requests. These guys were always very respectful and provided me with feedback. I deeply appreciated it, and eventually built up my confidence enough to fully embrace doing BDSM shows exclusively.
What is unique about you that your fans key into and how do you promote that part of yourself?
I think one of the most outstanding things about me is just…red. As a color.
I have red hair and decided to add that into my "branding." I noticed most women online were either brunette or blonde, so I think the red hair helps me stand out a lot.
I also think I tap into my silence a bit more than most other adult entertainers.
I've seen a few models who like typing up walls of text whenever a guy hurts their feelings. No judgment on it. However, personally, I find this method to be extremely ineffective. I rarely have to do this, and I'll first try to communicate if there's an issue. However, sometimes that doesn't work. My favorite punishment for subs who can't behave is to hit them with a wave of nothing. No words, no communication, and no blocking. Just nothing. I find this tends to work because they have a moment to reflect on what they've done wrong, and quickly start acting right. I tend to give my subs the benefit of the doubt. I assume they are intelligent and can fix mistakes on their own.
That behavior is very uncommon though; I find all of my subs love to spoil me and don't do anything wrong. That's why I keep them and enjoy their company.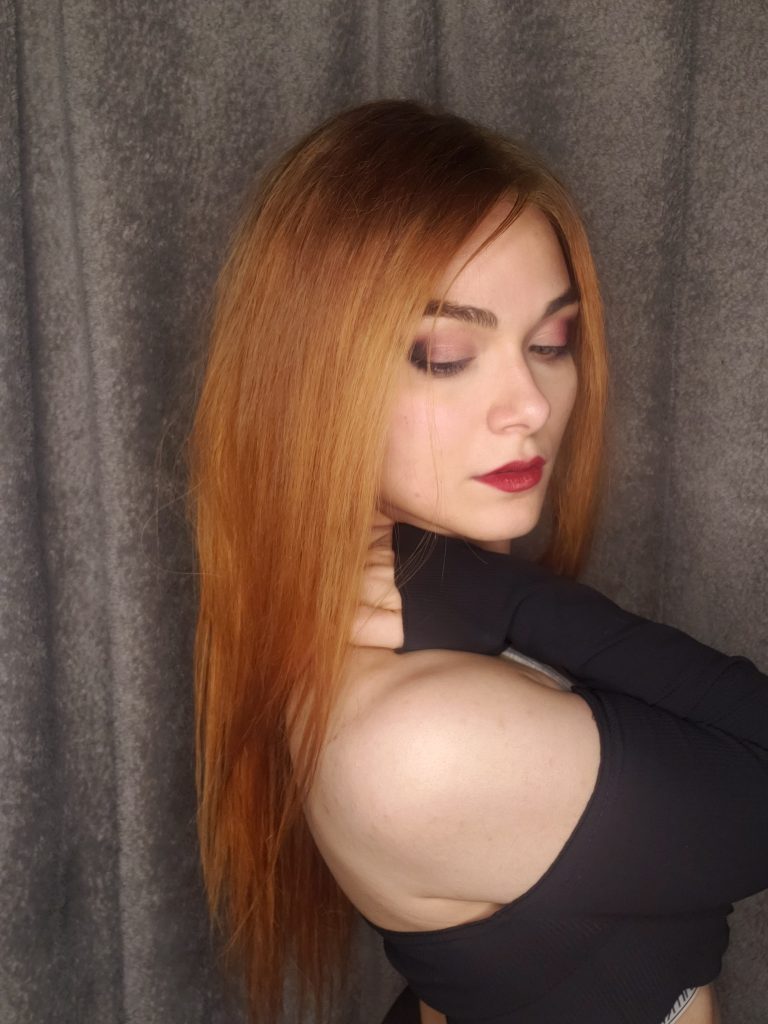 How old were you when you started modeling and entertaining and what was your first successful gig?
I was eighteen, and I believe my first successful gig was a cum eating instruction clip which sold a ton of copies and made it to the top 50 (?) in that category on Clips4Sale. I had a lot of success on streaming sites, but it was almost entirely vanilla. This was the beginning of seeing how good life could be with FemDom.
I also started getting a ton of clothing and gifts from my submissives.
I would count my Pleaser latex boots as one of my first big wins for Domination, along with some other latex fetish gear I've gotten. Later, I think it was also various custom clip orders and getting to know – who are now – my favorite submissive guys. We still have lasting relationships to this day, and I deeply appreciate them. I even have a few favorites, but I won't kiss and tell.
How do you stay vulnerable while performing yet also protect yourself?
I'm open-minded, but hesitant to let new people into my life. I try to give small bits and pieces of information over time. It's a slow and steady process, and I find that both of us benefit more as we build our relationship. It's all about building a good foundation before proceeding. I always refrain from sharing too much if I find the other person is being distant. To me, it's all about being reciprocal.
I also let small elements of my personality and preferences into these performances.
For example, my favorite colors are always going to be black and red. I often use these colors to show my personality.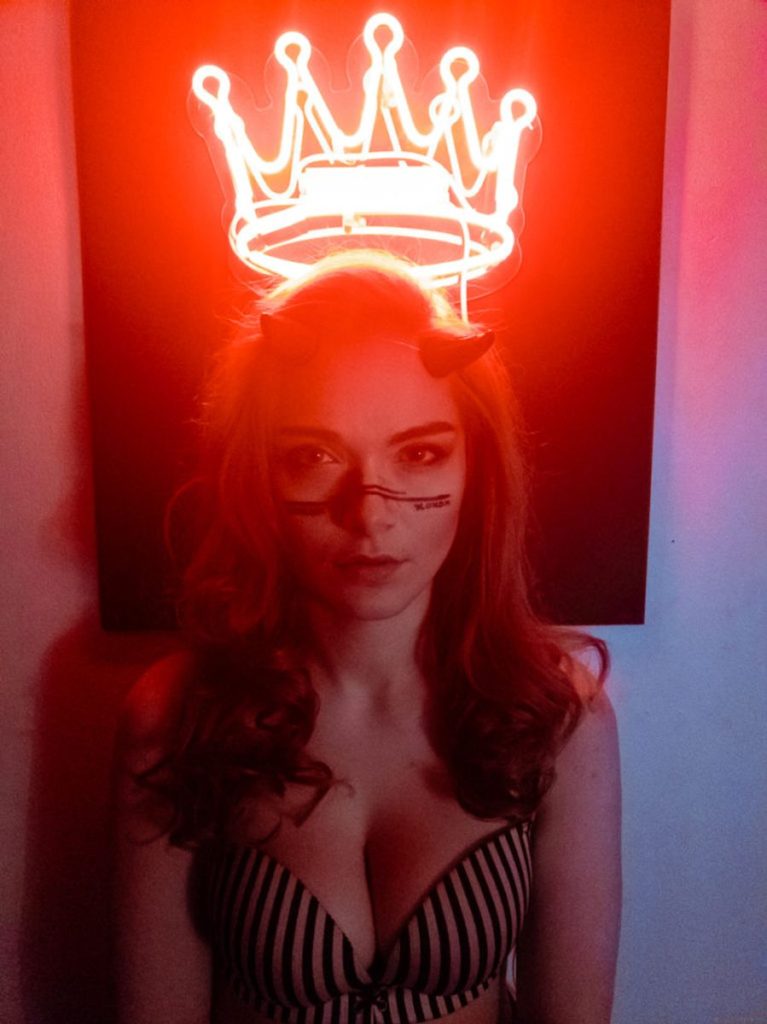 What do you find most exciting about camming?
I love my regulars to death. I enjoy signing in every day because I'm never sure what kind of requests I'll get. It's always a surprise, and endlessly entertaining what gets thrown my way.
It might be a basic foot fetish show. It might be someone who wants an elaborate demon roleplay with bright red lights and detailed makeup. It could be anything, you never know. I enjoy being kept on my toes.
What goals do you have for your career and where do you want to be five years from now?
Someday I'd love to model fetish clothing for companies on social media. I would love to take detailed pictures and product promotions for up-and-coming businesses. However, that's just a dream and I'm not sure where to get started with that.
Within five years, I envision quite a bit. Something I'm working on is having a vast content library for my clips, and I'm aiming to get better at sound design and production. I think that my attention to detail would be beneficial to higher-quality content. Who knows, someday I might even create a studio where I can hire other models or artists.
Find and follow Tiffany Rose on her Twitter @RoseRedGoddess and learn more about her on her website at theroseredgoddess.com.
—
Alyssa Collins hails from Minnesota, where snowy days were the perfect excuse to stay warm inside and write. Over the years, she turned that joy into a career and has authored numerous articles for various publications (under pen names). Email Alyssa via alyssa@ynot.com.