By Kari "Platinum Puzzy" Anthony
It's time to work. You get ready, you do something to get people hyped – a few snaps, a tweet or two. You get online, and then you spend hours live on cam. Every cam model's process is little different, but they all usually yield the same results — content.
Creating new content is great, but what you may or may not be doing is capitalizing on work you've already done. In other words, finding multiple ways to utilize and monetize things you have already done or are already doing. 
What do I mean? Let me explain.
Chaturbate Private Shows
Chaturbate allows you to export your photos, videos and private shows up to three times within a thiry day period. Having these MP4 and FLV files allows you to resell your private shows on any platform. 
Pro tip: Make sure you allow your members to keep a copy of the show. That is what records the show to the Chaturbate servers and allows you to export the data later. This is in your settings under "Private Show Settings" near the bottom, make sure you have YES under "allow private show recordings."

To export your data, you go to your "Settings & Privacy," click on "View the Security Centre" and adjust two-step verification settings. Then, click on "Privacy Center," click on "Data Export," enter your password, click on "Download Data," copy the secret password and then await the email notification of your available data download!
Once you get the email, you return to your data export area and begin downloading the zip file. Unzip the file once it finishes downloading, then enter the password. Your files will appear in your export folder.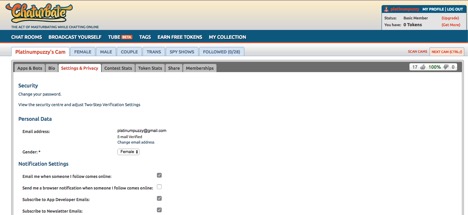 Using OBS While You Cam
Using OBS (Open Broadcaster Software) while you cam allows you the ability to do many things that will help you utilize your time wisely — one of which is recording your show. There is a setting on OBS that allows you to record your stream and save to your hard drive. This creates a video file for you to use in various ways.
The unexciting footage (called B-reel) can be used to promote your cam page and shows on social media. Pro-tip: Put your watermark on the footage. 
Also, cut out some of the good parts. Get smaller, shorter increments, and edit them into the B-reel footage to upload to Pornhub, Xvideos and Xhamster, sending customers to your cam page(s).
Snapchat Stories
One of the things I have learned with Snapchat is that not only am I entertaining my potential customers and Premium Snapchat members, but I'm also making content that useable elsewhere. Saving a clean story for social media, as well as an xxx story for my website and clips stores, as free videos for the cam sites means one effort has multiple uses.   
Your regular story (non-adult xxx) can be used for Instagram and Facebook stories as well. That means you shoot one post, save it to your phone, then upload to your other social media accounts. If you use TikTok, you can upload there as well, but I haven't had as much luck to be honest. Just be careful not to violate platforms' variable TOSs and get your other accounts locked or banned. 
Your naughty stories can be saved as well. You can add those in as bonus content to your website or sell it as a compilation clip by editing several stories together. I have even edited compilation story clips with a transparent banner linking to my cam page and uploaded them to Pornhub, Xvideos and Xhamster. 
Another suggestion is to record on another device (camera, cell phone, ipad, etc) while you are camming.  Investing in a remote to record while you are doing a private show or flashing allows you to capture more naughty snaps during your cam shows. Of course, these are for your naughty premium stories but can be edited together to sell on clips stores, website updates and promotional videos.
Streamate Gold Show Recordings
When you do Gold Shows on Streamate, there is an option at the top of the Gold Show set up box to "allow external members to view performance." This will record the show, and you can make available on your website. 
You first need to contact Streamate, making sure you have the ability to do Gold Shows, and get the embeddable code, which you will upload to your pay site members' area. Make sure it's a secure area of your blog or website so it's not available for free.
Only your paid members should have access to your Gold Shows and recorded Gold Shows. It's an extra perk you can offer as a part of your membership package on your pay site. If you wish not to include the live show access, you can just upload the code for the recordings where they will only have access to your recorded shows. 
The recordings are not provided to you in a mp4 file format. It is a flash player that you embed on your website page with a script code.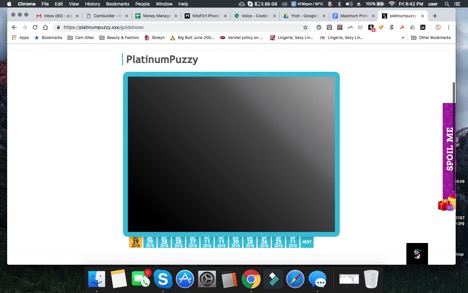 MFC Share
MFC Share is a great place to upload your Snapchat Stories, videos you film and recordings of your cam shows.
MFC Share actually has a lot of new features that make their Share pages very useful, probably more so than social media in my opinion. They offer coupon codes, vouchers, password access to your content, VIP access, polls, auctions and so much more. These features make interacting with your fans a great potential for generating additional income. 
I am sure there are plenty more ideas and suggestions that can help you double and triple down on single efforts. No live broadcast, for instance, has to be *just* a broadcast.
What clever ideas do you have? Share them here to help the #cammunity.
—
Kari "Platinum Puzzy" Anthony is an events trailblazer in the adult industry community. She created and organized BBWFANFEST, the first BBW niche trade and awards show recognizing plus size performers, and BBWCAMHOUSE — the first live 24-hour voyeur house filled with curvy adult stars, cam performers, dancers and more.
Text, trade pics or call me now! https://t.co/OZJ7LxQmfl pic.twitter.com/i7L9EnihSl

— ?QueenofBBW.com (@PlatinumPuzzy1) February 3, 2019