Dear Lola: Last month, I attended an industry conference. I was excited to go, because I'd only known two other cammers IRL. While I was there, I met another cam girl who only lives about a half hour away from me, and we hit it off right away. We had drinks one night and hung out the whole next day together. But I've texted her a bunch of times since I've been home, and she's never texted me back. I really thought we were going to be friends! What did I do wrong?
Sad in Cincinnati
Dear Sad in Cincinnati,
I'm so sorry this happened to you. Unfortunately, what you're describing is pretty common throughout the industry. While it's true that sex workers of all kinds report loneliness and isolation because of stigma and strange hours, when the opportunity comes along to actually connect, many of them drop out of sight.
I have a couple theories for why this is the case. The first is shyness, pure and simple. It's ironic, considering that camming is professional exhibitionism, just how many cammers are introverts. If you think about it, though, what makes the job so appealing for many folks is getting to work from home, not having to interact with people in person, and having a fair amount of control over the interactions you do have. So part of the problem is trying to friend people who aren't temperamentally inclined to be social.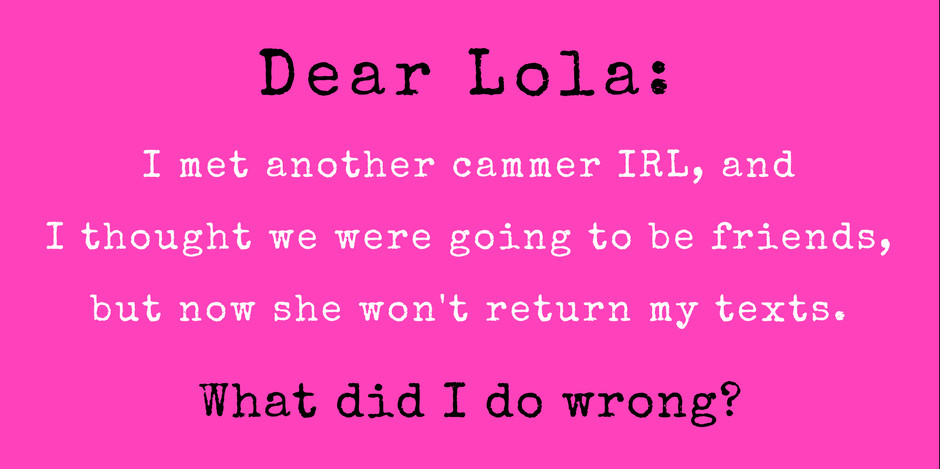 My second theory is the "what happens in Vegas stays in Vegas" phenomenon. At events where we're encouraged to drop our inhibitions and run a little bit wild, it's easy to warm up to total strangers. But as soon as we get back home, we don't feel like we can live up to our charming, witty, playful party personas. So, rather than run the risk of disappointing people with how bland we are in real life, we just stay away instead.
I understand why this bothers you, so here's my best advice for taking care of yourself after someone who you thought was going to be your new work BFF lets you down.
Don't blame yourself,
Don't assume you did something wrong, and don't take it personally. There's the tendency to play what happened over and over again, looking for some clue for how things turned sour. But most likely her behavior has nothing to do with you at all. Maybe she had a family emergency or an accident. Perhaps she suddenly found out she need to move, or work extra to cover an unexpected expense. You quite literally have no way of knowing what is going on in her life. Assigning blame is just buying trouble for yourself.
Don't give up trying.
When we get burned trying to make new friends, it can make it harder to trust next time, both other people and our own instincts. But work buddies who understand what camming is all about are so important to keeping us sane. Don't stop reaching out, and don't let what happened interfere with your good intentions.
I just mentioned that many people who cam are introverts. But in every industry, there are always those folks who are gregarious, outgoing and popular by nature. It's a whole lot easier to make friends with someone like that than a hermit. One benefit of befriending a "people person" is that you can expand your social circle by connecting with theirs. The next time you attend a networking event, keep your eyes peeled for the person who seems to know everyone, and introduce yourself. Chances are they will be delighted to meet you.
Take care of the people who count.
This time things didn't turn out the way you wanted it to, but there can be a silver lining: The experience can serve as a reminder of just how important our true friends are. The people who show up for us, no matter what, are irreplaceable, and we should never take their love and support for granted. Take this opportunity to let them know just how important they are in your life and how much you appreciate them.
Until next time, be sweet to yourself.
Lola D.
—
Have a question for Lola Davina? Submit it here and indicate "Ask Lola." Questions may be edited for length and clarity. No real names or identifying details will be used.
Lola Davina is a longtime veteran of the sex industry and author of the upcoming Thriving in Sex Work: Heartfelt Advice for Staying Sane in the Sex Industry, a self-help book for sex workers. Contact her at Lola.Davina@ynotcam.com and visit her on Twitter at @Lola_Davina, on Facebook and on Tumblr.
Image of Lola Davina courtesy Pat Mazzera.