Don't play: Who sounds more like you?
Ana Clara: Goes to bed promptly by 11 p.m., has a restful night of sleep and wakes up each morning at 7 a.m. She's refreshed and ready to tackle the day — gym done and on cam by 9! When our girl is feeling especially indulgent, she has a little disco nap around 3 p.m., gearing up for an evening with her guys.
Tereza: Up and on cam until 3 a.m., sleep from 4-8 a.m., gym and errands, then back online by noon. Work from noon to six before snagging another three to four hours of sleep. Back on cam by 10 p.m., and the whole processes starts over.
Now technically, Ana Clara and Tereza are getting about the same amount of sleep. The sporadic nature of Tereza's schedule, however, makes it way more difficult to really tell how much rest she's actually getting.
But guess what? There's an app for that. Actually, there are several. Tracking your sleep patterns can also shed some light on all sorts of habits and quirks that may be making the sleep you do get less restful.
For a while, the big trend with sleep apps was a gadget interface, meaning you needed two components to get your sleep data in usable form. That isn't the case anymore. Even if you opt not to use a wrist gadget (e.g. an Apple Watch) in conjunction with your smartphone, there are still plenty of apps that can help track your sleep, and maybe get a handle on it. Here are some suggestions from iDownloadBlog.
Sleep Cycle Alarm Clock (only needs your iPhone)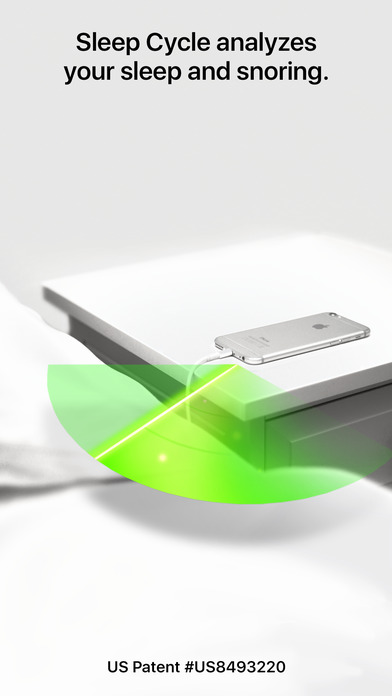 Sleep Cycle Alarm Clock is part alarm clock, part sleep tracker. Its interface looks fancy and seductive, and it has a lot of cool features, such as intelligent alarms. An intelligent alarm's main purpose is to not rattle you out of bed if you're in a deep sleep. So, after analyzing your sleep patterns, the app picks when you are sleeping lightest to wake you up (within a 30-minute window you set).
It does this by eavesdropping. (!!)
Sleep Cycle Alarm Clock offers two different methods of sleep tracking detection: your phone's accelerometer (a thing that measures acceleration, or in smartphones, how a devices is moving or tilting) or the microphone. Sleep Cycle Alarm Clock claims to have pioneered a microphone-based technology that listens to you sleeping, allegedly obtaining more precise results than the accelerometer. This helps wake you up gently, but it also means your phone is eavesdropping.
Cost: The basic version of the app is available free, though the developers do try to upsell you to their premium service for an annual fee.
Another comparable option: Good Morning Alarm Clock.
Sleep++ (needs an Apple Watch as well as your phone)
Sleep++ is super-minimalist. Shying away from potentially extraneous bells and whistles, this app cuts down on the clutter and delivers a reliable symbiosis between watch and iPhone, along with easy-to-read stats.
Just pop on your watch and go through your sleeping session with it on your wrist. At the next opportunity, your watch will sync the data it recorded to your iPhone for a decent visualization of your sleeping session. There are no weekly analytics or trends on Sleep++ and no heartbeat monitoring, notifications or widgets on your phone. It does, however, tie nicely into Apple's HealthKit.
Also, regarding battery life: If you worry about your watch's battery life, it's good to know that Sleep++ launches and tracks completely disconnected from your iPhone. This means you can put your phone in airplane mode before settling down for the night, with minimal battery drain when you wake up.
Cost: Free! (For less than two bucks you can get rid of the dang ads.)
Other comparable options: Sleep Tracker and Sleep Diary.
The hustle of cam life is important, but so is sleeping. In addition to feeling awesome, it helps you look better, think better and work better. The way feel and act when you're awake depends a lot on what happens when you're sleeping. This doesn't mean you can't find your own pace and rhythms and hours that best suit your life, but it does mean you should pay attention to your rest.
—
Erika Chan is the worst sleeper *ever*. She literally sleeps four to five hours per every 24. She's currently putting serious thought into an Apple Watch. Email her (she's awake).
Top image © Dmitrieva Daria.