Hi Sexy —
Winter and holiday obligations can be stressful, straining our schedules, budgets, and moods, making it that much harder to get our sexy on. In camming, we can't afford to ignore the mind-body-business connection, so we have to take extra care of ourselves this time of year.
Last month, I discussed ways to keep our bodies healthy when the weather turns wintery. This month, I want to talk about strategies for staying grounded during the end-of-year insanity.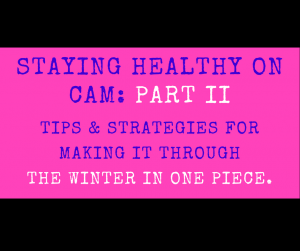 Emotional Check-In
Let's start at the beginning. It's common to feel mostly okay about our lives, then hit a wall of despondency when the holidays roll around. Like it or not, our culture places huge importance on the end of the year, loading it up with family, get-togethers, gift giving and life assessment. For many of us, this can result in feelings of loneliness, poverty, and failure. Many of us during these winter months tend to isolate, check out, consume mindlessly, and just generally feel depressed.
My first piece of advice, then, is simply to check in with yourself. It is perfectly okay if you don't find this the most wonderful time of the year. You are not a failure if the holidays get you down. No need to beat yourself up; all it means is a commitment to taking extra good care of yourself.
That being said, it's also perfectly okay to lean into any of the rituals of the season you do enjoy. If you're a huge eggnog fan or love lighting your Hanukah menorah with your housemates or look forward to being someone's Secret Santa, go for it. The important thing is to be honest and feel what you authentically feel.
Social Pressures
Obligations dominate the holiday season. Many of us face tremendous pressure to attend parties and family functions, while struggling to put in enough hours on cam. It can be especially tricky if we're not out to everyone in our social circle.
Here's my advice for holiday time management. First, make a list of everyone you want to connect with during the holidays; everyone else can wait until next year. Then, go down that list and determine how you'd best like to spend time with them. Perhaps grabbing a cup of tea or strolling in the park is a more authentic way to connect than a holiday party. Finally, plan your social schedule well in advance. If Friday nights are your busiest time, it's fine to say "Your tree-trimming party sounds wonderful—I'm so sorry I can't make it. But let's make a date right now to meet up in January when things settle down."
Money Pressures
Needless to say, this time of year, there's relentless pressure to spend. Feeling obligated to give gifts to all the people we care about can be particularly shaming if we can't afford it.
As children, we're taught that presents equal love. As grown ups, the nice thing is we can simply tell people how we feel. A hand-written note telling someone what you mean to them, along with a copy of your favorite poem or the title of a song that always makes you think of them, is more precious and meaningful than some store-bought doodad that just gathers dust.
Don't Take Seasonal Slowing Down Personally
You might be one of those lucky cammers whose regulars are active all year round, but many experience a drop off in traffic during the holidays. Keep in mind your fans experience the same seasonal money and time pressures you do.
To counter this, post your hours and get online as regularly as possible, so fans know when to find you. If you're going to be on cam during major holidays, or have holiday-themed specials, advertise across all of your social media well in advance. Make yourself a mix tape to get your energy up when your room is slow.
One other suggestion—take good notes on your traffic, your earnings, your energy, what works and what doesn't, so next year when the holidays roll around again, you can plan ahead.
Enjoying winter is a worthwhile goal. Don't wait until the last minute—take steps today to make your holidays merry and bright.
Until next time, be sweet to yourself.
Lola D.
Check out Lola's advice in "Staying Healthy on Cam this Winter (Part 1)" right here.
—
Lola Davina is a longtime veteran of the sex industry and author of Thriving in Sex Work: Heartfelt Advice for Staying Sane in the Sex Industry, a self-help book for sex workers now available at Amazon, Barnes & Noble, iTunes and wherever else ebooks are sold. Contact her at Lola.Davina@ynotcam.com and visit her on Twitter at @Lola_Davina, on Facebook and on Tumblr.
Image of Lola Davina courtesy Pat Mazzera.