With only about a year on cam under her belt, Ainslee Divine is already making great strides in the cam industry.
Divine spent some chatting with us about what prompted her to get on cam, her transition from full-time real estate professional to full-time entrepreneur, and what the future holds.
YNOT Cam: When did you get into camming, and how did it happen?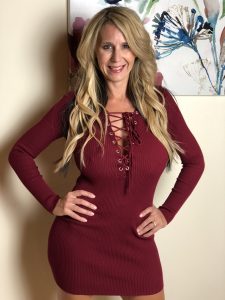 Ainslee Divine: My husband and I live in Las Vegas now, but last July we visited the city, as we had been doing for several years. I had recently gone through a body transformation and lost a lot of weight, and was feeling really good about myself.
So, one day, I was just playing around and thought, "Why don't I start an Instagram page under a different name?" I started taking some fun photos of myself in Las Vegas and in what felt like literally a blink of an eye, I had 10,000 people following me. It was crazy! I had no idea that would happen.
Eventually, porn companies were hitting me up and photographers were hitting me up, but I had a full-time job. I owned a real estate company with a partner, and I had no intention of doing anything else with my Instagram account. But then I realized that maybe I should look into all of this.
Did you have any guidance bridging the gap between having a popular social media account and becoming an adult model and performer?
Thankfully, I got lucky and connected with a website producer who ran a company that represented ten to twelve girls. Essentially, I was able to connect with him, and the company was able to help me create a solo website. So, in the process of that, the producer informed me that one of the ways that some of the girls were making their money was through camming. He said it was something I should consider. So, in early October 2016, I started camming.
The first site I cammed on was MyFreeCams. At first, I also was working my regular job Monday through Friday. Then, four nights a week after I got home, I would cam from 6 p.m. to 10 p.m. I'd also cam on the weekends if I could. It was crazy. I did that for quite a while because I didn't leave my job until March of 2017.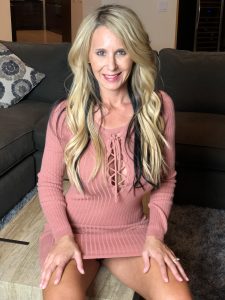 How did you decide which network was right for you?
I'm on Streamate right now, which I love. It's a great fit for me. I switched over in July of 2017. I am a pleaser for sure, so that allows me to give my fans that individual attention and allows me to give them what they are looking for, whether it's role-play or a fetish. It allows me to be whoever they need me to be. This has allowed me to grow and be more confident because I have to do what makes them happy. So, it gives me the ability to do that. I love giving a personal touch to my work.
It seems like you've carved out a pretty successful path for yourself…
So, here I am last year—a complete amateur at 42 years old—never having been nude on the internet. I just started a social media account posting sexy photos, and that led to a complete career change! I hope this is empowering to others.
The power of social media and the interaction with my followers is what propelled me into a very successful career in the adult industry. In just over a year, I have about 200,000 very engaged followers across my social media platforms and currently am leading the Best MILF category for the Adult Webcam Awards.
Do you have any advice for new models coming into the industry?
I would encourage anyone — because you have to feel good about your body and yourself — to not be a softie. Some of these guys are not very nice. You've got to be able to handle yourself in a situation like that. So, when someone calls you a name you don't want to hear, you have to be able to move on. But my job is so much fun. I love what I do… doing my job every day is awesome!
—
Visit Ainslee Divine's website here. Contact her at AinsleeDivineXO@gmail.com and on Twitter at @ainslee_divine.
—
Abbie Stutzer is a writer and editor from Lawrence, Kansas. Find her on Twitter at @abbiestutzer and on Insta at @abbiestutzer. Email her at abbie@ynotcam.com.