Every country seems to have a day of national pride – often a holiday, but at the very least a party opportunity, where people celebrate their history, independence and general awesomeness for the future. In the United States, it's the Fourth of July. In the United Kingdom, it's their sovereign's birthday. In Romania, it's Great Union Day.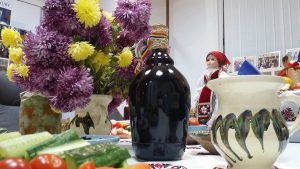 This year commemorated 99 years since the unification of Romania with Transylvania. Nightprowl Studio decided to celebrate Great Union Day – or, Romanian National Day, celebrated annually on Dec. 1 — in a super fun, community-minded way.
Located in Galati, Romania, the studio took a day off and threw a party, tapping into the authentic Romanian holiday spirit for inspiration. The entire space was decorated with Romanian symbols and flags. Dining tables were set to in the manner of a traditional Romanian household with clay pots, handmade knit tablecloths, late fall fruits and veggies and plenty of customary ornaments.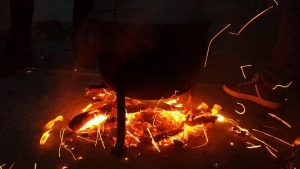 The food was also awesome. Traditional Romanian cuisine incorporates Balkanic receipts combined with Italian and French influences. Attendees got to indulge in some fine dining while laughing, singing and dancing up their Romanian pride. It was also a chance to experience a bit of team building, as the majority of Nightprowl's staff and models cooked together – including an iconic Romanian dish prepared outdoors in a giant cauldron!
It was a great opportunity for co-workers from different divisions of the studio to get to know each other. "We managed to create a home-like feeling within the confines of our studio and to take advantages of our solid and cheerful group to create a very fun and dynamic event," Nightprowl's studio manager Ana F. told YNOT Cam.
"It was a great day, and we're happy to spend it together!" she added.
This celebration followed another important event at Nightprowl: Doors Open Days.
Doors Open Days took place in the late October of this year. The event was the first time a Romanian cam studio opened its doors to the public and invited people in to visit its working rooms and offices. The intent of Doors Open Days was to reach out to the Romanian public in order to help acquaint people with the live cam space, highlighting into its legal, legit status via transparency and demystification.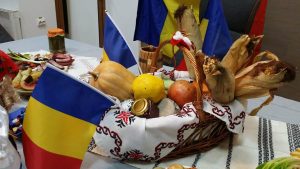 Celebrations like Nightprowl's Great Union Day party and Doors Open Days can have a significant positive impact, both on the sex work community as well as on people not involved in the cam industry.
Any stigma people may experience working in a sex media space may be attenuated via ordinary activities like an office holiday party and bonding with coworkers – cuz we're all in the same gang! Welcoming community members to familiarize themselves with the inner workings of a cam studio – itself a legit business space – may help people outside set aside the hate and realize that sex work is work… just like anything else.
—
Erika is a sex positive people watcher (and writer). Email her at erika@ynotcam.com.
Image © Sith Lord