By K.J. Kingsley
Is it possible to be in a meaningful romantic relationship and still be a cam model? There's no definitive answer to that question because every relationship looks and works differently. I've seen connections blossom and crumble; collectively though, the signs I've observed seem to point to — "Yes, it is absolutely possible."
Key word: possible.
What I've Experienced
I like to be transparent with people, especially in the early stages of a burgeoning relationship. Sometimes, my candor can scare people off. When you meet someone, "What do you do for work?" will likely come up early on. I don't let it get to the point of asking though because my sexy job is one of the first things I share. I will most times get a positive response — although my instincts tell me that this initial excitement is more about the dirty thoughts than anything else. Regardless, I let them ask their questions and go from there. I think it's important to put everything up front when dealing with (potential) emotions and feelings.
I've managed to make it past that dating-a-cam-model-is-thrilling stage. If you do get to this point, you still need to keep an open eye. In the beginning, there can be a "Look all you want, she is all mine!" energy. As things get more serious though, it could turn into more of a "That's mine! Quit looking at what's mine!" vibe. Ultimately, the thrills your hot-and-heavy crush felt may change as their feelings get deeper and stronger. Unfortunately, I haven't hit my stride in the "balanced relationship" department, with all my relationships ending with a dramatic and disastrous flair.
Maybe there isn't a correlation there, so I started thinking on what I've seen around me.
A Couple's Perspective
I met up with my dear friend Dahlia Dee and her boyfriend Steve. On the outside, they seem very happy and fulfilled. They're an adorable couple. As Dahlia excused herself at one point during our meet up, I quickly asked Steve about their relationship, hoping to catch him off guard.
Steve told me that Dahlia was upfront with him in the early stages or their relationship. "I was all for it!" he exclaimed. Later on, Dahlia confirmed exactly what Steve said: "I literally told him the first day. I don't wait."
Dahlia is no shrinking violet, so I was still interested in her method. "I said I did porn, then answered any questions he had," she explained.
You can't get any simpler than her approach. I find it noteworthy that she kept it vague. This allows the questions and answers to flow organically, making it so your partner feels like they are a part of the conversation, opposed to being talked at or explained to.
What else makes this relationship solid where others may fall out?
Steve loves that Dahlia is an independent woman who runs her hustle from home. Steve's pivotal personality quality that he is open, and Dahlia says that it makes discussions regarding their relationship easier. He is also adventurous — always up for any and all the creative idea she can cook up.
Dahlia told me that camming has helped her relationship immensely because, "It forces you to try new things and to bond as a couple. Since we work together [on cam], it's inspired a teammate mentality where we work together to overcome obstacles and earn money. It 100 percent has made our relationship way stronger."
Perhaps working in the adult industry provides the proper foundation that is crucial flourishing relationship?
Romance that Works for You
I hate to end the love-fest with a "but" …but.
Remember I touched on how I hadn't been so lucky in achieving anything looking remotely like Steve and Dahlia?
I will spare the messy details and just impart the lessons. Foremost, no matter how well things seem to be going, make sure you continue to watch out for red flags. People can be good at hiding how they honestly feel and may act manipulatively. Watch for passive-aggressiveness, backhanded compliments and other undertones of jealousy. These can speak volumes about how your partner actually feels.
It may seem like these are small things, but small things have a way of adding up, resulting in a big thing — something a relationship can't bounce back from. If you keep your eyes open, stay perceptive and trust your instincts, you will be able to tell the red flags from normal glitches.
Fix the glitches, sit down and think hard on the red flags.
How to Improve the Odds
Now, back to the love.
Can you be in a solid relationship and be a cam model at the same time? My lover's heart says YES! but my logical gut tells me it's going to take work. I think what I have learned from watching what goes on around me is that the trick is to always encourage an open communication policy with your partner from the start. Encourage them to ask questions and answer truthfully. Don't lie or hide anything. Ask or invite them to become a part of the process. Discuss and address boundaries and keep the conversation going.
It is essential to know ahead of time what is acceptable and what is not. If a partner forewarns you that they are not okay with camming or if you see any red flags, unless you are willing to stop immediately, it's best to cut your losses and wait for someone who accepts and loves all of you – and is all the better person for it.
—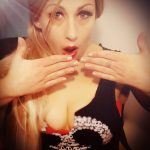 K.J. Kingsley is a writer and editor by day, professional dominatrix by night and an advocate for sex worker rights. Her goal is to educate, enlighten and perhaps even entertain the world about sex work, kink, mental health and addictions, ending stigma one word at a time. Find her on Twitter at @katiejkingsley and @CuntressKate and at her official site, sexworkerextraordinaire.com.
Image via Martin BOULANGER.