Capriciousness, adventure, just looking for something to do — Doing things "on a lark" happens all the time, but choosing a career on cam is not generally one of those.
Ironically, "I don't remember my cam anniversary like most people in the industry do," BustyLustyLark told us. "I never thought it was important at the time to write down."
Though she doesn't have a memory marker on her camiversary, don't let that fool you. Lark has a thoughtful and measured approach to cam. She considers the bigger picture in her daily work and is mindful of everything from media responsibility to the impact using certain platforms and pieces of technology can have.
We got to speak to Lark — who recently turned 38 on August 22 and hails from Western Canada — about all these issues and more!
YNOT Cam: What prompted you to begin your career online? 
LustyBustyLark: I have worked in a number of large organizations in the capacity of human resources. I started working online because a friend suggested that I might find it entertaining. I spent months researching on forums before I actually decided to jump online. I am very thankful for the friend and for the wealth of information that sex workers before my time were willing to share. Interestingly, enough said friend is actually now a client.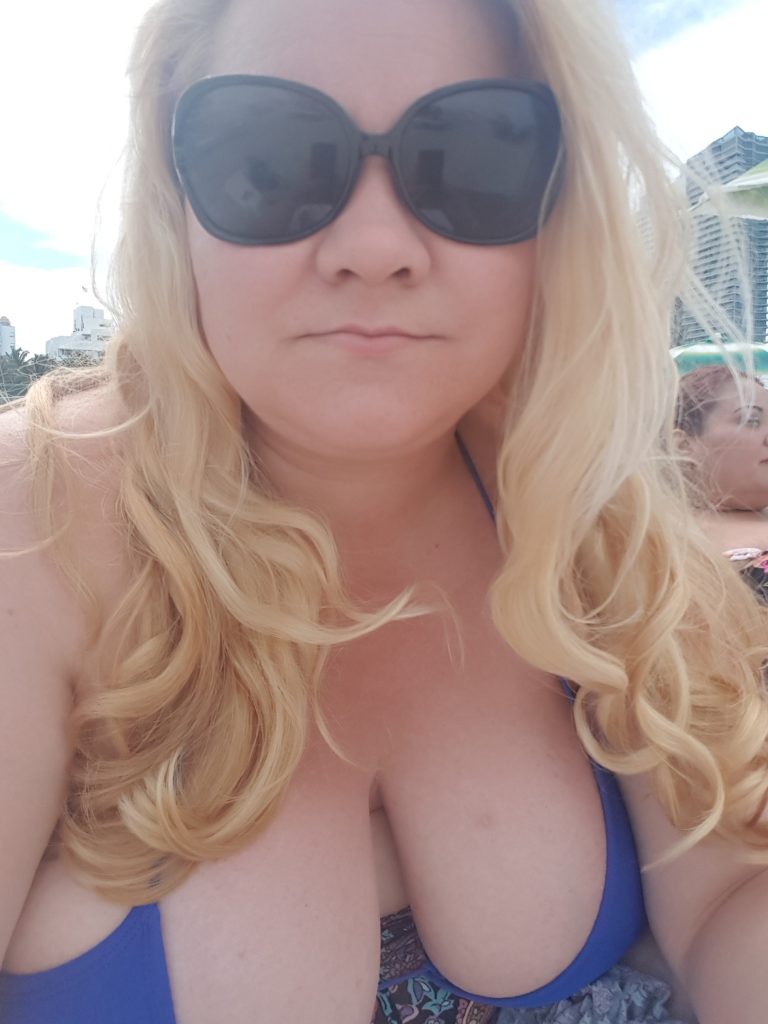 What are some of your favorite work highlights? What abut challenges you've experienced and general observations you have about camming? 
My absolute favorite thing about camming is the community itself. I have met a lot of fellow sex workers that will likely be friends for life.
For me personally, the challenge with camming is being consistent. Being a single mom that coparents, my schedule is always changing and that isn't exactly conducive to gaining a solid foundation of fans.
As far as general observations, I love that camming allows for people of all types to do what makes them happy. There is a lot of freedom that working online provides that the typical job doesn't. That said, while there is flexibility, even when I am not online I am almost always in work mode. Meaning I am on social media, searching for props, creating ideas for videos or promoting other models on one of my twitter accounts. Heck, it is 11:30pm right now while I am typing this up.
You don't use Instagram because, as you shared, you "hate how it automatically connects to Facebook" – because for better and often for worse, Facebook owns Insta. What are some other social media safety/sanity observations you've made?
I think one of the biggest social media safety tips I have is that whether you are on Snap or Twitter or some other platform, make sure when you post photos that you wait until you are no longer in that location to post them. You have no idea who is viewing your photos and how they could react if they come upon you in that place where you are.
Additionally, I occasionally see individuals post photos of their children, which I think is absolutely abhorrent. We are in the adult industry, and there are a whole lot of creeps out there who could be getting off to photos of your children or making plans to abduct them. Additionally, these children didn't consent to having their photos affiliated with the adult industry.
Also, please be aware of who is in the background of your photos and videos, especially in the case of minors. If there are people in the background of your photos, please do your best to crop them out or use some sort of sticker over their face or something.
Just made a sale! Dirty Talking Daddys Girl BBW https://t.co/h94JfiVNbP #ManyVids pic.twitter.com/DfDhCAjDY8

— LustyBustyLark™ (@LustyBustyLark) August 23, 2018
There's a lot of discussion currently going around the cammunity regarding client marketing, specifically marketing one's work as "general" or "niche." What are the reasons you think people should do this?
See now for me in particular this is an interesting question and one I debate with myself all the time. When I started in the industry, I was certainly just curvy — but over the years I have developed a large-and-in-charge belly. So while I wear medium low rise pants because I have no hips or ass, my belly certainly plants me firmly in BBW Land.
I find there are a lot of models like myself who are in this quasi-weird place of not quite BBW — as most people describe it — but certainly more than curvy. ChubbyCutiesCollective — @chubby_cuties — is a recent Twitter promo account created to address this niche area. I am not affiliated with it whatsoever but approve of its existence and can understand why the owner feels it is necessary.
As far as, niche versus general… If I am doing fat-related content, I always refer to myself as a BBW because then clients know where to find me. Just in the same way, if I am doing JOI, I use that niche category. I don't always label all my content BBW, like, for example, if I am doing foot fetish content because I rarely show my body in those videos so I think its more important to focus on the foot fetish aspect.
Are there any reasons why a model should not engage labels in some way?
I really can't think of any advantage to not having at least one label, genre, category or something that you're known for. If you are too general it will be even harder for people to figure out what you're about.
While I don't think everyone needs to label themselves, it can be helpful to have a least one category that you are known for or an expert in so that people know to come to you for that kind of cam show or to request customs. I often label myself as a MILF so I often get taboo video requests or exclusive cam show requests.
I mean, you wouldn't want to be a non-nude cam model and not express that on your profile — because you're just going to get frustrated with all the clients begging for you to be naked.
? Have YOU Been Voting?!

Vote for @LustyBustyLark in the Back To School Contest @manyvids https://t.co/V86LDtqgTe pic.twitter.com/qpn0CfJ0R6

— LustyBustyLark™ (@LustyBustyLark) August 21, 2018
Outside of camming, what are you most passionate about? 
I do a ton of reading. I will read pretty much anything honestly. I am a passionate learner and believe that we can never learn too much. If I could be a lifelong student, I would be.
Additionally, I am passionate about LGTBQQIA2S rights, sex worker rights, mental health awareness, advocating for those with differing abilities, advocating for individuals looking for supportive or low incoming housing and reaching resources within our community to do that. I was recently involved in a focus group with our mayor to create an app to assist individuals in connecting with locals who may have rooms open temporarily until they can find suitable housing. I am constantly challenging the language and archaic views held by those in my community. Honestly, I could go on all day about that.
If you could change one thing about today's world, what would it be and why? 
As someone who has been homeless, I often think about what I would do if I won the lottery. My first project would be to create a supportive living environment for seniors and families that is designed like a complex but there are also additional facilities on site, things like mental health services, day camps and child care, a vegetable garden, a place for relatives to stay when they visit, a room that can be used for birthday parties or reunions, courses in managing money and so much more. I have this dream, but first I need the money or to find an investor.
Essentially, the goal would be house individuals or families who are struggling but also give them the skills and access to services to enable them to thrive.
Lark, you are amazing! If anyone in the cammunity wanted to reach out to you to learn or talk more, can they?
If you are reading this post, feel free to connect with me on Twitter. If you want to vent about work or ask for advice on something or talk to me about your pets or you are dealing with mental health issues — whatever it is — feel free to do so.
If I don't respond to you right away, please don't fret. I am not ignoring you, it's just that sometimes tweets get lost in the abyss of Twitter so don't hesitate to reach out again.
You can find Lark on Twitter at @lustybustylark and online at BustyLark.cammodels.com.

—
Erika is a sex positive people watcher (and writer). Email her at erika@ynotcam.com.