Pornhub's recent announcement details changes to model profile pages. Some things to notice: a slightly different design, rearrangement of information, new default stream, new URLs and a tipping option.
This is what LustyBustyLark's profile — who is a verified model — looks like with the new changes: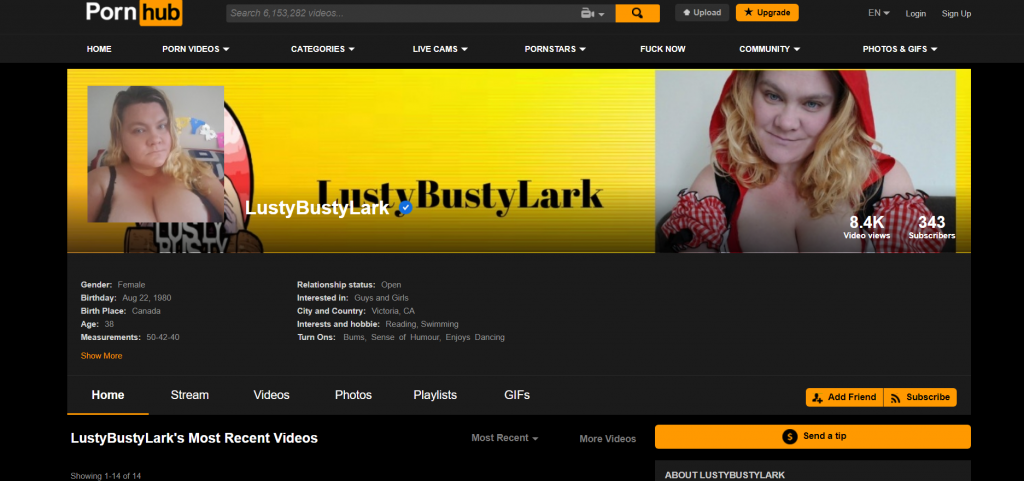 Behold: A tip button!
Models now have a "big, huge tip button" in the corner of their profiles. You won't see this option on your own profile when you're logged in (you can't tip yourself), but long Pornhub-yellow tip buttons have been added to verified model profiles.
Un-verified pornstars, models, amateurs and members cannot be tipped. Right now the tip options are $5, $20, $50, $100 and $150.
Recent Upload Display
By default, model profiles will now display their most recent uploads instead of their "stream."
According to Pornhub's announcement, profiles display "Your uploaded videos, with a focus on your paid-to-download content." In other words, the free-to-stream, paid-to-download videos pop up first.
Note: To charge a fee to download, upload it as a public (free) video. Once it's live, go to Video Manager → scroll to the video → Edit → Settings → Allow downloads? → Yes, with payment → set a download price.
Stats
Our stats have moved from the right side of the page to the top, directly underneath the profile banner. For pornstars, this is also where the sexy extravagant biography is displayed. Views and subscribers have moved to the opposite side of the page, and the exact number can be seen by hovering over the number of video views. For pornstars, the rank is also displayed here.
Collapsing Categories: Models and Pornstars
Let's unpack the combination of model and pornstar profiles.
The update states: "If you had both a Professional Model account and Pornstar page, those two have been combined. If you had an Amateur Model account and Pornstar page, your account has been changed to professional and the two pages have been combined."
Pornstars can still be found under the "Pornstar" tab. Other models can still be found under the "Community" tab. For models who had both types of profiles, they will appear under in both pornstar and model/member searches. For pornstars who are also verified models, clicking on their pornstar page takes you to the combined pornstar/model profile.
There are two "account types" available for uploaders on Pornhub: amateur and professional. (This information can be found under your model settings tab.) According to Pornhub, if your account type is amateur, you appear under the "verified amateurs" category. If your account type is professional, you appear under the "verified models" category, both found under the "Community" tab. These profiles were separate from the pornstar pages. If you previously had both a verified model account and a pornstar page, they have been merged.
The combination of profiles applies to models who have their own personal model accounts as well as official Pornhub "pornstar" profiles. Take a look at Dolly Leigh's new profile: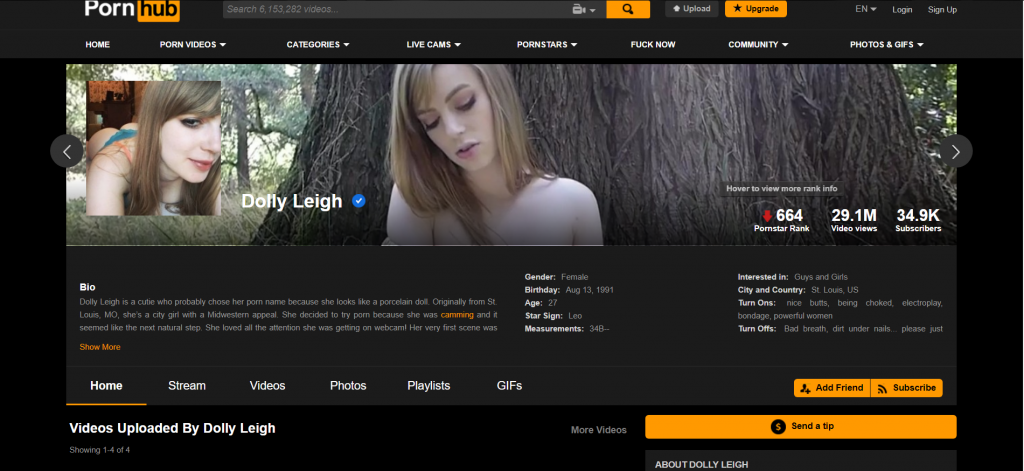 Leigh has a verified model account of her own, where you can find information she wrote and videos she uploaded.
As a performer who also shoots with mainstream pornstars and production companies, Leigh had a pornstar page where you could find uploads featuring her rank and stats, as well as the classic, over-the-top sexy pornstar biographies written by Pornhub. These two pages have been combined into one comprehensive profile where you can find all of the information, photos, uploads and scenes from both profiles.
URLs and Private Photos
Private photos have temporarily disappeared — but Pornhub assures us they will return soon — and profile URLs have been modified.
Previously, everyone's URLs were pornhub.com/users/username. Now, instead of usernames at the end, updated URLs contain stage names if you have one: pornhub.com/model/stage-name. If you don't have a stage name, the URL has changed to pornhub.com/model/username. (You can add a stage name in model settings.)
Since URLs now use our stage names, if your stage name contains any spaces, they are represented with dashes, as in pornhub.com/model/alsanna-james. Your old URL will still work, so old links in watermarks, posts or other websites will redirect to the new URL.
These changes have gotten mixed reviews so far. Pornhub appears to still be tinkering with some design and algorithm changes.
Follow @PornhubHelp on Twitter and check out Pornhub's blog for updates.
—
Alsanna James is a student, advocate, spoonie, writer, gamer and adult content creator. Half silent oracle, half professional sexpot, you can email her at alsanna@ynotcam.com and find her on Twitter at @AlsannaJames.