According to the latest data from the Centers for Disease Control (CDC), the rate of three types of STIs are at an all-time high. Sadly, with this data in tow, various sex industries will undoubtedly take a hit below the belt by those who look for any reason to validate their belief that sexuality is a bad thing.
With this in mind, cam entrepreneurs might be feeling the need to hide what they do and cower under the "blame" pressure — but should they?
"Steep and Sustained" STI Increases
A new CDC analysis dated August 28, 2018 shows a "steep and sustained" increase in STIs. The U.S. specifically is experiencing surging rates of chlamydia (up 31 percent over the past five years), gonorrhea (up 67 percent) and syphilis (up 76 percent). The CDC also noted that the bacteria responsible for gonorrhea is showing signs of becoming antibiotic resistant, or "untreatable."
According to the report, public health leaders blame this crisis two factors: a breakdown of the public health infrastructure and an unwillingness of health care providers to ask patients the important — and perhaps perceived as "embarrassing" — questions about sexual history. The opioid problem currently inundating the country is lumped in the blame pile as well, which isn't surprising as there has always been a link between drug use and these types of infections.
Interestingly, what they haven't blamed these STI-related upticks on — nor should they — is the sex industry.
Sex Work Not to Blame
The health conglomerate couldn't blame this data on the camming industry even if they tried.
One key difference between the "vanilla" population and those working in the cam space is a general willingness to talk about sex. This attribute is true whether it be the candid discussion of safer-sex practices between lovers or the clinical presentation of sexual history to a health care provider.
Being comfortable with who you are is a blessing, and being self-confident under the beaming light of a camera is rare and should be celebrated. Unfortunately, the struggle with the stigma of being in a sexuality-based business is still very much present in our society.
Although the CDC's analysis has not placed blame with the sex industry, when information such as this is released into the public domain, it often fuels negative views — and blame — towards this genre of work. Especially in this case, however, it is a blame that is severely unwarranted.
What does this mean for you?
What's even more fascinating is what this declaration by the CDC could do to the cam industry.
If the reasons for skyrocketing STI rates are unsafe sexual behavior, what would be an obvious antidote? Safer sex behavior obviously, one form of which may be viewing and interacting with cam models.
With the statistics pouring out of Pornhub showing 81 million average visits to the site in one day, internet sexual satisfaction is another statistic at an all-time high. This trend translates well into the cam industry, as millions of people are looking for ways to delve deep into fantasy and safer sex.
Camming may be the ultimate form of safer sex and could perhaps be the new horizon the public should be riding towards. Couples bored with their sex lives can interact with someone new, spice up things in the bedroom and avoid searching for it outside the relationship, all from the privacy of their own home. Single men and women, no matter what their sexual preference, can explore their sexuality via camming and avoid the minefield of random, at times sketchy, hook-ups. The list goes on.
Cam models provide more than just a service for the viewers. Models offer an additional form of safer sex that could prove to be even more effective in today's sexual health landscape. What could possibly be better, statistics-wise, than that?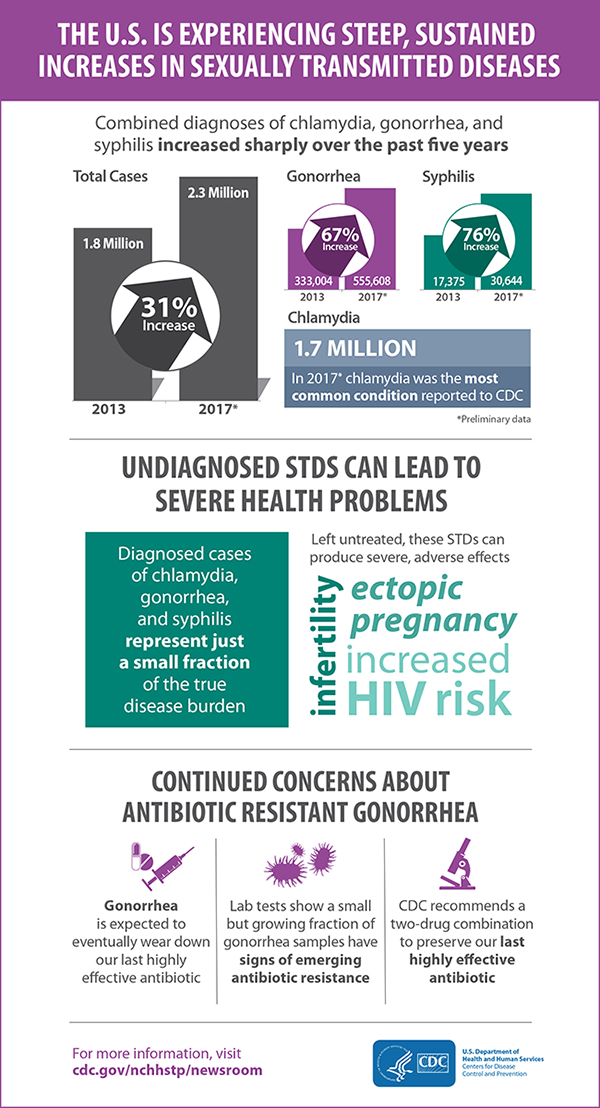 Infographic via the CDC.
—
Sarafina Drake is a freelance columnist with an affinity for adult publications and sex positive content.
Header image via jeroen belen.