Incels have gathered under shitposter David Wu, who has instigated a war against cam models with Premium Snapchats, using the IRS as a weapon. They are calling it the "#ThotAudit." It's mostly a shitty meme, but it doesn't mean it hasn't impacted sex workers.
According to coverage from The Daily Beast, here's a sum up of what happened:
[Recently], a group of grown men decided to deputize themselves as unofficial informants to the Internal Revenue Service. Their self-appointed mission? Reporting women who post sexual photos or videos online to the taxman.

Using the hashtag #ThotAudit—a play on the insult "thot," which stands for "that ho over there"—the men encouraged each other to snitch on camgirls and Instagram models, claiming the women had not paid income tax on earnings collected through social media and apps like PayPal and Venmo…

Several of the participants credited the campaign to someone calling himself David Wu, who began posting derogatory messages about sex workers on Facebook late last week. On Friday, Wu posted a screenshot from one woman who complained that her premium Snapchat channel had been reported to the IRS. In his best cartoon villain voice, he added gleefully: "LET'S FUCKING GO BROTHERS. RISE OFFICERS! RISE! MUHAHAHAHAHA. LET'S REPORT THEM TO THE FORBIDDEN FORCE."
Here's a grab of Wu's screenshot, just in case you care to be amazed/horrified/disgusted. Incidentally, The Daily Beast's "cartoon villain voice" description is not off-mark in the slightest:
Editor's note: Is this clown for real?!! 
Wu has about 14,000 followers on Facebook, which is pretty scary tbh. Some of these followers have attempted to report sex workers to the IRS. These incels have spread to different social media cites, such as Twitter and Instagram. They are reporting anyone advertising a paid "Premium Snapchat" or anyone with a PayPal link in their bio. Disgusting and frightening as this is, it's really just a scare tactic that has no legal weight.
How can we tell? Well…
Wu posted a link to the IRS to facilitate the reporting process, and we followed it to see what reporting sex workers entails. You'd have to fill out Form 3949-A, which requires you to have the person's full name, SSN, home address and a plethora of generally private information that I wouldn't even know if I were to report MYSELF. And even if some ugly-ass, no-life person were to find all this information on you, they'd still need your bank statements that prove you make over $20,000 a year.
If someone has claimed or threatened to report you, block them IMMEDIATELY.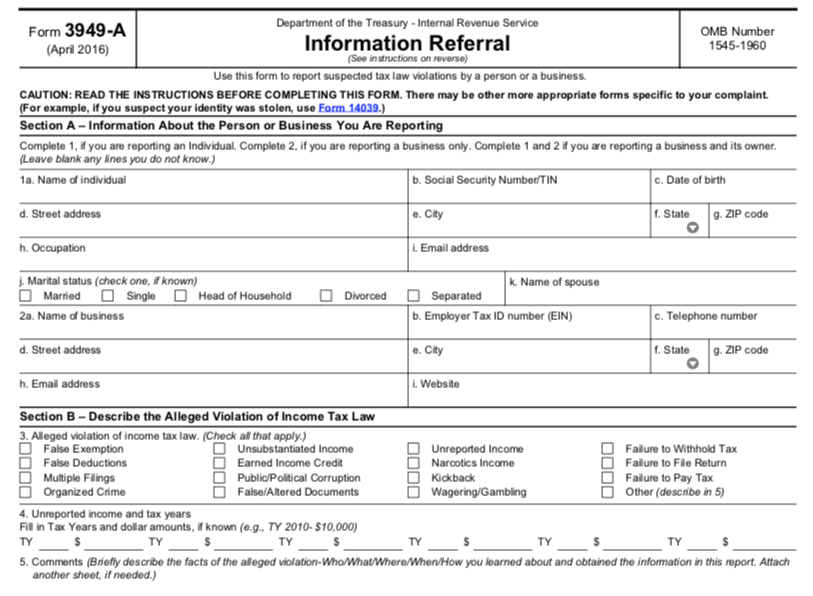 If you work for a cam site and make over $20,000 a year, your site will send you your tax form, just like any other job. Snapchat premiums are often supplementary and don't need to be reported (Editor's note: Always get official answers to tax questions from a tax professional. Though this is how this reporting limit appears to work, taxes are complex and we are not authorities on this matter.) If you're making over $20 grand on your Snapchat premiums — first of all, good for you — make sure you report it when you file your taxes at the end of the year.
We're not out of the woods just yet though. Although sex work is legal, many popular forms of payment, such as PayPal, Venmo and Square cash discriminate against sex workers. Wu's followers have also been known to report PayPal accounts. If reported, they can put a hold on your funds — or, just keep them all together. Try to use sex work friendly apps, which are admittedly tricky to identify, and never ever use PayPal. They don't like sex workers and have made that clear time and again.
With the incels out of the woodwork and hungry for blood, keep yourself safe. There's a whole lot of narrow-minded, ignorant people out there. As shitty as this is, remember that being a cam model is LEGAL. Don't let them vilify you, and don't let them shame you for making money.
Protect your personal information, and block incels on social media. With no one to report, they'll just be screaming into the void.
I pay taxes. I'm not worried. But for those of you who are stressing the David Wu #ThotAudit drama, consider this: THIS is the form the IRS requires to report tax fraud. Do you seriously think the #ThotPatrol has access to this information about you? They're just internet trolls. pic.twitter.com/HrEVnydo5B

— Dr. Andra Porter (@andraporterlv) November 25, 2018
—
Ariane Torres is a writer who says funny things on occasion. Email her at ariane@ynotcam.com and find her on Twitter at @tofulumpia.
Screengrab of David Wu's online self via the author. Banner image of dudes contemplating gettin' them thots is a composite of pics from (left to right) Jean Scheijen, Aurimas Gudas and Amir Darafsheh.