"MelodyHero is my username pretty much all over the internet, however tons of platforms made me choose a first and last name… so I have officially decided to be Melody Morrison. I feel I'm kind of like the Jim Morrison of cam models. Like, rolling around on the floor yelling at people, telling them they're slaves and flashing audiences — on cam of course!"
So begins our interview with MelodyHero, aka Melody Morrison, the Jim Morrison of webcam.
After an off-and-on start, Morrison explained she's been fulltime on cam for a solid four years.
"Before that, I worked as a host at a restaurant, which is what really set me off to become a sex worker — food service, never again! I just couldn't stand being harassed by managers and staff and especially the customers for so little pay," she explained.
Between family dining establishments, a gig in pre-legal medical cannabis and some emotionally intense public service work, Morrison knew she needed to redirect her career path.
That's when she started to nail down her focus on cam sites.
"I always felt I had something important or interesting to say. I wanted to entertain and be loved for being me! I also just needed to be more free than my friends and peers," Morrison said. "And that's why I keep camming, truly. I don't necessarily want to be a top model earner or crazy famous — happiness is so simple when you know its elements."
Morrison took some time out to share a bit more about her experiences online – and she's about to become your new hero!
YNOT Cam: You already kind of alluded to the freedom aspect, but are other "best things" about working as a cam model?
Melody Morrison: Some of the best things about working online are learning about the fun random fetishes I never knew existed — scuba gear and robot porn! Oh and of course, all the lovely people I've met, forever friends some of them. I have a true blue friend on every single continent now! Amazing isn't it?
I truly love absurdity. Being able to do this is a job is wild, and I love the fact that I can learn so much from people all over the world and from so many walks of life too. I hate to kind of ruin that positivity by saying the hardest things for me live camming have definitely been knowing where to draw the line when it comes to rules and boundaries. Nobody can prepare you for what you're going to go through when you cam for the first time ever.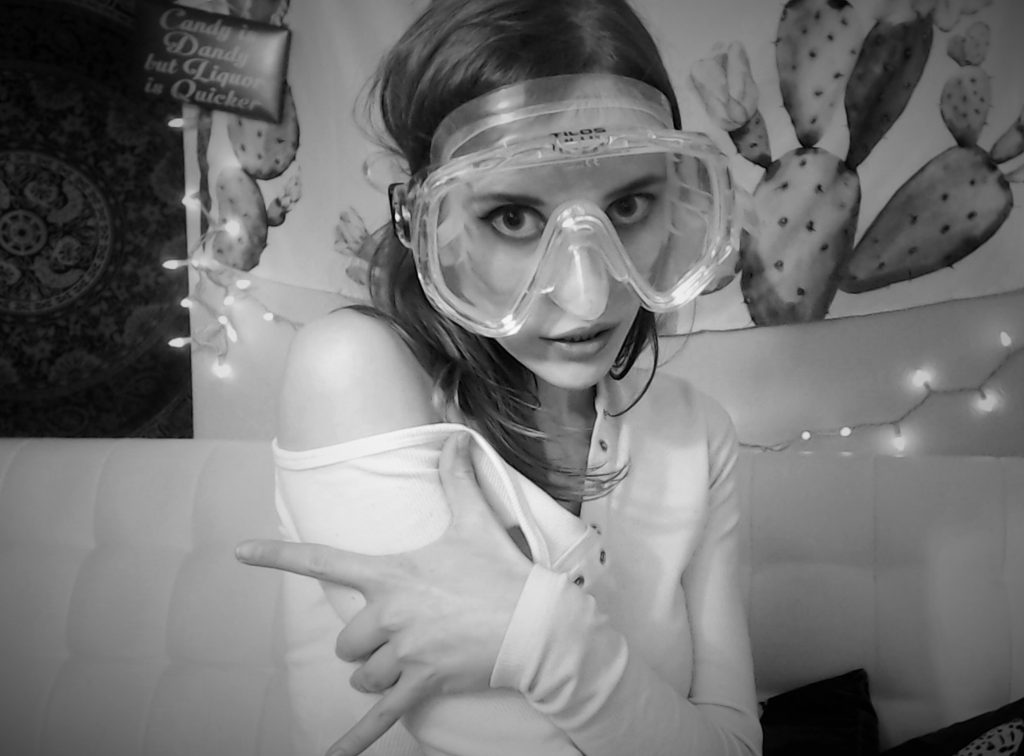 Tell us about being a "Down-to-Earthling," as you say…
So, my down-to-Earth-with-Martian kind of vibe — I see that's a really good reason to explain myself a bit. I feel like a Martian quite a bit. I took to Cultural Anthropology in college, and I feel like it's maybe because I feel like an alien looking down on the planet and all of us being so confused by people and their cultures.
I grew up in a very sheltered environment, and I guess that's why I often feel like a total alien when it comes to knowing what's right, what's wrong, what's taboo and why. I guess that's also why I like breaking petty rules.
I like to say "I'm down to Earth as dirt" when people compliment me as such. I just want them to know that I'm a human being too. I don't look good in the morning, and I cry a lot more than they think.
Blue-ba-da-dee-ba…
Remember old techno? Yes u do! "Melody from Heaven" was where I got my name LOL pic.twitter.com/GKgkL07Ku8

— MelodyHero Inflatable Empress (@MelodyheroMFC) November 1, 2018
I saw a tweet you posted that seemed to convey that you needed a bit of a break from the sort of emotional labor models often seem to do, especially during this time of year. Can you elaborate?
In regards to my tweet I made a while ago, I definitely was exhausted. That GIF leaving "The Truman Show" put along with that tweet, I think it was a genuine call out that members need to realize that I have to "clock out" sometimes. Work takes up seven days a week for me, in some way or another. I need to start making my own life and need to start having my own hobbies outside of camming.
I especially need to not worry so much about the members I worry about psychologically. I really need to work on not being Mother Teresa at work and learn it's okay to be a bit selfish. I care too much sometimes, and that hurts me. It takes a toll on me, and I know a lot of other cam models probably really do feel this way too.
Im definitely need of a day off! ? I'll be popping reply's back tomorrow but if you think you might have an emergency, call or go to the nearest hospital. pic.twitter.com/3S7BCpetMf

— MelodyHero Inflatable Empress (@MelodyheroMFC) October 9, 2018
Do you ever feel pushed, so to speak, to serve as a sort of proxy counselor or therapist for members?
I really want to be a counselor in the way. I think this is the closest thing to being a counselor I can be without any proper credentials. Plus I'm kind of an unlicensed, radical therapist.
I know I have helped people. They've come back to me months or maybe years later and said thank you for taking the time out of working to talk to them for hours for free just because they were suicidal or rock-bottom depressed. I know they need someone to talk to, and a lot of members may never show that side of themselves. The ones who do though, I take very seriously.
Perhaps because I've dealt with depression, anxiety and bipolar disorder and I know if I were on their end, I would just want somebody there to talk to — a perfect stranger to reach out to and say that they care. I know this is weird perhaps, but I do care about random people on the web. I want people to know that they're worthy to be loved and worthy to continue living.
But then that time passes and I need to make a quota. It's so hard to say "Hey, I gotta go back online…" It's not cause I love money but because I need it, and that's hardly selfish, really.
I believe a lot of times people go online on camsites to not only have a wank but maybe because they really do want some sort of human connection behind the screen. They're curious, they want someone to listen to them, they want perhaps a friendship even — something real as it can be.
The internet has brought us closer together, but also so far apart. We're ordering food from home and using Amazon Prime. We're drifting apart, and this absurd moment on cam draws people together in a bizarrely beautiful way. It's as dystopian as it gets, I have to say.
Outside of work, what are you most interested in?
Outside of work, I like to play with AI chatbots. I even did some beta tests for Replika. I'm also a self-proclaimed Shaman, tarot master and full-blown Romanian witch. When I had nobody at my lowest I learned tarot and some basic Nordic runes, and I swear it somehow saved me. I wouldn't be here today if it weren't for that tarot card The Fool.
Overall, I'm passionate about learning and understanding and bridging the gaps between our cultures and our fears of each other. I think it's cultivated this kind of distance on the internet and in real life.
If you could change one thing about today's world, what would it be and why?
If I could change one thing about this world — and I'm trying to be realistic — I would try my best to change the way people think, just a little bit! I'd want them to be less fearful of each other, especially as things become more and more global. I'd want people to be less afraid of each other and see the humanity in each other. It's never "us and them." From my little anthropologist side, we're really only one people. Literally, we are only one species of human. So I just I just want people to be more willing to try and understand rather than run off and be scared or point fingers and find scapegoats to hate.
To bring this all to a close, I'd want to spread this little quote I have — "Imagination is salvation, your savior from the mundane." Always know there's another way, another place to be, another life you could find around the corner. Think outside of what you've been told and believe you're not silly for embracing the world's absurdity, but so very free instead.
Find MelodyHero — aka Melody Morrison — on Insta at @Melody_Hero and on ManyVids here.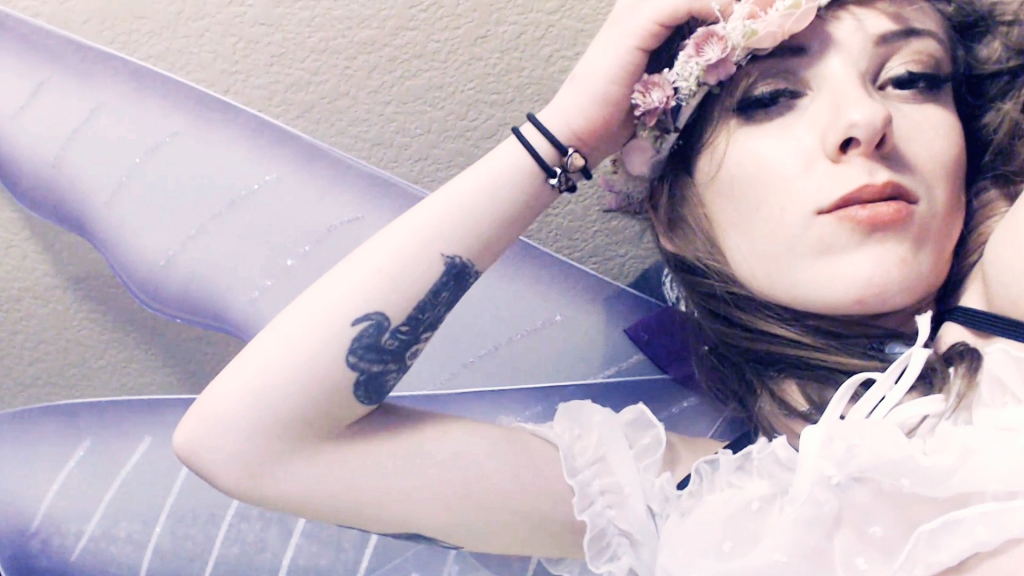 —
Erika is a sex positive people watcher (and writer). Email her at erika@ynotcam.com.