Hi Sexy —
Last month I wrote about planning ahead for the stresses of the seasonal frenzy and mentioned that many of our fans face the same social pressures we do. It's a time of year when many of us feel out-of-whack. Camming can feel especially lonely when our favorites drop off the earth for a few weeks, and our bank accounts can take a hit as well.
But what about the opposite problem: those fans that come to rely on us for support and distraction to make it through the holidays, perhaps a little too much? Here's some advice on how to navigate the season's extra demands of emotional labor from our fans.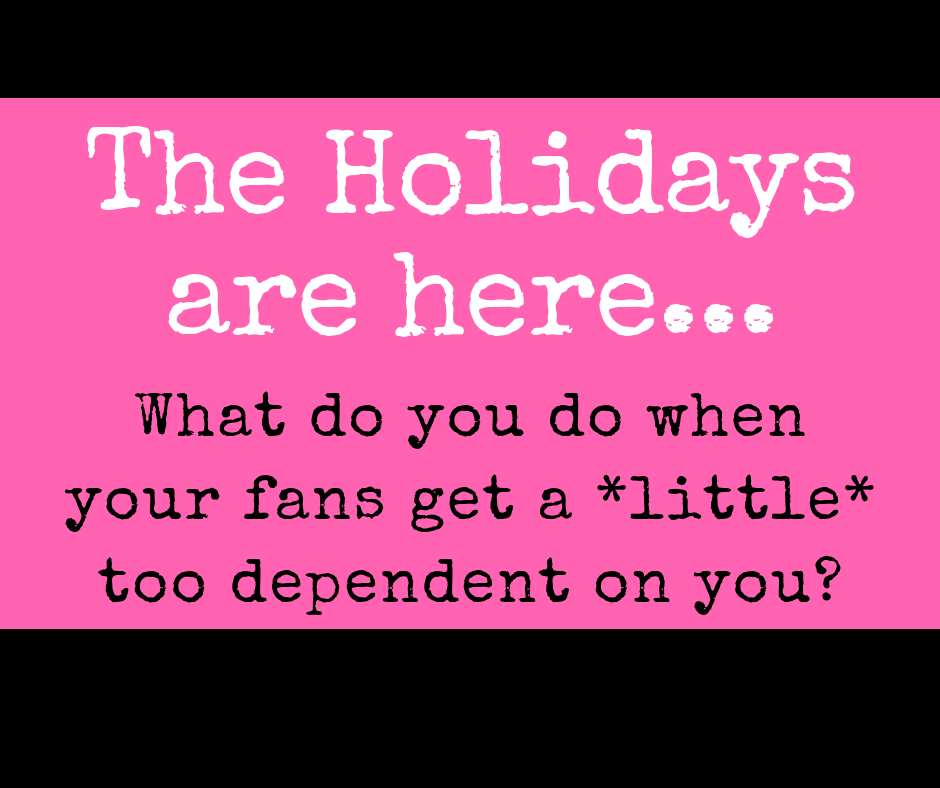 Just Listen
Simple to say, but sometimes not easy to do. For many of us, it's a habit to slip into the role of offering advice or otherwise trying to "fix" someone else's problems. The fact is you don't know the complete situation. You're only hearing their side of the story. Offering advice that doesn't really address the problem can contribute to the other person's sense of helplessness and hopelessness.
It is a tremendous gift to simply give another person your complete attention, affirming their feelings, saying a few soothing words and letting them feel seen and heard. Give yourself permission to resist the urge to say or do anything more.
Focus on the Positive
Sometimes fans don't come to us with a specific problem to be fixed but a general mood of depression or anxiety. If we're already feeling blue ourselves, it's easy to slide into a pity party. There can be some comfort in commiseration — but if it starts to feel draining, then you need to change the subject.
Fortunately in camming, it's easy to steer the conversation to something sexier. You can say something like, "I know the world is a mess, but while we're here together, let's make the best of it. Tell me what naughty thing you'd like to do to me if you were here right now."
Trust Your Gut
While it is certainly true that many people genuinely struggle during the holidays, you always need to be mindful of the possibility that some fans may use fake sad news to get extra attention from you.
If you get that little tingling Spidey-sense that you're being used, pay attention to it. I don't know why this is, but serious scammers like to drop hints that they're playing you — perhaps it feeds into their superiority complexes? If something seems off about the sob story you're hearing, simply nod, say, "Gosh, that's too bad," and move on to the next.
Set Limits, Take a Break
It can be scary when it feels like you're the only thing holding another person together or believing that you have to be there for another them no matter what. As powerful as that feeling might seem, it's simply not the case. No matter how much you might like a fan, no matter how long you've known them, no matter how despondent or clingy they behave, the fact is you are not required to interact with anyone who drains you.
My advice is to tell that person that you need a break before you get sad, mad or overwhelmed. Waiting until we're truly stressed out isn't good for a whole bunch of reasons. It takes a bite out of us emotionally, which is not healthy. We may end up speaking more harshly than we intended, which means we often feel ashamed and have repair work to do later. And finally, waiting until we snap sends the message to the other person that they are, indeed, too much.
Sometimes the kindest thing we can do is lightly, gently remind them that they do have other resources. They can reach out to friends IRL, family, their broader community, counselors and crisis hotlines—and then move ourselves along.
Recharge Your Own Emotional Batteries
Finally, during this frantic holiday season, a little bit of self-care can go a long way, including paying attention to early warning signs that you're getting burned out. Plan ahead for those inevitable times when work and the world get to be too much by having your self-care kit stocked up, whether it be silly movies in your queue, a special slab of emergency dark chocolate right at hand or your best friend on speed-dial.
Camming is show business, but we can't give a high-energy performance or otherwise show up for our fans when we're depleted ourselves. Be sure to take extra good care of yourself, sweet Sexy, during this busy time!
Happy holidays!
Lola D.
Read a bit more about the psychology of emotional labor here.
—
Lola Davina is a longtime veteran of the sex industry and author of Thriving in Sex Work: Heartfelt Advice for Staying Sane in the Sex Industry, a self-help book for sex workers now available at Amazon, Barnes & Noble, iTunes and wherever else ebooks are sold. Contact her at Lola.Davina@ynotcam.com and visit her on Twitter at @Lola_Davina, on Facebook and on Tumblr.
Image of Lola Davina courtesy Pat Mazzera.