The BBW Awards Show was created by Eliza Allure, an award-winning performer and film producer. The idea developed when Allure was talking to a friend about the lack of BBW representation in mainstream awards shows.
"I was saying how nice it would be to have an awards show where it was strictly based on fan voting, not a panel of judges like most other shows," Allure told us.
"[In conversation, I was] asked why I don't host my own, and I thought, Why not? So, less than a week later, I created a website and launched the BBW Awards Show for 2018. It was a long year of preparations for the event, but the first year was amazing," Allure added.
The second installment is promising to be just as excellent — with more sponsors, bigger names, new categories and a wider reach.
The 2019 BBW Awards show will take place at Larry Flynt's Hustler Club in Las Vegas on January 22, 2019. For the upcoming show in January, they've sold out the venue. VIP packages are still available, but going fast. The event schedule is as follows: After the red carpet from 8pm-10pm, the BBW Awards Show takes place 10pm-11pm. The after-party, BBW Strip Night, runs from 11pm to 2am.
The 2019 BBW Awards' trophy models are Alexxxis Allure and Lila Lovely. The red carpet host is Olivia Leigh, and the MC is Kima Shines. The BBW Awards Show's Social Media Manager and Model Liaison is Roxi Adore.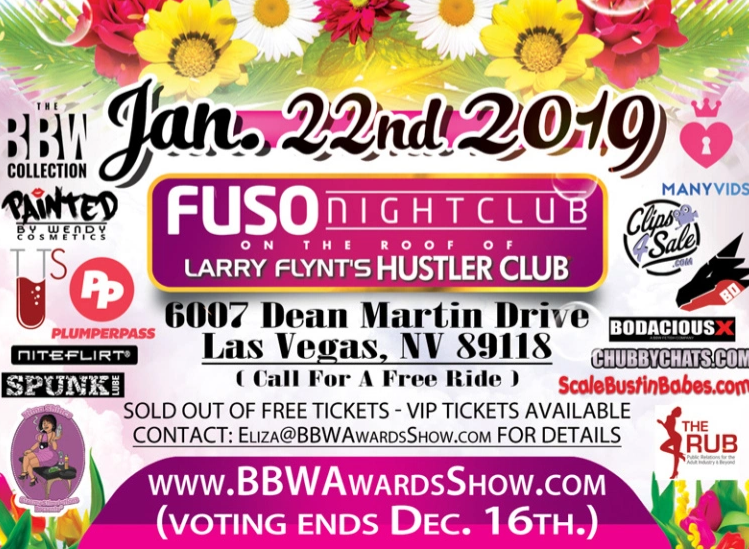 New for the 2019 Show
The program's first installment — held in January 2018 — was rough in terms of garnering the support necessary to pull the event off. This time around though, attendees and particiapnts might notice a few things different from last year's program.
This year, the BBW Awards Show is doing rolling nominations. Last year, nominations weren't announced until November. According to organizer Eliza Allure, this made it more difficult for models to prepare to attend the awards show. Instead of waiting until November to announce nominations, voting began several months earlier this year, and nominations are updated on a rolling basis.
A full list of nominees — including Angela White, Amberly Rothfield, Sophia Rose, Kimmie KaBoom, Lusty Busty Lark and many more amazing performers — can be viewed here. This list is updated weekly when necessary to include models (or companies or films) who have acquired at least 50 votes.
This year's categories are slightly different from last year. Many popular ones remain, such as XXX Performer of the Year and Cam Girl of the Year. Some of last year's categories are absent though, such as Best Snapchat, Best Belly, Best GILF, Best Squirter and others. According to Allure, they removed categories with the least amount of voter engagement.
This year's additions include Best Alternative/Tattooed Starlet, Most Photogenic, Best New Starlet of the Year, Best Phone Sex Provider and more. Other categories include ManyVids BBW Star of the Year, Trans Performer of the Year, Femdom Queen of the Year, Feedee of the Year, Interracial Female Performer of the Year, Best Clips4Sale Store and so many more.
Vote 4 Lark to Win an Award @BBWAwardsShow ?https://t.co/RUFvUr8s01

Miss Congentiality ? Humanitarian pic.twitter.com/1VXXJI0Cvj

— LustyBustyLark™ ?? Planning Vegas Soon (@LustyBustyLark) October 18, 2018
How to Vote
All categories are write-ins. Voters simply go to this link and type the name of their choice in each box. (Pro tip: make sure to have a second window open with the list of nominees and/or make note of your choices before starting the voting process as the names are not listed in the actual voting form.)
The form may be submitted only once per IP address. Award winners are chosen entirely by voting. There is no BBW Awads electoral college — whoever gets the most votes wins the award. Awards are open to professional performers, as well as amateurs. Voting for the upcoming show ends on December 16.
All award winners will receive a $100 cash prize, and the BBW Awards Show will donate $1,000 to an organization chosen by the BBW Humanitarian of the Year.
For the Community!
The BBW Awards Show relies on BBW models and fans. Allure told us that the team welcomes feedback for future events. You can get in touch via this contact form.
"I want this event to be dedicated to the talented and hardworking men and women who contribute to the BBW community in positive ways," Allure enthused. "We added a Humanitarian of the Year category, which includes non-plus size models and influential people who have contributed to the body positive movement by giving us a platform. Representation is so important!"
For those with an eye on the future, voting for the next cycle of the BBW Awards will open in May 2019. Tickets for the BBW Awards Show in 2020 will become available in July.
—
Alsanna James is a student, advocate, spoonie, writer, gamer and adult content creator. Half silent oracle, half professional sexpot, you can email her at alsanna@ynotcam.com and find her on Twitter at @AlsannaJames.