Dear Lola,
I've got a favorite fan who wants to buy me a ruby necklace for Christmas — he's really insistent about it. He showed me the picture — it retails for $1,400 — but accepting it feels weird. And, actually, I really could use money like that to pay bills the next few months instead. What should I do?
Gifted
Dear Gifted,
It's that time of year when folks traditionally let each other know what they mean to one another through gift-giving. While that might seem nice enough, gifts, especially from cam fans, aren't always exactly what they seem. Things can get messy in a big hurry. Let's examine some of the perils inherent in accepting presents from members.
Practical Concerns
A gift list can be a useful marketing tool, providing our fans with peekaboo insights into our lives — our favorite foods or styles or authors. It can give a fan a thrill to see you dressed up in an outfit they've bought for you. It makes good business sense to have reasonably priced items available for fans to purchase to establish a special next-level connection with you.
You must, however, always be careful about the logistics. Here in the United States, Amazon provides tracking information to purchasers buying off other people's gift lists, which can reveal your real name and/or your mailing address. If gifts are a part of your cam business, I recommend incorporating as an LLC to protect your identity and renting a postal box in the name of your business.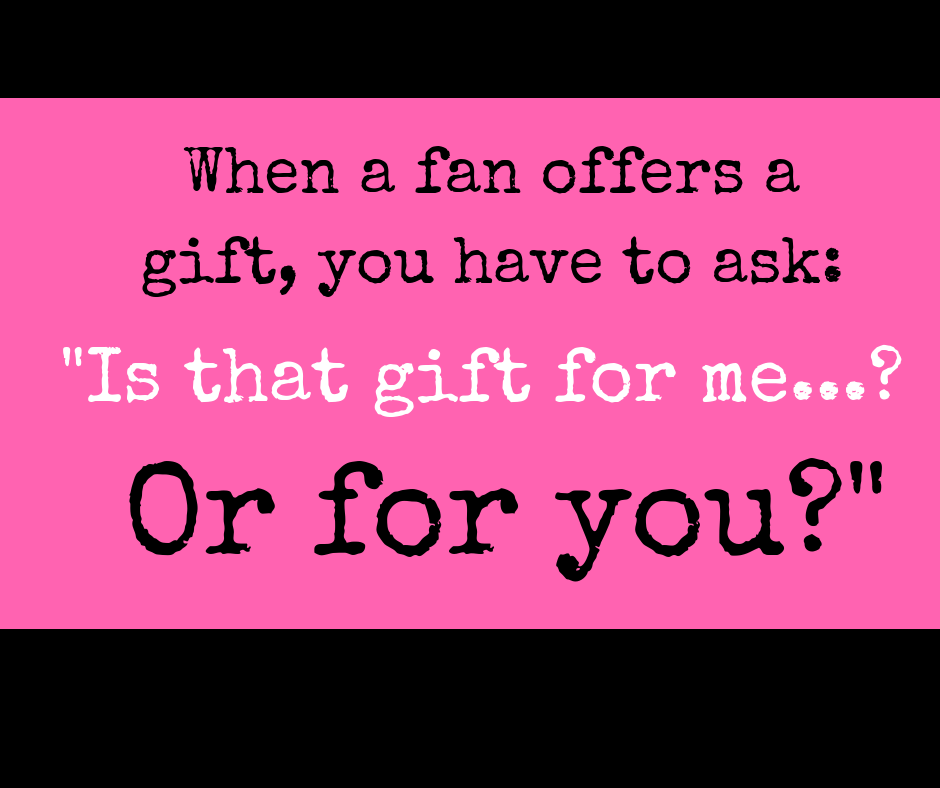 Is That Gift Really So Great..?
After privacy and safety concerns, in my opinion, the biggest issue with gifts is the amount of extra attention and gratitude most fans expect in return. Most of the time the obligation from gifts well outweighs their actual value. After all, 99.9 percent of all consumer goods — everything from cosmetics, clothes and shoes to lingerie and handbags — are worth only one-half to one-third of their retail price as soon as they leave the store, eventually depreciating to worthlessness. Even jewelry, which we think of as holding its value, is hugely marked up. Spend any time at all trying to sell your last-season gold, platinum or jewels, and you'll find out in a hurry that shiny baubles depreciate sharply on the secondary market.
Beyond that, there are so many fake luxury goods out there. Beware the fan who only wants to "tip" you with expensive objects, rather than cash. Most likely that means they are dangling the promise of Tiffany diamonds, but what's actually in the little blue box is cubic zirconium.
…And What Kinds of Strings Are Attached?
We only give gifts to people we want a relationship with. Often a gift is an attempt to get closer emotionally, to signal the desire to get to know you "for real." The underlying logic of a significant gift is: "I'm thinking about you, and I want you to think about me, too."
Sometimes the motives are directly sinister, such as trying to control you through obligation and guilt. Always ask yourself: "Is this gift for me — or for you?" Don't accept anything that feels like there's an unspoken agenda behind it.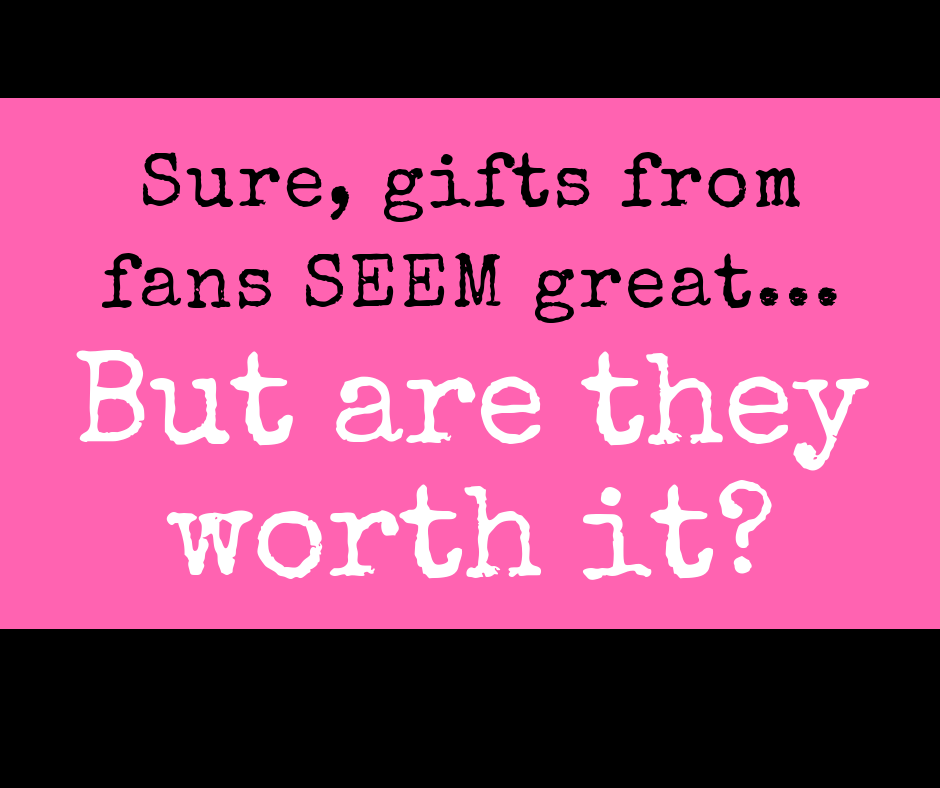 Strategies to Deflect Inappropriate Gift-Giving
A truly thoughtful gift is a treasure forever, but most, like chocolates and champagne and stuffed animals, are just ephemeral pleasures that lose their meaning in a few days or weeks. It may not be very romantic, but the best-intentioned gift between adults who don't know each other well is cash.
I encourage you to have gift cards featured prominently on your gift list, along with a compelling story of what that money means to you: "Please help fund my lifelong dream to visit my grandmother's village in [xxx]." Converting a fan into a monthly Patreon supporter is another way to establish a long-term, meaningful relationship.
Asking for money in lieu of a gift might not be romantic or sexy, but being direct can have the advantage of emotional honesty and vulnerability. For some fans, this might be a turn-off, as if you are exposing yourself as a human being with ordinary problems, rather than a romantic fantasy. But oftentimes the emotional labor required to receive a gift you don't want in the first place just simply isn't worth it.
My advice is say to your fan, "Look, my New Year's resolution is to get out of debt, and helping me pay off my student loans would be a whole lot more meaningful to me than a necklace." His response will let you know in a hurry just how invested he is in giving you something that is meaningful and valuable to you, rather than trying to buy your affection.
Until next time, be sweet to yourself.
Lola D.
—
Lola Davina is a longtime veteran of the sex industry and author of Thriving in Sex Work: Heartfelt Advice for Staying Sane in the Sex Industry, a self-help book for sex workers available at Amazon, Barnes & Noble, iTunes and wherever else ebooks are sold. Get the audiobook version here. Contact Davina at Lola.Davina@ynotcam.com and visit her on Twitter at @Lola_Davina, as well as on Facebook.
Image of Lola Davina courtesy Pat Mazzera.