wtf?! Actually, it's a cam summit… in Russia!
In this context, the "WTF" means Webcam Training Forum. (cheeky!) The WTF International Webcam Summit, which will be held this year from August 27 – 29 in Sochi, is being promoted as "the largest platform for business relations in the Russian market."
Here's some press info about it (copyedited slightly):
The second WTF Summit Russia 2019 will be held in Sochi this summer. This will be the most anticipated event in the webcam industry in Russia.

At the first WTF Summit 2018, about 380 participants came from 17 cities in Russia, Romania, the USA, Germany and others. This present included 40 studios, representatives of websites, media, individual experts and "home" (local?) models. This year's attendance and participation is expected to be up to 500 — organizers are waiting to confirm.

This year, event organizers are preparing an even more ambitious program in the field of training and business co-working, as well as an evening entertainment program. In addition to a sea of valuable information, there will be also mountains of new achievements and agreements happening at WTF 2019.
Sochi is a Russian city on the Black Sea and is known as a summer beach resort. Like, it's somehow somewhat tropical and has average temperatures in the low 80s during the month of August. As such, as a location, it was not just selected by chance.
More press materials says (also, copyedited slightly):
The location for the summit was not chosen by chance. Sochi is the pearl of Russia. Here, among the rocky mountains, breathtaking views will open up. In conjunction with the business practical portions of the forum, Sochi itself will help make the WTF Summit an unforgettable journey and a career highlight for many.
Can't hurt me with a business vacation!
Little birds have told YNOT Cam that the 2018 WTF Summit was pretty darn successful. And though specific information regarding programs and speakers is still forthcoming, show organizers have promised that "you can make useful contacts, meet with partners and reach new agreements" during the event.
Maybe it will be a fun and useful event? If you're in the neighborhood, why the heck not?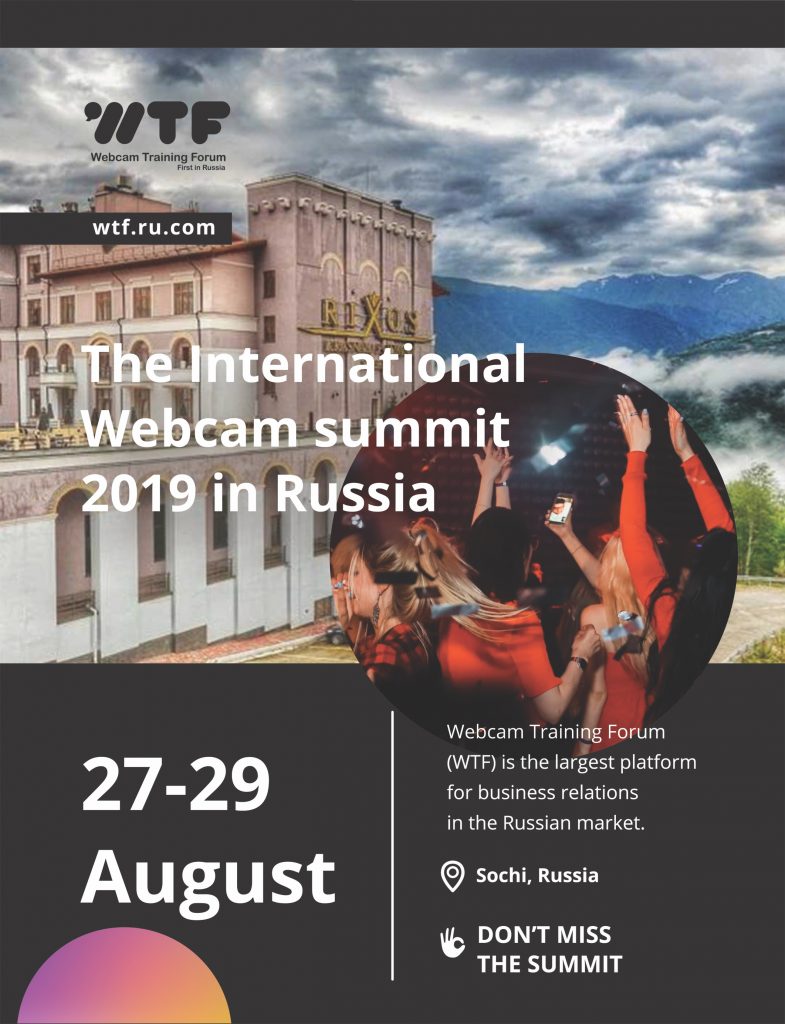 —
Erika is a sex positive people watcher (and writer). Email her at erika@ynotcam.com.
I really don't like James Bond movies and have no idea why this popped into my head, but enjoy anyway!