Ten years ago, there were very few cam sites. Today, there are literally hundreds. With so many options, selecting the right cam site to work from can be a tough choice — especially because navigating the ins-and-outs can be difficult.
Today, let's talk about one of the most popular cam sites on the internet: Streamate.
The first thing most models will tell you about Streamate is that they pay one of the smallest percentages in the industry. The standard model payout on Streamate is 35 percent, which is fifteen percent less than other sites like MyFreeCams (MFC) and Chaturbate. Take a moment to review the following facts and tips though, which may help you increase your earnings and have a greater return in the long run.
One thing to pay attention to when considering any site is traffic. The traffic a site brings to you as a cam model is very important as the more traffic that enters your room, the more opportunity you have for converting them into paying customers and cam shows. Streamate has invested a great amount of money into quality traffic, which equates to income generating conversions for you.
Another key thing is to define the type of show you are offering to your audience. It may seem like a trivial thing to consider, but there are very different types of shows and cam sites very based on the type of show you offer. For example, MFC and Chaturbate are token sites which allow you to be fully nude and perform your entire show in free chat. Streamate, like Flirt4Free, is more strict in not allowing nudity in free chat, forcing the customer to take you private to see more. Neither show form is better per se, but it can definitely change the dynamic of the cam room atmosphere and how you engage with your audience. It's important to think about what form you might like better.
Now, let's look at some of the interesting features Streamate has to offer.
[Editor's note: The following list and this post overall do not constitute a comprehensive review of Streamate. Instead, this is more like an exploration of lesser-known, noteworthy features models can use to possibly boost earning potential.]
Streamate, Fully Loaded
Here's some ideas to make the most of your Streamate account.
Update your profile often
Switch it up, keep it fresh. Change the wording of your description and play with various eye-catching phrases that will bring in more paying customers. Keep your photos current and upload images of you in various outfits or costumes, the toys you have available and other variety to give your customers options to choose from when setting up a private show, exclusive show or block session.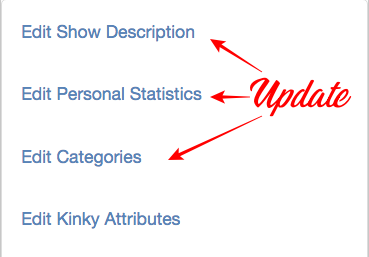 Change the pic in your bio
By changing your bio pic, it may bring back old customers or invite some new ones by seeing a new photo of you in the thumbnails.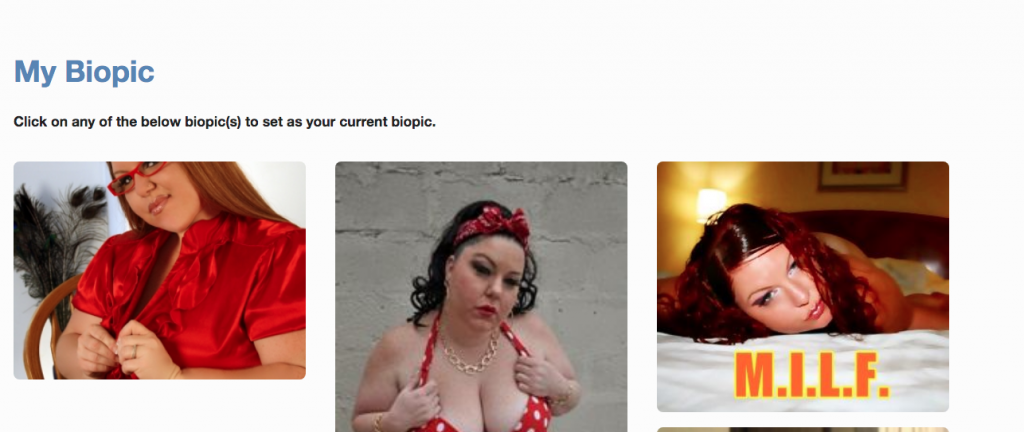 Upload free stuff
You can upload free videos. Keep them short and sweet. Give your viewers just enough to want more and take you private or exclusive.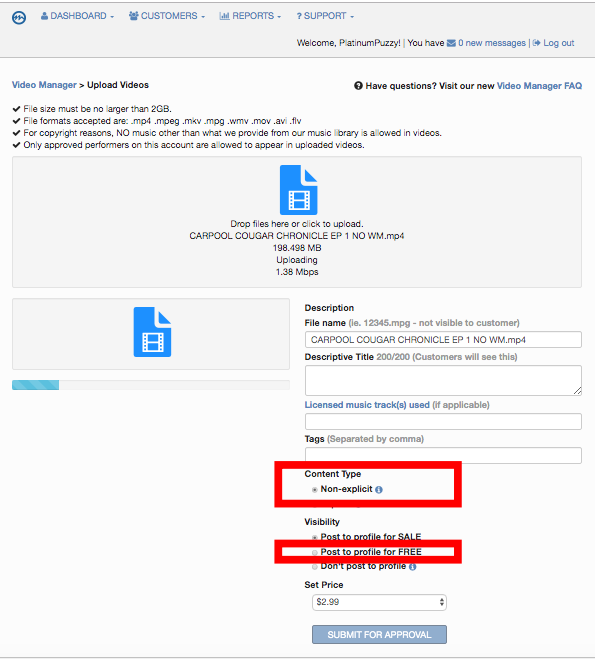 Upload videos for sale to the video gallery
Having content that makes sales without having to really work for it is a great way to increase your income and boost your fan base.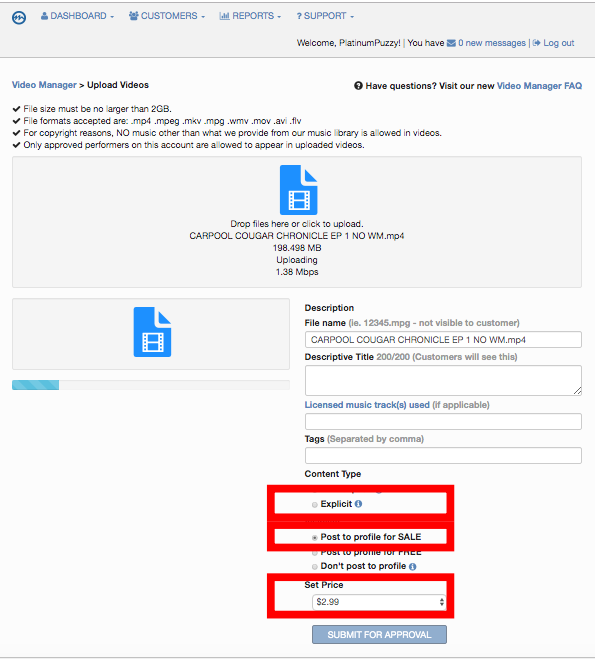 Music for your videos & stream
Streamate has an entire music library for you to download mp3s for your videos and to play while you stream. You can find the link in the Streamate help section of their performers area.
Send notifications to your message list
Streamate has a messaging system that allows members to send you messages. If you have received messages and added them as a contact, you can send out notifications when you go live. This also works great if you have new videos for sale or just announcements for specials you are offering.

Send free videos to your paid chatters
When customers are extra generous or just regular tippers, it is a great gesture to send a free video that you may have for sale to them. It shows your appreciation and often keeps them coming back for more.

Gold Shows
Gold Shows are private shows where you select the amount of time you are going to perform, how much you are going to charge each person who wants to enter and what you are going to do. These are a great way to fill slow times or get a room full of chatters interested in paying to see more.
If you do not already have Gold Shows as an option in your live performer dashboard, you can request it from the support team.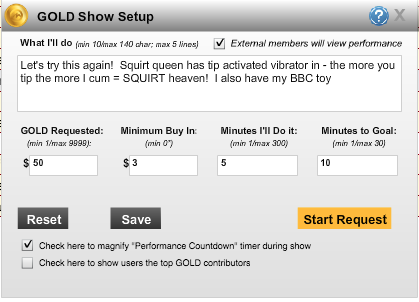 External shows for your website
If you have a personal website, you can contact Streamate support and request that they give you an embed code which will set up your Gold Shows to be free and available to your paid subscribers.  
You put this in your paid members area of your website, and your members will show up in green when you are in Gold Show mode. Simply select "External members may view my performance" option in the Gold show settings.  
Archived external shows for your website
As mentioned above, with your external shows being available to your members, you can record them as well and make the available to your members (in your paid subscriber area) to watch at any time. It's a flash player that will have your "external shows" available to watch shortly after you are finished performing. Simply select the "External members may view my performance" option in the Gold show settings.  
Offer block sessions
Streamate offers discounts for big spenders who book a block session with you.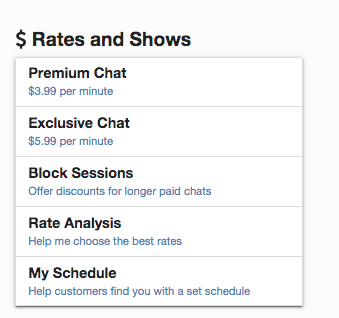 Cam status widget
Streamate offers a cam status widget to put on your personal site or blog that tells your site members and readers when you are live on cam. The link also connects to your cammodels link, so even when you aren't online you get credit for any customers who sign up and spend money on other models.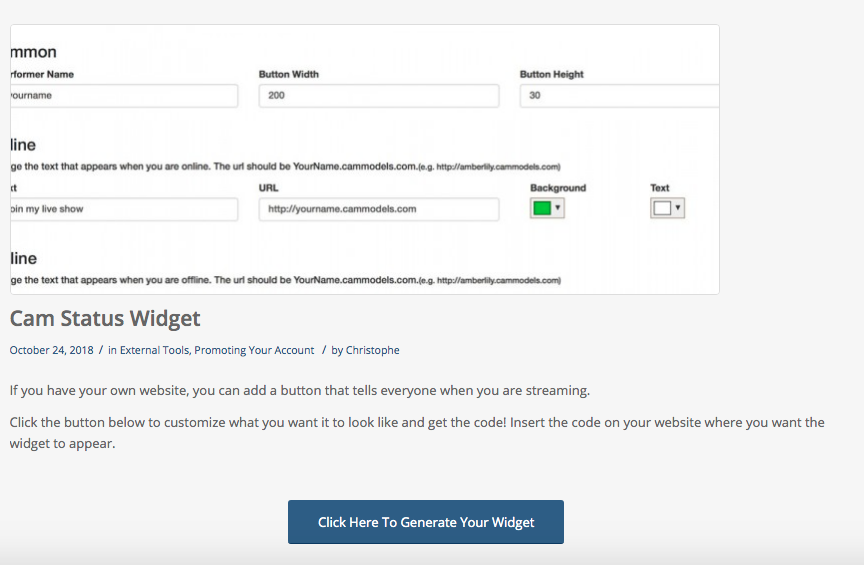 Affilate program for models
Using your cammodels link gives you credit for customers you bring to Streamate. You get a small percentage of the total amount they spend. It's a great way to promote and earn money even when you aren't online.  
250 FREE prints if you are signing at an adult show!
Streamate offers free prints for models who sign at events. Contact their support team to get yours ordered!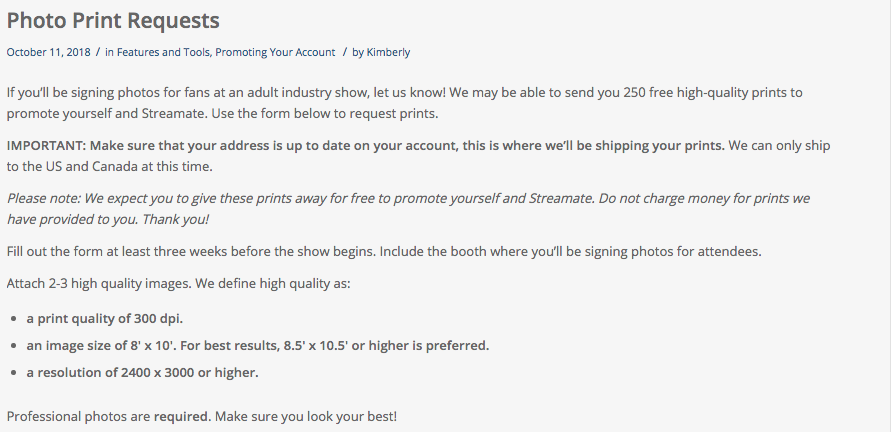 These are  great additional benefits to offer your members, as well as just some of the many great features that make Streamate a great site to work for. Weekly pay, $20 minimum for paper checks and instant traffic are also amazing perks. It's definitely a site worth trying in my opinion!
—
Kari "Platinum Puzzy" Anthony is an events trailblazer in the adult industry community. She created and organized BBWFANFEST, the first BBW niche trade and awards show recognizing plus size performers, and BBWCAMHOUSE — the first live 24-hour voyeur house filled with curvy adult stars, cam performers, dancers and more. Email her at platinumpuzzy@ynotcam.com.