Ah, computers — a blessing and a curse. They do so many great things for us, yet using them can cause so much discomfort, or even chronic pain.
It's nearly impossible for models to work without some sort of electronic device, so it's worth applying ergonomics to your work space to prevent pain before it leads to missed work. What the heck am I talking about? Sit up straight, and join me to find out!
Injured… from computer work?
If you've ever taken time off from work-related pain, you're not alone. Personally, there are times when I can't work and have to keep my wrists wrapped in soft braces because of pain from typing.
According to OSHA, musculoskeletal disorders (MSDs) like carpal tunnel syndrome and lower back injuries are "among the most frequently reported causes of lost or restricted work time." These injuries are usually caused by repetitive motions, physically laborious tasks or poor postural alignment. Fortunately, they are preventable with what's called ergonomics, or fitting a job to a person.
Ergonomics usually involves modifying work spaces to better suit a worker's individual needs based on their unique body. What's great about this — in addition to helping alleviate pain, obviously — is that it doesn't have to be expensive.
Now, maybe you think this is a pretty boring topic, but it's important to raise awareness to prevent future chronic pain from long hours of camming, taking calls and editing clips. Truthfully, there's nothing boring about this!
Assuming you sit on a chair at a table or desk and use a computer for work, you can try some of these improvements to achieve better postural alignment. If you hunch over your laptop while seated in bed like the photo below, you may suffer from lower back soreness — so, why not give a desk and chair set up a go?
Camming in bed is tempting but potentially painful.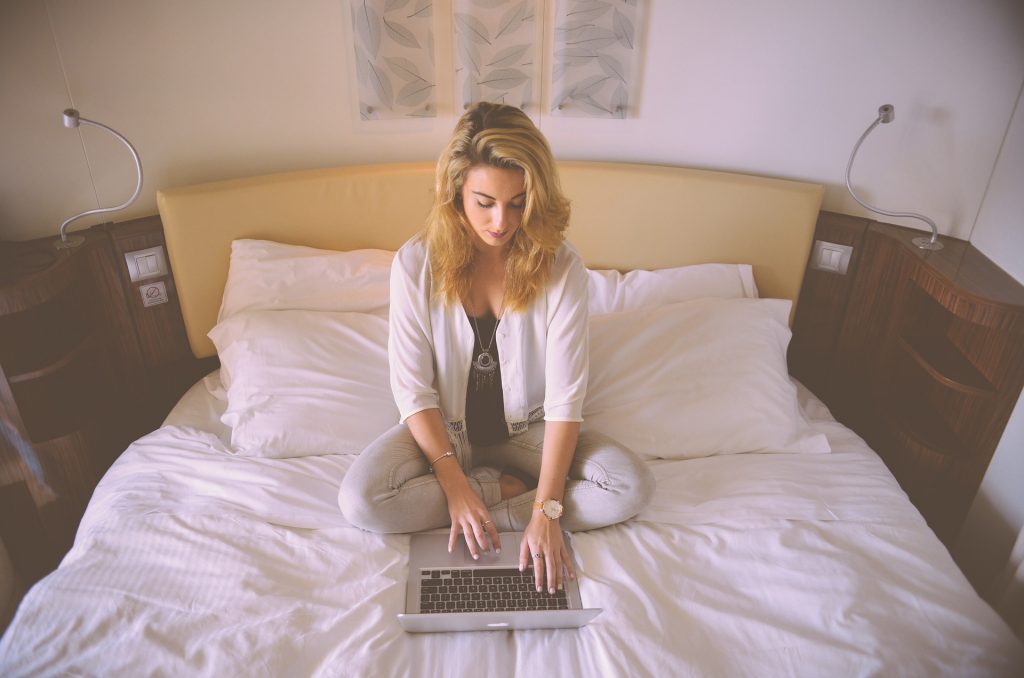 Get Ergonomic!
To make ergonomic changes, address each part of your work area individually, starting with your chair.
Chair
The height of your chair and distance you sit from the desk can both influence how comfortable you will be.
It's recommended to sit close enough so that your feet touch the floor and your elbows rest on the desk at a 90 degree angle. If your feet don't touch the floor, a foot rest or makeshift foot rest made of thick books can help you be more comfortable. Adjust your chair as needed to fit these requirements.
Desktop Monitor, Keyboard & Mouse
To get your computer monitor in an ergonomic position, start by positioning it arm's length away from you, directly in front of you. Next, raise your computer monitor so that the top of the screen is eye level with your gaze.
If you don't have an adjustable monitor stand, you can stack your screen safely on a pile of sturdy books. Place the keyboard directly in front of you at a close but comfortable distance and set the mouse next to it.
Laptop
If you use a laptop, you can set it up like a desktop computer to achieve the same ergonomic benefits. First, set your laptop arm's length away as you would for a desktop monitor. Then rest it on large, heavy books so that the top of the screen is even with your gaze. (You can also purchase a laptop stand which does the same thing.)
Attach a wireless or USB connected keyboard and mouse and place them close in front of you. Although a little complicated, this is one of the best ways to avoid discomfort while using a laptop.
A simple laptop stand — sturdy, adjustable and ergonomic.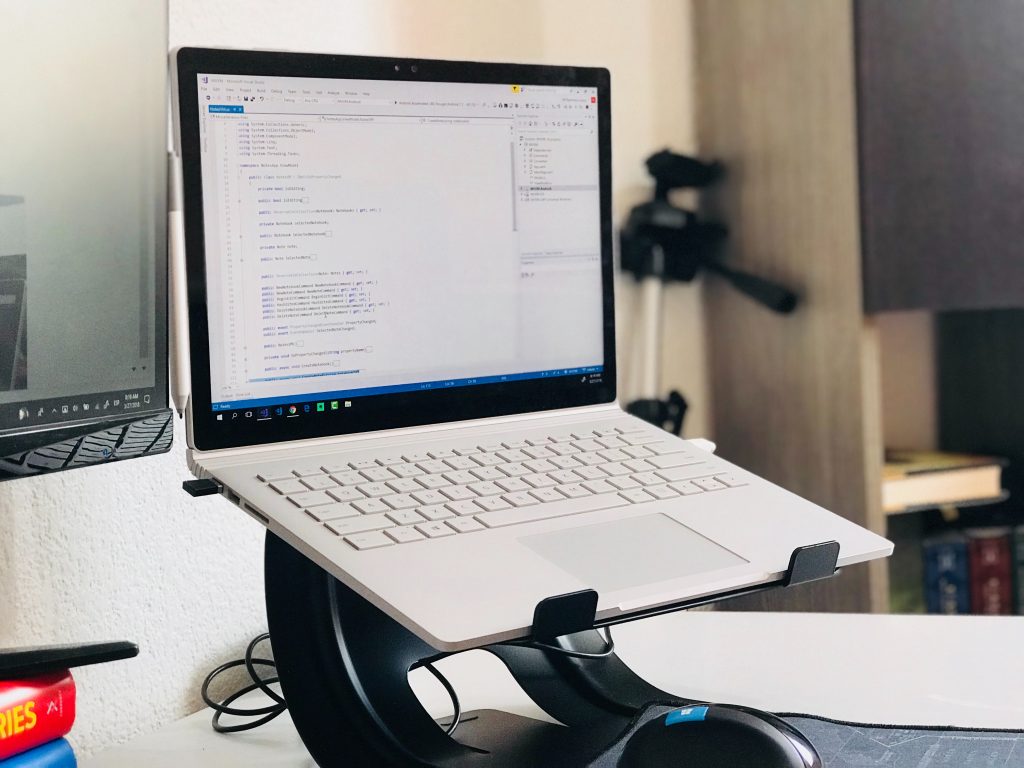 Phone & Headset
Invest in a corded headset with a microphone if you do any type of phone work. Holding heavy smartphones for long calls can be painful to your wrists and balancing them between your ear and shoulder can also hurt. Worse than that, it's not fully clear if the radiofrequency electromagnetic radiation that cell phones emit causes cancer or health problems in humans.
Corded headsets allow you to use your cell while keeping the cell antenna away from your head. They are beneficial to phone sex operators who use their cell phone for work since they are on it often. You can read more about cancer and cell phones here.
All headsets are ergonomically friendly, so any model will do. Here's a low-priced, versatile headset from Logitech that would be fine to start with. This kind has a universal headphone jack that you can use with both computers and smartphones, which I recommend over the USB connection headsets that only work with computers.
This Logitech H151 Headset costs $19.99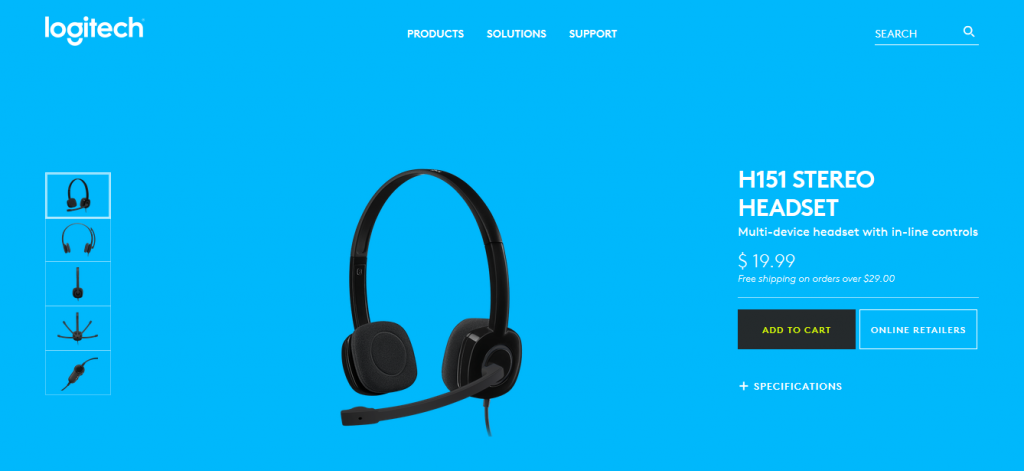 Ergonomic + Movement = Winning
Although ergonomic setups are great, you'll benefit most when you adopt complimentary healthy habits. Below are a few tips to try in conjunction with the adjustments made above. Hopefully together they can help you experience work in a more comfortable and sustainable way. 
Get Up and Move (or, groove!)
A study from the American Journal for Epidemiology shows that sitting for long periods of time is determined to be a contributing factor to early death from all causes. That's scary to know if you sit at a desk for most of the work day, week after week. It makes sense, though, that stagnant sitting for most of the day would go against our natural design as human animals, and indeed, it leads to blood clots, heart problems, obesity and more. 
A brisk walk, some stair climbing, rebounding on a mini trampoline or busting a move to some good music all helps keep the aches, stagnation and even the Grim Reaper at bay. Aim to get up for a few minutes every half hour to keep everything flowing, and make sure you're drinking enough plain water too. This makes a fine reason to dance on cam or video, not that there ever needs to be a reason to dance!
Love Your Eyes
Your eyes are susceptible to strain, dryness and discomfort from staring at blue-light emitting screens for long periods of time, especially at night.
To care for your eyes, try the "20-20-20" method, where every 20 minutes you look at something 20 feet away for 20 seconds. This is an easy to remember method to give your eyes a break. If you like, you can set alarms on your phone or download computer break reminder apps so you don't forget. You should also adjust your screen brightness so that it's as low as possible, even if that means adjusting it throughout the day as daylight levels change.
Do the Double Chin Stretch
Head retractions, aka the double chin stretch, are an awesome exercise for people with forward head syndrome, which is extremely common among computer and smartphone users.
To do this, sit upright and make a double chin by retracting your head straight back. Breathe evenly and hold for a few seconds, then release back to neutral. Do a set of five retractions and repeat as needed throughout the day. This stretch helps relax the suboccipital muscles at the base of your skull, relieving neck pain, stiffness and even headaches.
The Suboccipital Muscles! Unfortunately they aren't those colors for real, but that would be cool.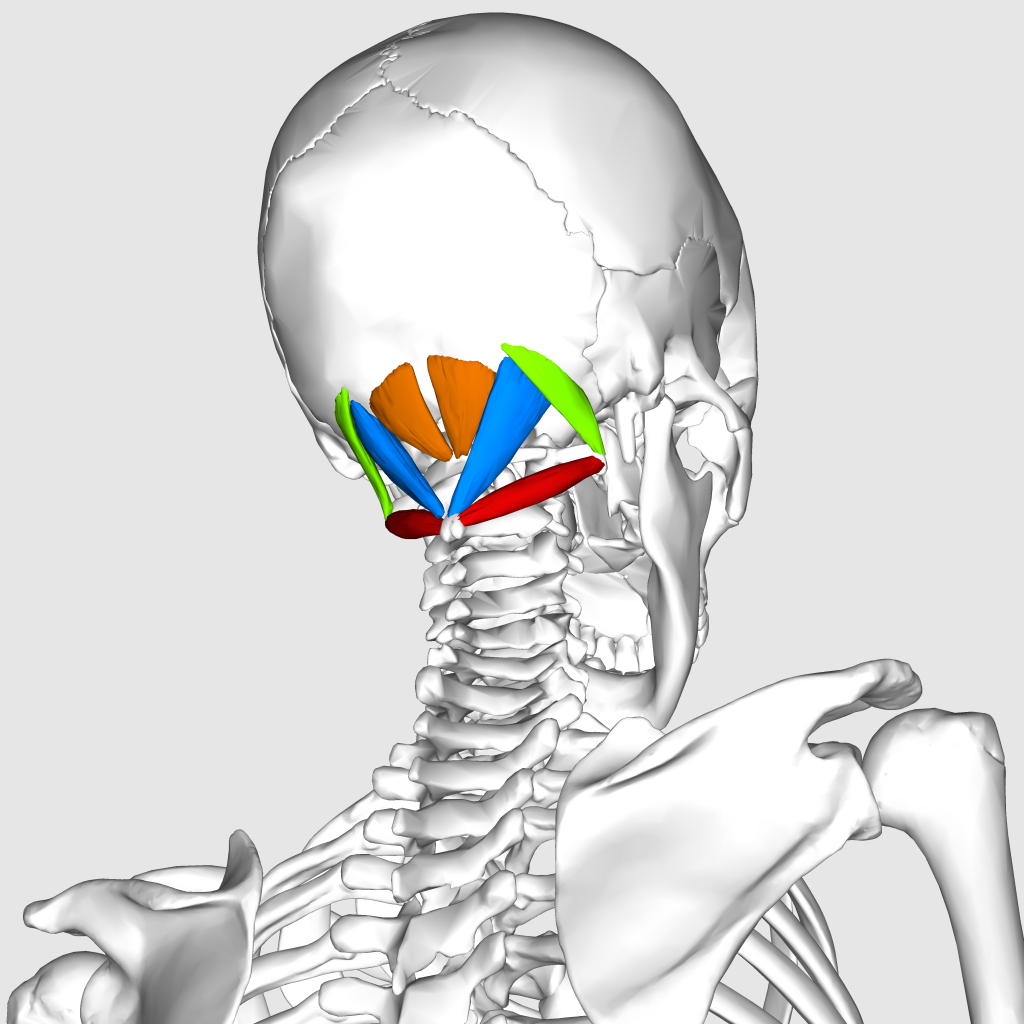 Sometimes, the most important things in life are also the most boring and least cool. The saying is "Sex, drugs and rock 'n' roll" not "Sex, drugs and sitting up straight."
I think it's the coolest thing in the world to take care of yourself though, especially so you don't look back with regret and physical pain when you're older and wiser.
If this article helped you, please share these tips with someone that could use this information before they get older and wiser. Until ergonomics becomes a buzzing fad, it's only going to bring relief those that know about it. Let's spread the good word of pain prevention and make double chins for better health, whaddya say?
Do you have any ergonomic habits that help? Let us know on Twitter at @ynot_cam!
— 
Anouk Gilmour is a registered yoga teacher at the 200-hour level. Eight years after trying camming in college, she is an amateur adult model again.
Take it from Young MC — Don't just stand there, bust a move!
Images via Pexels (here and here), Pixabay and Creative Commons.