This month, I thought I'd focus on something a little different — what's known as the "flow state."
In everyday speak, we often call the flow state being "in the zone." It's a mental state characterized by feeling fully immersed in an activity, while losing track of time. Being in the zone also comes with feelings of enjoyment and competence.
We all know what a difference it makes when we're cruising along on cam, or doing household chores while rocking out to great music, or taking a hike out in nature — when we're working hard but hardly working. Folks who are lucky enough to spend a lot of time in this headspace report high degrees of happiness and satisfaction in their lives. So, achieving our flow state, in both work and play, is worth figuring out.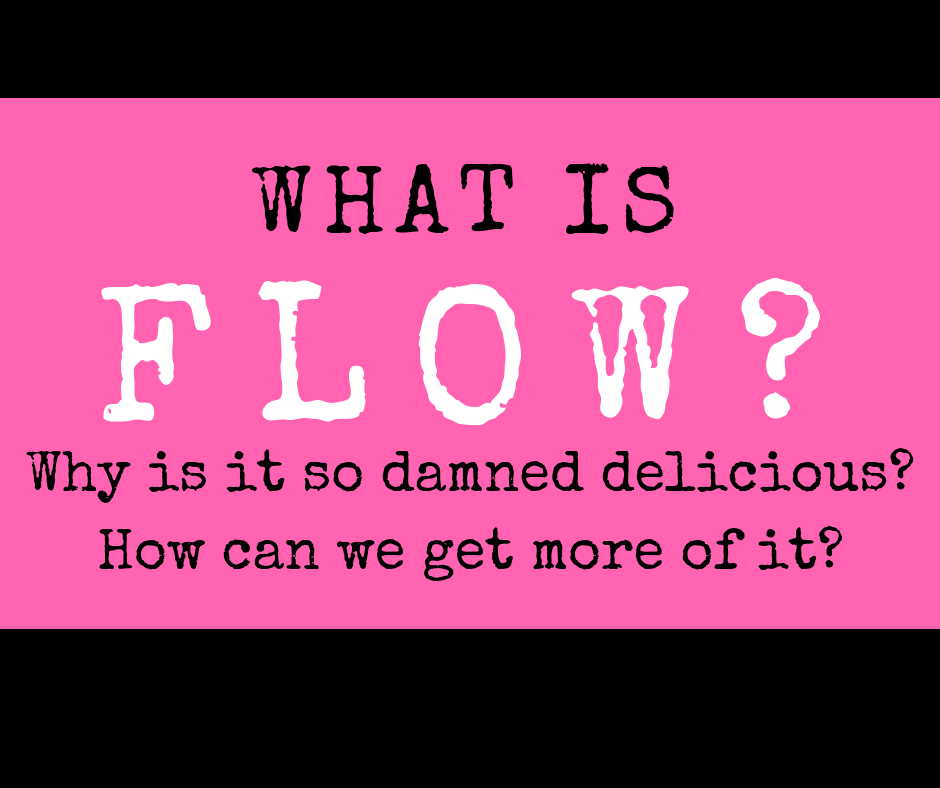 The Hungarian psychologist Mihaly Csikszentmihalyi was the first to describe flow by studying what constitutes healthy psychological states, rather than focusing on pathology and suffering. He named it "flow" because his research participants described this mental state as being carried along effortlessly through water.
Csikszentmihalyi identified six factors making up the flow experience:
Focused concentration on the present moment
Merging of action and awareness
A loss of reflective self-consciousness
A sense of personal control or agency over the situation or activity
A distortion of temporal experience
Experience of the activity as intrinsically rewarding
Translating that into regular-person lingo, when we're in the flow, we tend to tune out the rest of the world and lose track of time. Our inner critic goes to sleep, so we're not constantly judging ourselves. In fact, we lose our sense of ego while, at the same time, we feel competent and in command. And notably, for so many of us who struggle with feeling tired and overstimulated all the time, we feel energized and engaged, with no need to zone out or shut down.
The chart below is helpful for contextualizing the flow state and differentiating it from other elevated states, like anxiety and arousal.
Notice the measures of the x and y axes: respectively, Skill Level and Challenge Level. Flow isn't about gliding along on automatic pilot because a task is an easy routine. Flow is achieved when we're figuring something out, using our powers of creativity and problem solving and when the business at hand feels worthwhile.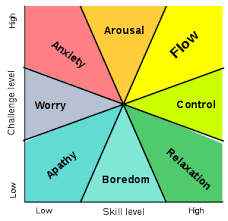 Mental state in terms of challenge and skill levels according to Csikszentmihalyi's flow model here.
Those somewhat contradictory characteristics — feeling in charge while losing sense of self, feeling excited and interested while being able to retain focus — add up to a potent combination of pleasure plus satisfaction.
So often in modern life, the state of mind we default to is checking out. We spend hours in front of screens on social media, cruising other people's impossibly perfect lives. Or, we get all fired up playing video games, which might get our hearts pumping faster but doesn't result in any sense of real life accomplishment and pride.
Then we wonder why we spend so much of our lives feeling restless, dissatisfied and lethargic. The benefit of achieving the flow state is that we might slip into bed at night all worn out from constructive exertion, with the satisfaction from a job well done. This is why it's important to regularly shake things up, to find new ways to challenge ourselves and not let ourselves fall into ruts. Boredom is the enemy of flow.
The first step to achieving more flow is noticing when and where we come to it naturally. Some places to look:
At work — when time flies by, we're deeply engaged and not counting the hours
At play —  engaging in hobbies and activities that make us feel alive, rather than just killing time
In creative projects — where we're solving problems and challenging ourselves to see things differently
In our bodies — finding exercise routines that we look forward to, instead of counting hellish minutes (or, floors!) on the StairMaster
Be on the lookout for those heightened moments. It can be helpful to keep a journal to jot down your impressions of those episodes when you're firing on all cylinders. Then, lean into them, looking towards ways to make that state of mind the norm in your life, rather than the exception.
The word "livelihood" means "a means of support or subsistence." So it's no coincidence that we find happiness when our livelihoods are filled with liveliness.
Until next time, be sweet to yourself.
Lola D.
—
Lola Davina is a longtime veteran of the sex industry and author of Thriving in Sex Work: Heartfelt Advice for Staying Sane in the Sex Industry, a self-help book for sex workers available at Amazon, Barnes & Noble, iTunes and wherever else ebooks are sold. Get the audiobook version here. Contact Davina at Lola.Davina@ynotcam.com and visit her on Twitter at @Lola_Davina, as well as on Facebook.
Image of Lola Davina courtesy Pat Mazzera.