Halloween is a fun time of year for the #cammunity. In fact, many models claim Halloween as their favorite holiday and celebrate all through October — hence, Halloween season.
With October comes thematic site promo, fun games, costumes on cam, Halloween- and autumn-themed clips, physical gift packages and tons of chances to play different roles. Here are some Halloween-centric insights and thoughts, from where to find the best random costuming components to cam and clips ideas guaranteed to get you in a festive mood — and help you build up that pile of candy corn in cam room.
Dressing Up (or Down)
Smaller stores and local markets tend to put out seasonal stuff shortly after receiving them, so you can often find Halloween candy, candles, socks, headbands, pillows, glow sticks and other miscellaneous props as early as August. Around this time, you might also find cute Halloween-themed socks, panties, bras and pajamas at most chain clothing stores.
Of course, you can order anything you need online year-round if you want to prepare your Halloween content months in advance. Target and Walmart usually have their seasonal products out by September (sometimes August), where you can get wigs, makeup, hair color and small accessories for a few bucks each. Target's "Hyde and Eek!" Boutique offers makeup, temporary hair color, decor, masks, props and more.
You'll have better luck finding a variety of adult costumes (especially the naughty ones) online, in party stores or Halloween pop-ups. For those outside the US and other American countries, Tesco and Asda have seasonal decor and costumes, too. Pop-ups like Spirit Halloween are your one-stops for just about everything. They have a huge selection of wigs, costumes, make-up, props and decorations. You can find things like vampire teeth, blood capsules, fake nails, capes and sexy costumes you aren't guaranteed to find in other stores.
Halloween is my favorite time of year! Last year I did a different costume once or twice a week for my shows during the month of October and on Halloween ? I posted all of my costume shows for the whole month. My fans loved it!

— videostoregirl (@videostoregirl8) September 28, 2019
Clip and Cam Ideas
Not everyone gets as excited about Halloween as we do. So, most of the year, customers don't think to seek out Halloween-themed content. Around September, models start pushing their Halloween plans. In October, sites start pushing Halloween contests and promotions. Then, it's everywhere. Thus, September and October are the best times to profit off of Halloween-themed content and cam shows.
You can raffle off candy, themed clips and other Halloween items and play fun seasonal games on cam. Your viewers get to see you experiment with different looks and concepts. With so many different roles to play, some utilize a different look or theme every time they cam in October. And sure: a fully-costumed feature-length ghost/vampire/witch threesome in a haunted library is a great video idea, but you don't have to go all out to participate in the seasonal promo offered by your sites.
To start, look back at your best-selling content. If you usually make bank with a particular fetish or concept, create another clip, but make it Halloween! Experiment with make-up, props and themes. A simple witch's hat, cat ears, a campy Halloween costume or vampire teeth is typically enough to be involved in whatever Halloween event your site has going on, especially when on clips sites you make sure to play up the Halloween scenario in the description.
I love sending Halloween cards and treat bags to my regulars, and putting out themed clips. I typically do a raffle for the entire month of October as well.

— Serena Salem (@Buxxxom) September 29, 2019
Contests and Other Promo
Cam and clip sites often do holiday-themed promotions and contests throughout the year. ManyVids will put the spotlight on their "Halloween" category, allowing extra visibility for vids tagged "Halloween" throughout the month of October. The creator of the tagged video with the most sales at the end of the promo period wins a bonus.
Throughout the year, Clips4Sale hosts a special promotional clip section. On October 1, studio owners received a message describing the theme, clip requirements, exceptions and duration of the promotion.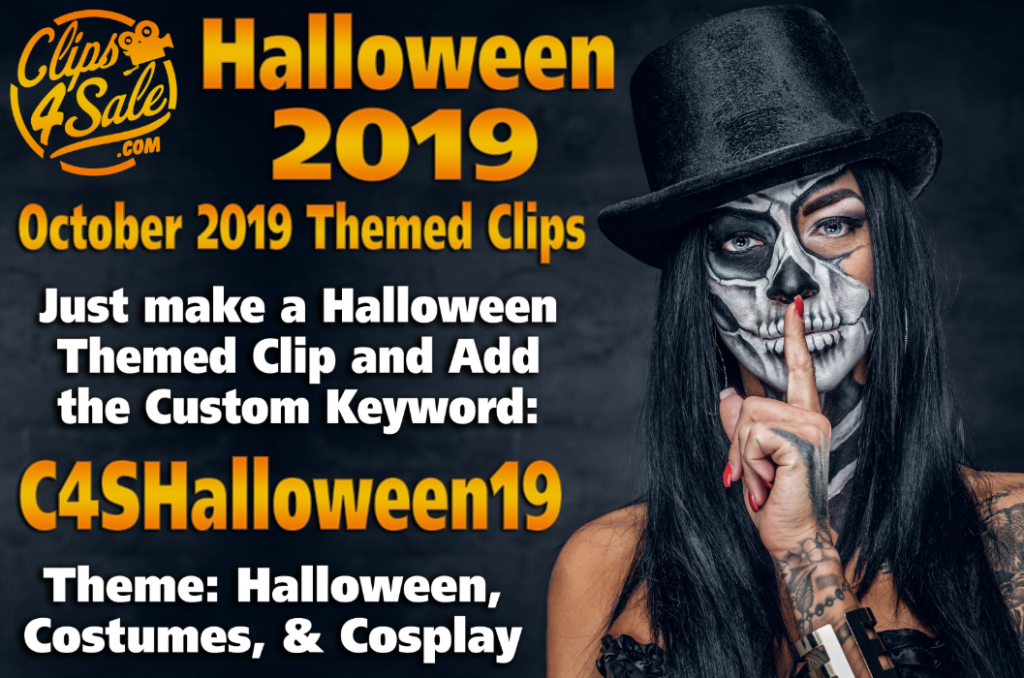 To participate, Clips4Sale admins instruct studio owners to: "Film a NEW clip in the announced Halloween theme (EX. Clips must include someone in the scene wearing a costume either for Halloween or Cosplaying a character, etc. involved in any fetish.). Clips cannot be reposted, old content. Only new, never before posted clips are eligible for the Themed Clip Promotions."
Clips4Sale gives you a specific phrase (no spaces) that you must include in your clip's keywords to appear in the promo section. This year, it's C4SHalloween19. The site allows you to sell duplicate clips of different file types, but studios are only permitted to tag the special keyword on one format per identical clip to appear in the category. So, if you upload halloweenclipxo in .wmv, .mov and .mp4 formats, only one of these clips can be tagged with the promo keyword.
ManyVids and APClips have frequent photo contests in which models can submit themed photos and users can tip to vote (more tips = more votes = higher placement). Photo contests give you extra opportunity to show off your Halloween getup and promote your themed content, old or new!
So many opportunities to get festive!
Thicker Treat starts tomorrow ? pic.twitter.com/k2p4RRS6LN

— T H I C K E R T R E A T (@DDestiny_Diaz) October 8, 2019

—
Alsanna James is a student, advocate, spoonie, writer, gamer and adult content creator. Half silent oracle, half professional sexpot, you can email her at alsanna@ynotcam.com and find her on Twitter at @AlsannaJames.
Header image by Toni Cuenca via Pexels.