In terms of culture and geography, Andrea Rosu has the perfect background for clips and cam.
"I was born in Bucharest, Romania and moved with my family to New York City when I was very young, which is where I grew up," she shared. "I lived in the Netherlands for several years while getting my graduate degree before moving to California, which is where I am now."
See — perfect!
Rosu has worked in the "curious world" of online adult content production for eleven-going-on-twelve years. Her experiences in the space have led to a diverse body of work that amalgamates art, fetish and fashion in interesting ways.
"It initially started with modeling for art photography but very quickly included fetish shoots. For the first several years, my time was equally spent between art photography and fetish photography and videography," she explained. "Truth be told, even though the scale has tipped very much towards my fetish work over the past six or so years, I still make sure to carve out enough time to shoot more editorial, artistic work. They both feed me in different ways."
Another thing that's interesting about Rosu is something that's actually not that interesting at all: her age.
"I'm thirty-nine years old," she shared. Relative to many models, sure, Rosu's age may be an outlier. But it's responses to her age, absent the quality of her work, that point to an interesting, troubling dimension within the industry — ageism as it impacts women — a more intensified version of what happens on a broader social level.
"I used to lie about my age in regards to my work for the longest time," she said. "I realized that photographers and producers would only see that number, regardless of what I looked like in recent unretouched photos, which I found curious considering I'm in an industry that judges me by my appearance and not my photo ID!"
"Since I've started creating my own content and having more control over my income stream, I stopped lying," she continued, "because I don't have to — and who gives a shit?!"
Exactly! Read on to learn more about this brainy, buff, badass woman, her past experience in the industry and where she's looking to go in the future.
—
YNOT Cam: What prompted you to begin your career online?
Andrea Rosu: I started this quite late — comparatively speaking, I guess — in life: at the age of 28 years.  Before that, I worked in human rights, education, research and social work specializing in HIV/AIDS, sexual health and women's human rights.  I graduated with a PhD in contemporary social theory, with a focus on gender studies.
What in the hell happened, you ask? I knew from a young age that I wanted to focus on pleasure, expression and creativity. I knew working in AIDS and human rights was breaking me. I'm a sensitive soul, and I was having difficulty sitting with other people's trauma and pain. I'm also driven by curiosity. I wanted to be part of these sexual images, expressing myself in this way. So I tried it. And kept trying it, until I dove down deeper into this awesome rabbit hole.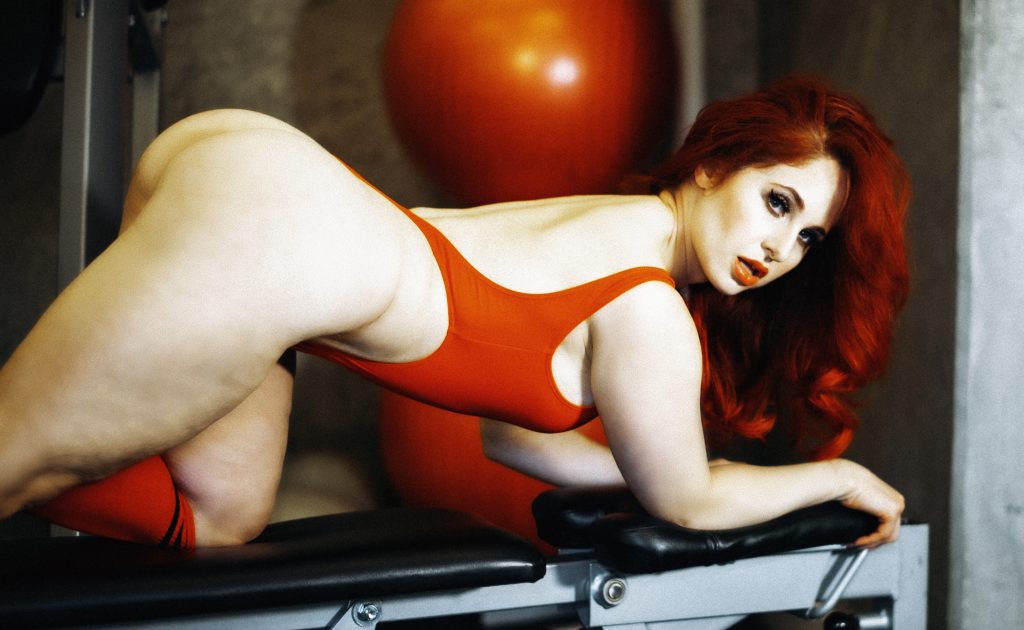 What are some highlights and best things about your work in this space? What about challenges?
I really love running my own business and being my own boss. I love the organic creativity that comes from all of this on a business level — marketing, the infrastructure, figuring out how to be viable in an industry filled with beautiful young women and so on.
I love getting to peek into other people's desires and sexualities. I really love that I focus on "fetish" in that I get to explore how incredibly diverse, curious and creative sexuality and desire are. I'm honored that my fans share all of this with me.
I absolutely adore the community of bad ass women I am part of. I love being part of creating my own image — and then re-creating it.  I love the flexibility of it. I love that I have chosen this over the cacophony of obligations, "shoulds" and "shouldnts," "respectability" and so on. I can gush forever!
As for the challenges: I am so damn sick of men engaging me with little to no regard, like I'm some kind of hole for their consumption and pleasure. The vast majority of the men who reach out to me are fantastic, and I work on focusing on them and that. But there is a loud — and unfortunately substantial enough — minority of men who make this job challenging. It can get tiring being seen as an empty projection for a man's erection.
Another challenge is having a job so focused on my appearance. As I've moved into my late 30s, I've noticed my body changing. This is also compounded by some chronic health issues I've struggled with over the past six years. This becomes even more fraught with anxiety when always in front of the camera.
You are super buff, and it seems like being strong is an important part
of your content and brand. Is it ever challenging to maintain your physique within the context of your work?
Well firstly, thank you for calling me super buff! I'm blushing! It's nice to know that my hard work is recognized. As I mentioned briefly earlier, the challenge has to do with my health issues that have not allowed me to work out the way I once had. My body used to be leaner, and it has taken me time – and still is! — to come to peace with this. I'm learning how to value and appreciate my body more. This has been the only challenge around this. Truth be told, I love being athletic and active. I love the way my body feels when I engage it that way. I also get such a sense of pride in how strong I am.
This is partly my counterpoint to growing up doing ballet, from four to seventeen years old. I started developing my musculature around the age of 12, and I despised it. I wished I were lithe like my dance peers. It wasn't until I started going to the gym and doing boot camp type workouts, that I started acknowledging that my unique physicality is something to feel good about. And truth be told, modeling has really helped that along. I'm always bemused by the fact that I make my money off of my strong, shapely legs — legs that I hated for far too long.
I see that you are on both iWantClips (iWC)and Clips4Sale (C4S). What do you love about both platforms? What needs improvement? How do you balance content needs and the unique customer base on each site?
I've been on Clips4Sale for much longer. iWantClips has just been within the past year for me. I feel like I have a better sense of C4S, I'm assuming simply because I've been on this platform for five more years.
I really enjoy how diverse C4S is. I tell people that if they're remotely curious about human sexuality, they should scroll through the incredible list of categories on there. It's amazing! So many ways to check someone's box! I also really, really appreciate C4S's customer service. They have people around the clock, available to answer whatever issue you may have. I rarely need to call them because I find that everything runs really smoothly. However, the few times I have, there's always someone there, and it's always fixed really quickly. This doesn't go unnoticed, and I really appreciate it.
I like the focus on female domination found on iWC and the [site's] overall aesthetic and appearance. Truth be told, I still feel like I'm trying to figure out my place on this platform. It's been about a year, and I finally feel like there might be something there for me! Just as much as I like the focus on femdom, I wonder if they're too narrow in reach. I definitely regard most of my content as femdom, but it falls under a subset of muscle domination. I'm not sure if there's a market for me there because of this. I have been filming videos that are more mainstream femdom for iWC, always with my own personal style and flair, which seems to work… sometimes!
I just sold a HUGE clip order https://t.co/sDxltZ6cZb @Clips4Sale pic.twitter.com/xdAaPWRjvp

— Andrea Rosu (@Andrea_Rosu) December 30, 2019
Outside of your work, what are you most interested passionate about?
I love being physically active: boot camp, hiking, yoga, jogging, dancing, reformer classes and skiing.
I desire to travel… everywhere! My next trips are to Miami, Mexico City and Oaxaca. I recently came back from France. Some of my favorite places have been Japan, Turkey, Mexico City and Berlin. On the top of my list is: South Korea, Peru, Thailand, China and St. Petersburg.
I'm intensely passionate about becoming fluent in other languages. Romanian was my first language, though I'm not so fluent anymore, and I used to know enough of French to hold my own in conversations — but this isn't good enough. I'm about to enroll in Spanish classes, and I'm looking to spend at least a month in Mexico City taking an immersive course, which will be just the beginning.
I love the shit out of fashion and creating style. Really, what I want is to be part of having every woman feel so incredibly sexy and beautiful in their own skin and express that through fashion. I recently graduated from a fashion design program, and over the past several years, I taught myself how to sew. I now know how to draft patterns, and I'm working towards starting a business as a designer. I envision designing sexy looks, specializing in leather and lingerie, for women in the adult industry.
I love to cook… and eat. Perhaps the latter a little more so than the former! I love art and beauty, intensely so. I will straight up cry over something beautiful.
If you could change one thing about today's world, what would it be and why?
Really, only one thing?! Truth be told, I vacillate between our need to immediately and aggressively address the state of our climate and women's rights. Both are foundational to so much pain, trauma and fear and need to be focused on if our world is to, well, survive.
Find Andrea Rosu on Twitter at @Andrea_Rosu and on Instagram at @theandrearosu.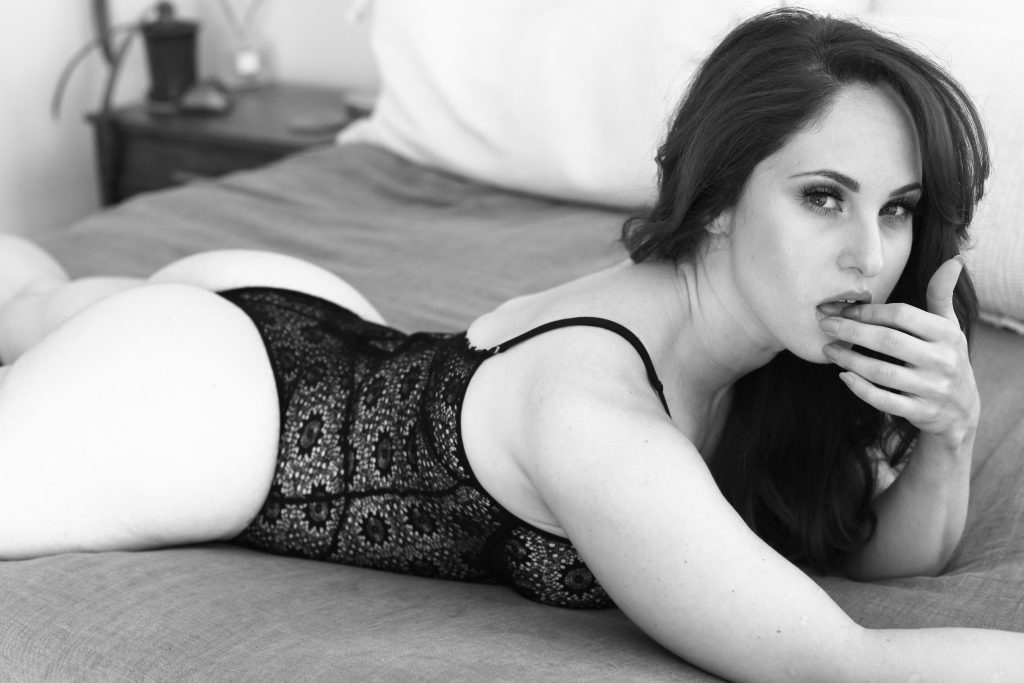 —
Erika is a sex positive people watcher (and writer). Email her at erika@ynotcam.com.