The Adult Entertainment Expo (AEE) 2020 is happening this week in Las Vegas, NV. And though AEE — or AVN, as people also say — is arguably the largest tradeshow that happens in our industry, it's not the only mega, pressure, temptation, stressful, hectic ass business event that will cross your path in a calendar year.
Many people have gone to AEE time and again, and — truth — no matter how many times you go, there's always some new survival tip or convention hack you can pick up to make life easier. Here's the thing, though: If even experienced attendees have new things to learn, where does that put first timers and newbies?
Luckily, some more experienced members of the community took time out to share their tips on tradeshow survival. I've gathered some of them here for you — because getting informed is my survival skill!
Enjoy, take note and stay safe out there.
—
Mistress Alexxxia stated, "with AVN coming up, there's going to be parties everywhere, alcohol, gambling, etc. So I figured I'd create a small guide to staying safe while at an industry event. I'm very aware many of you know this all, but some newer attendees might not."
She then shared the following tips and insights: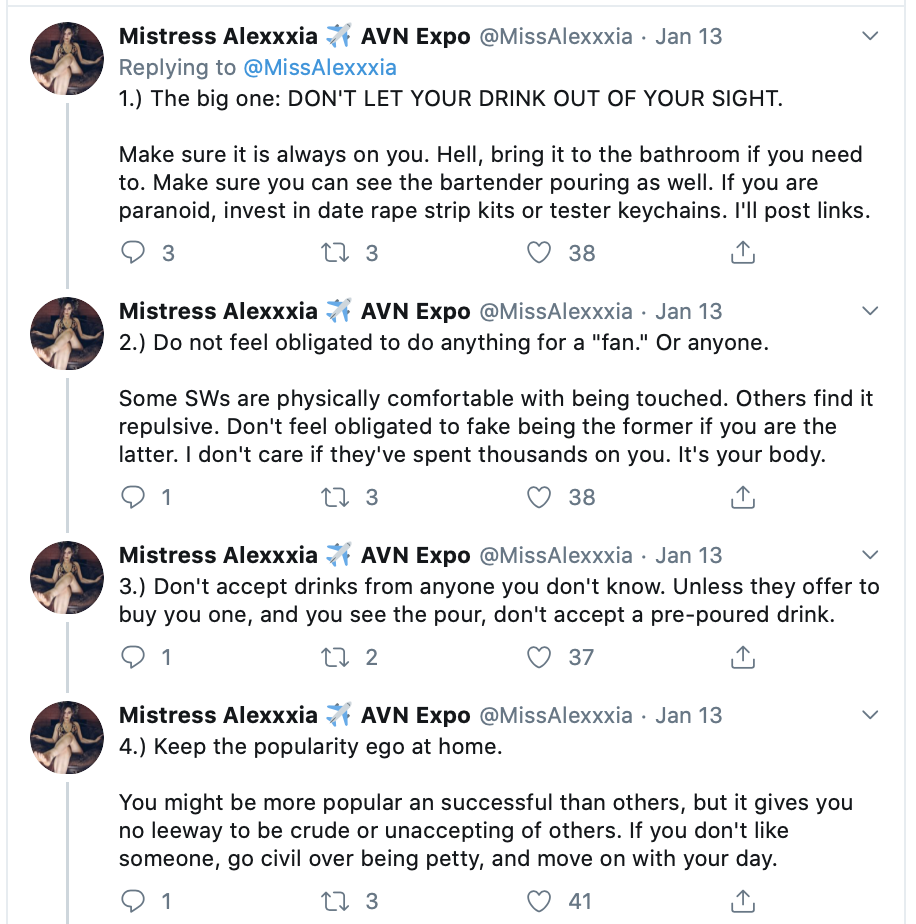 .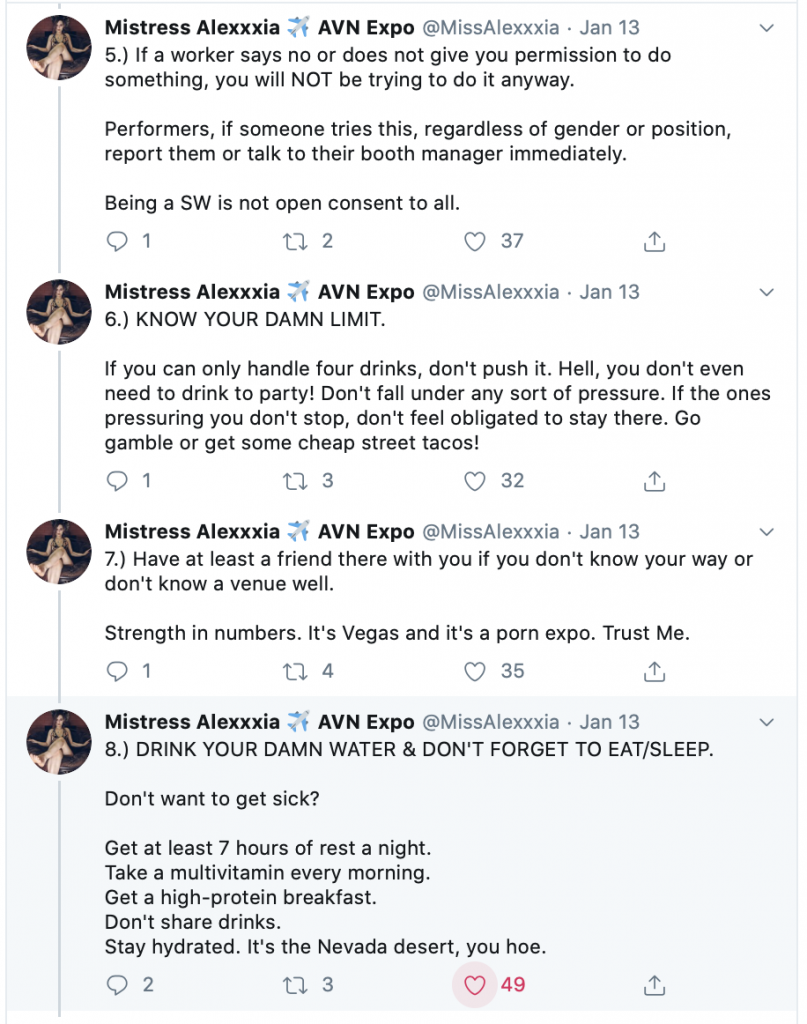 .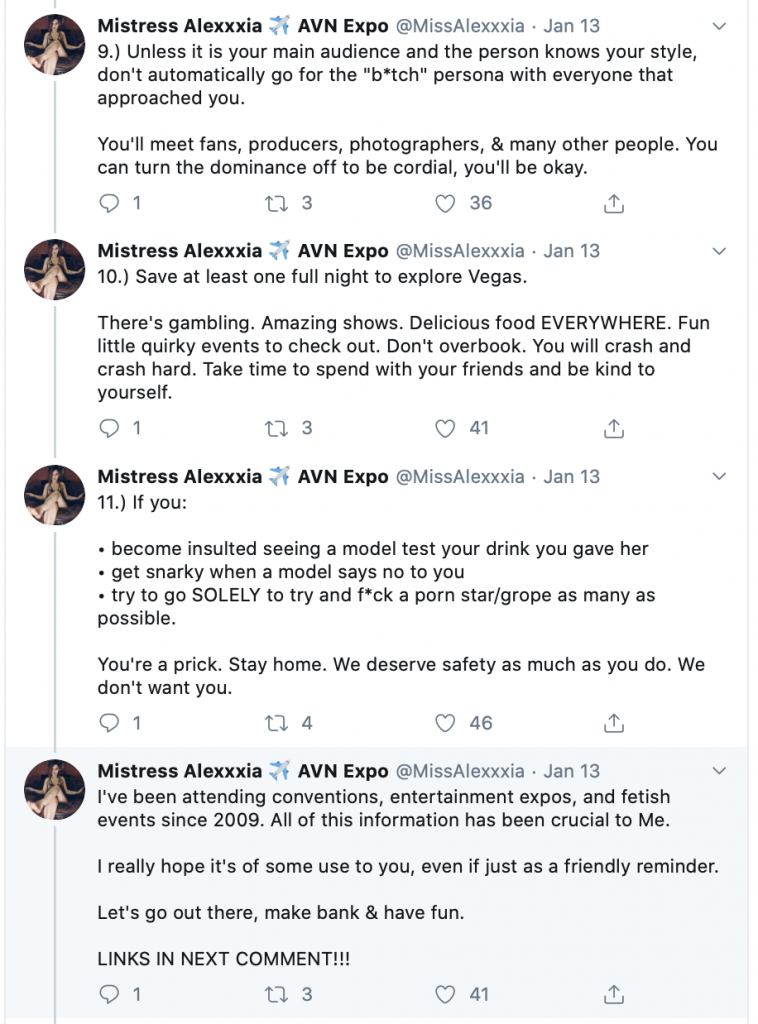 Mistress Alexxxia then posted the following tweet with links to the things she was referring to in the above thread:
SipChip Drink Spiking Kit/Polish:https://t.co/aM8liynBwp

Other tools for drug detection:https://t.co/eFKaNpY0kf

The better multivitamins can be found on Amazon for between.$20-50+. Worth the investment 100%!

— Mistress Alexxxia ✈️ AVN Expo (@MissAlexxxia) January 13, 2020
A few days after Mistress Alexxxia posted her thread, Allie Awesome made a special note about sobriety and support for and from sober members of the community:
I'm a sober sex worker and I'll be at AVN and InterNext next week. I'm coming up on 5 years so if anyone needs sober support during the week, please feel free to reach out to me. We can go to a Sober Porners meeting together!

— Allie Awesome, The Vagenius ⭐ 2020 AVN Nominee (@AllieAwesome415) January 17, 2020
The Sober Porners meeting/group she's referring to is led by performer Seth Gamble. Reach out to him and the group via Twitter. There is also an email listed in the flier — soberporners@gmail.com
I will leading the Friday Meeting come hang out for some Experience strength and hope. Let's connect free of judgement what happens here stays here discussion Anyone is invited 🙂 pic.twitter.com/975t9KpSVj

— Seth Gamble Incorporated (@sethgamblexxx) January 20, 2020
—
Erika is a sex positive people watcher (and writer). Email her at erika@ynotcam.com.