Late on March 1, rumors started circulating about an incoming crisis, and online sex workers were encouraged to cash out on all platforms.
Do you have money sitting in your platform accounts? Make sure you're cashing out as much as possible, even daily, on the platforms you use like Onlyfans, AVNStars etc. In fact, go cash out now. ❤️

— APAG – Adult Performance Artists Guild (@APAGunion) March 2, 2021
In the wee hours of March 2, the Adult Performance Artists Guild (APAG) President Alana Evans encouraged content creators to withdraw pending payouts via her personal Twitter account. Model Allie Awesome also posted a cryptic warning to Twitter, which has since been deleted. Their messages seemed urgent, and different levels of anxiety spread quickly.
Running parallel to these tweets, late on March 1, author and owner of ForensicNews.net Scott Stedman addressed the buzz, reminding readers that rumors might be "incomplete, incorrect, or improperly framed."
For a bit of context, Stedman had previously written an article accusing OnlyFans and MFC owner Leonid Radvinsky of fraud and theft. It didn't gain notable mainstream attention and, if memory serves, was not well-received by the industry community.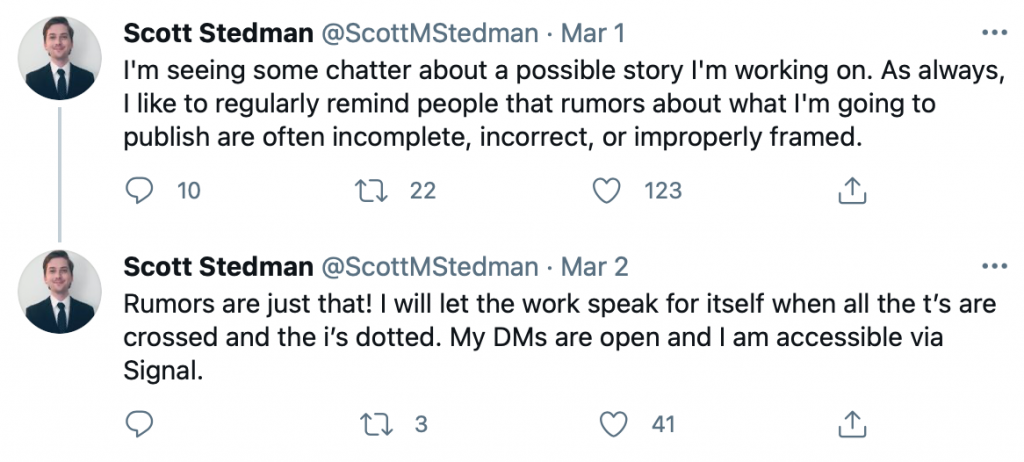 Stedman's finished article was posted on March 3 — "Banks Flagged OnlyFans Owner and His Businesses for Potential Money Laundering, Underage Activity."
The piece echoes many of the same sentiments as Stedman's previous coverage of Radvinsky but with more quantitative data. It details Suspicious Activity Reports (SARs) filed by banks concerning Radvinsky's business ventures. Stedman wrote: "SARs, it should be noted, are not proof of wrongdoing or criminal behavior. Many of these reports are not followed with charges and the documents themselves should not be considered conclusive."
SARs — FYI — are common and legally required for many institutions. They don't constitute credible criminal accusations, despite what you might assume from the story's headline.
Since then, things have been messy.
Why you need to cash out pic.twitter.com/aa7l6FnmLg

— Alana Evans (@alanaevansxxx) March 2, 2021
"Why you need to cash out"
On one side, many community members had no qualms taking the warnings seriously on the belief that they were presented by credible industry figures — Evans and Awesome — trying to help. Neither is some random know-nothing user trying to spark fear. Also, it is a good idea to cash out frequently regardless of the circumstances.
Some member of the community, however, took issue with Evans' and Awesome's warnings — especially with the lack of explanation. Replies in the thread(s) cried fear-mongering and clout-chasing. Evans, for her part, wanted the community to understand that she was "trying to tell you something without telling you something." It sounded serious.
My thoughts went to the seizure of Backpage three years ago and payment processors' cutting ties with Pornhub last year — sudden events that were catastrophic for a lot of people. Between the initial warnings from Evans and Awesome, which regardless of everything else were 100% vague, and the wider context of deplatforming, certainly people were going to think the sky was about to fall. Again.
And then, the anti-climax. Because the story itself did not reveal much of anything. The panic was widely regarded as unsubstantiated — at least this time — once the community read the article. Miss Lollipop even called it a "storm in a teacup."
I am legitimately angry at the people who spread panic about this. This was a storm in a teacup and it was never gonna be a big deal. I'm so sorry if anyone was very scared about this.

— Lollipop (@MissLollipopMFC) March 3, 2021
Public Figures, Choosing Your Words
I was extremely disappointed in the way the information was handled on all sides.
Public figures should be more careful about how they go about disseminating information. Further, journalists could stand to do better when it comes to covering marginalized groups. I don't think Evans or Awesome intended to scare people. I feel they legitimately wanted to ensure our funds were safely in our hands.
In the wake of the anti-climax, Evans hypothetically asked: "What if we didn't tell you guys that we knew this story was coming?" And hypothetically, had she not publicized it, the article might not be getting as much attention as it is now. But, also hypothetically, what if it had been catastrophic news? Or, what if it had been catastrophic and she had not tried to warn the community?
I'm less concerned with the unproven accusations mentioned in the article than I am with the cultural/legal/business consequences it could have. I don't think this article is the "Aha!" many of us were worried about, and I hope it stays that way.
Stedman's title is absurd, especially given that many people are unlikely to read the entire piece. Based on the title alone, one might leap to the conclusion that the Radvinskys have been proven to be greedy criminals deliberately disseminating illegal material. The "exposé," however, gives little to no new or surprising information.
Now imagine this… what if we didn't tell you guys that we knew this story was coming? It was never even a thought in my mind, regardless of the heat I knew I would get, to keep this information to myself. As the union president, you guys come first. @APAGunion

— Alana Evans (@alanaevansxxx) March 3, 2021
A Note about Breaking News
I started writing this article shortly after the hype started up having absolutely no idea where it was going. Would it be something, or would it be nothing? Further, I struggled with writing this once I read the "exposé" — Is it irresponsible of me to write about somebody else's irresponsible writing? 
Ultimately, I decided that people and things that cause such notable anxiety should be discussed.
In addition to the specifics of this situation, it's important to note that this series of events are part of an ongoing chain of stress-inducing cultural and political scrutiny. Anti-porn hysteria goes well beyond this brief cash out crisis. I won't be surprised when it's used against us. My instinct is to be skeptical, even of allies, but not so much so that I refuse to think critically. I can't accurately predict what's next for our community, including the platforms many of us use so often.
When your career field is already persecuted and you already walk on thin ice with legal and financial institutions, it's good to heed warnings from industry leaders like the APAG — but it's also good to question them.
—
Alsanna James is a writer, spoonie, gamer and adult content creator. Half silent oracle, half professional sexpot, you can email her at alsanna@ynotcam.com and find her on Twitter at @AlsannaJames.
Header image via Unsplash here. Screengrab by YNOT Cam.