Earlier this month on February 19, ManyVids (MV) announced their new Trust & Safety Center, an overview of their mission and guidelines related to child sexual abuse material (CSAM), non-consensual content, copyright and other safety issues. ManyVid's initiative is similar to Pornhub's revamped (and long overdue) Trust & Safety policy, which was updated last year.
A company putting effort into Trust & Safety is overall a good thing, except that MV included a ban on external links and watermarks, a decision slammed by models and members alike. This is another sudden, poorly-received change following made with little to no transparency from the company. The blog post and Twitter announcement were met with similar criticism.
Please note MV Stars do not have to go back and re-watermark previously uploaded content. Watermarks directing viewers to competitors aren't permitted for uploads on and after February 20, 2021. MV Stars can use a name, logo, or MV link associated with the performer(s). Delivering content to customers by linking to DropBox is permitted. If your vanity URL redirects back to MV, that's acceptable too. You can still link to social media profiles and Amazon wishlists.
The safety of our #MVCommunity is a top priority! ✨

Our new Trust & Safety Center includes a wide variety of policies, & processes that work together to ensure MV is a safe, secure, and trustworthy online ecosystem! 🔐

Details ➡️ https://t.co/zTli9baU0p pic.twitter.com/ODs9GUKHGz

— ManyVids – VIP FanClub (@ManyVids) February 19, 2021
Wait… What?
In the blog post, MV says their motivation for the policy change was "Due to the nature of our industry and recent events that have taken place, we want to ensure our community's safety."
These "recent events" might refer to the growing anti-porn sentiments in business and government. Or, perhaps it was a decision made so they won't lose money to other adult platforms. Or both. Regardless, a comprehensive Trust & Safety policy is essential for "high-risk" industries like ours, especially when there's increasing pressure on authorities to put our business practices under a microscope.
Basically, if MV wanted to prohibit cross-promotion, now is a good time to paint it as part of their trust and safety efforts. That strategy didn't work — overall it looks like performers regard this as a greedy decision under the guise of improving their safety regulations. Mary Moody, a model and strong advocate for the community, called "recent events" (like payment processor controversy) a weak excuse.
MV did not respond to YNOT's request for their input by the time of publication.
Are they seriously implying that this is due to "recent events" like Visa banning payments on PornHub?

So not only are Visa & MasterCard harming us, industry sites are using them as an excuse.

Linking to an outside site does not put manyvids at risk, that's a weak excuse. https://t.co/7p94FLH8ZD

— 🌈Mary Moody in VICE, NBC, & BBC ✨ (@missmarymoody) February 19, 2021
In writing this, my points are that:
— Having a well-rounded Trust & Safety policy is a good idea
— Banning external links is annoying and hurts models' overall income because MV previously said it would ALWAYS [sic] be permitted
— Shit is happening to/within the adult industry, and companies have to adjust
— Those current events might have made the ban a wise "just in case" decision, but most models are seeing it as an opportunistic cash grab under the guise of protecting "our community"
— Companies should be transparent about what they're doing
Banning cross-promotion seems like an opportunity taken advantage of during the increasingly hostile "War on Porn." Here are *only some* recent events of note:
— PayPal abruptly halted Pornhub payouts in late 2019
— Religious advocates in Utah believe porn is a public health crisis, demonstrated with HB243 in 2020 and, more recently, HB72; similarly last year California tried to pass an invasive, discriminatory law, AB2389
— Kamala Harris became Vice President, a historic milestone that worries sex workers (see Cherie DeVille's opinion piece) because of her earlier anti-SW stance and support of FOSTA
— US Senators recently introduced a bill to limit Section 230 protections (why is Section 230 important?)
YNOT's Lynsey G asks, "As I reflected on these malcontents, I found myself pondering: Why is there always someone out to get porn? What is it about the ancient practice of exchanging sexually exciting material for profit that so distresses, offends, even consumes those who fight against it? Is there some fundamental problem with porn that makes them unable to turn away and find something else to worry about? Is it simply that porn is an easy scapegoat, a dog that lies under the table just waiting for easily offended people to kick it?"
We saw PayPal, Visa, Mastercard and Discover sever their business relationships with Pornhub. In a 2019 article, Segpay President Cathy Beardsley told us that credit card companies "do not want to be associated with illegal or what they consider to be brand-damaging activities. [Banning things like asphyxiation, blood, urine, fisting, vampires, aliens] are typically the policies of the payment provider or the acquiring bank, and their own risk tolerance based on past experience and a reasonable analysis of the brand regulations."
Adult sites must adjust their rules to appease their payment processors, or it would be even harder for us to get paid; at worst, the site could be prosecuted. Apparently, MV co-founder and CEO Bella French intends to start a sex worker union. One would hope, as a sex worker, French would have our best interests in mind, but her company doesn't seem to listen to our concerns… ever.
MV higher-ups might think that this way they won't be (or, are far less likely to be) unfairly targeted for linking to another site that, for example, gets in trouble for mistakenly hosting CSAM. And we know that anti-trafficking advocates will unfairly target the adult industry regardless of logic or fairness. Adult sites can only step up their own content regulation and ensure safety on their site, not others. Just like with the passage of FOSTA/SESTA in 2017, industry executives are taking steps to cover their asses. If they go down, we go down with them.
However, big social media sites like Twitter and Facebook have a significantly larger CSAM problem than porn sites, statistics show, but MV still allows users to link to our social media profiles. If "trust and safety" was truly the reason for banning external links, one would think sites with known CSAM issues would also be banned. The Trust & Safety Center/link ban was introduced literally one day after MV Live's payout was increased from 60% to 80%.
Models are growing increasingly tired of MV making decisions that change the way we work, affect our profits (last year they retired MVTube, removing the option to pay to download free vids; they recently introduced fees for payouts), without reaching out for opinions, without warning us beforehand, and usually without telling us how or why these decisions were made.
I also get it if you had an idea and it just didn't pan out.
I get if you were overly ambitious and have to be more realistic.

Models respect when you tell the truth. I wish more platforms would do that. Just tell us how it is so we can then support decisions and change.

— Amberly Rothfield (@AmberlyPSO) February 22, 2021
As of February 23, MV hadn't updated their Terms & Conditions for either Uploaders or Users & Members, which explicitly say that advertising and direct links to other sites are permitted, because MV does not control or endorse whatever is on those platforms and they typically have similar rules and restrictions. Except now evidently it means MV doesn't want to be associated with other platforms because they might not have the "same standards" as MV does, according to their new Trust & Safety guideline.

In 2017, MV introduced token-based live shows, so MyFreeCams stopped allowing their models to link to MV. In response, MV released a statement declaring that our success came before their own, and they would always allow us to cross-promote and post links to other platforms. It appears that at some point MV removed the blog post where they said they would always allow us to cross-advertise. As we well know, the internet is forever.
In addition to the lack of advance notice, this is why the ban on external links feels like such a slap in the face — MV used to position themselves as frontrunners of the industry who wanted to help us increase our audience and income, a role they took on proudly. Sex workers already know we are being targeted by governmental and financial institutions, plus anti-trafficking movements that continually miss the mark. It sucks to feel let down (with no warning — again!) by a company that hardened its reputation as a champion of sex worker rights and free expression.
An already sex-negative culture is against us, and we face increased threats to our livelihoods from payment processors, anti-porn "activists," and politicians. Sites can and will change the ways they operate to adapt to changing conditions… unfortunately. The porn powers that be could invest in helping us fight those threats, but I'm not exactly optimistic.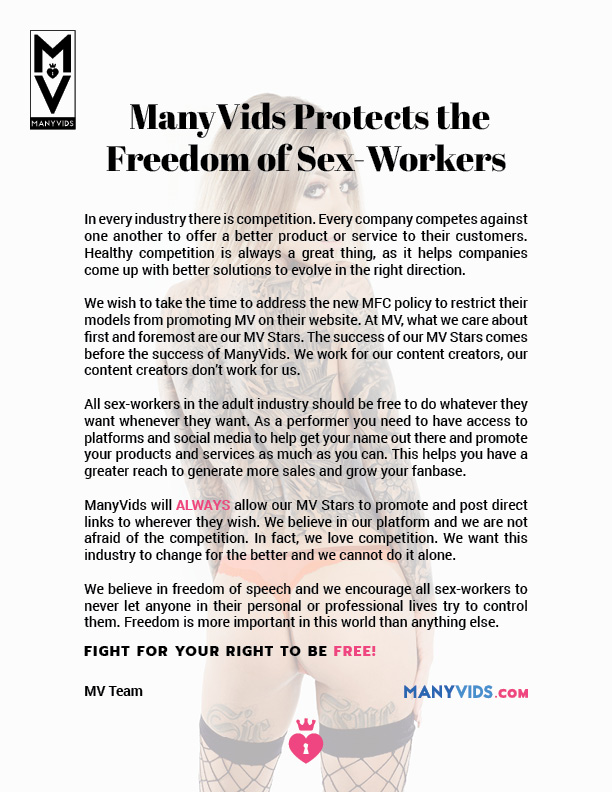 —
Alsanna James is a writer, spoonie, gamer and adult content creator. Half silent oracle, half professional sexpot, you can email her at alsanna@ynotcam.com and find her on Twitter at @AlsannaJames.
In text screengrabs by the author. Header image screengrab by YNOT (taken on February 24) via MV's press kit here.