It's long been understood that Facebook and its acquired app, Instagram, are the gold standard of social media. Facebook fundamentally changed the way we communicate with others, and Instagram created influencers and managed to start a whole new type of marketing.
But, though their dominant position may seen secure, what happens when a new social media app comes for the crown — and that app is anything but Insta or "The Facebook"?
Founded in 2012 by Zhang Yiming and launched in 2017 for iOS and Android for markets outside of China, TikTok has exploded in popularity in the past few years. It now outperforms Instagram and even Facebook in terms of app downloads. As of 2019, it had reached 500 million active users. To reach the same number, it took Instagram six years and Facebook four years. In fact, some might even say that TikTok is the anti-Instagram.
But… isn't TikTok just tweens lip syncing to music? Well, yes and no. Here's what you should know about TikTok.
What is TikTok?
TikTok is a social media app in which people perform short form videos. If you're associating TikTok with lip syncing, you might be thinking of the app's predecessor, Musical.ly. ByteDance's 2017 version, while it did include lip syncing videos, had short form videos of all kinds.
In late 2017, ByteDance acquired Musical.ly and, in 2018, merged it with TikTok, effectively recreating and relaunching the app. The decision to merge with Musical.ly was a smart one because TikTok alone wasn't breaking into the US teenager market. Because of Musical.ly's influence with that demographic, TikTok was able to astronomically expand their user base in that market once the merger happened.
The platform is now available in over 150 countries, both on iOS and Android. It's particularly popular in Asian countries, although China uses a version of the app called Douyin, which helps ByteDance get around the country's censorship laws.
As of 2019, TikTok reached 1.5 billion users globally.
Why is it so popular?
In a lot of ways, the app really is the anti-Instagram. Or, it's at least the opposite of the Instagram we know today. When we talk about "doing it for the 'gram," there's a general understanding that you're doing something just for a picture. Any Instagram influencer will admit that what they do in on their account isn't what they do in real life. A candid photo just won't do. There's staging followed by a lot of editing to get an image that is not only beautiful, but suits their brand aesthetic. The bigger an influencer becomes, the more that brand aesthetic becomes dictated by the brands they promote.
That's not TikTok's M.O. One of the biggest reasons why the app has become so popular is because every user is encouraged to create in a way that expresses who they are. It's not uncommon for someone to gain a following overnight because of one really funny video. While, yes, videos can be edited, they are not edited for aesthetic purposes. They're edited for storytelling purposes, often for comedic effect.
The founder and CEO of Snapchat, Evan Spiegel, explained this difference in a very concise way, saying that TikTok could grow faster than Instagram because, "talent-based content is often more interesting than status-based content," and TikTok creators care more about what they create than the brand deals they can get out of it.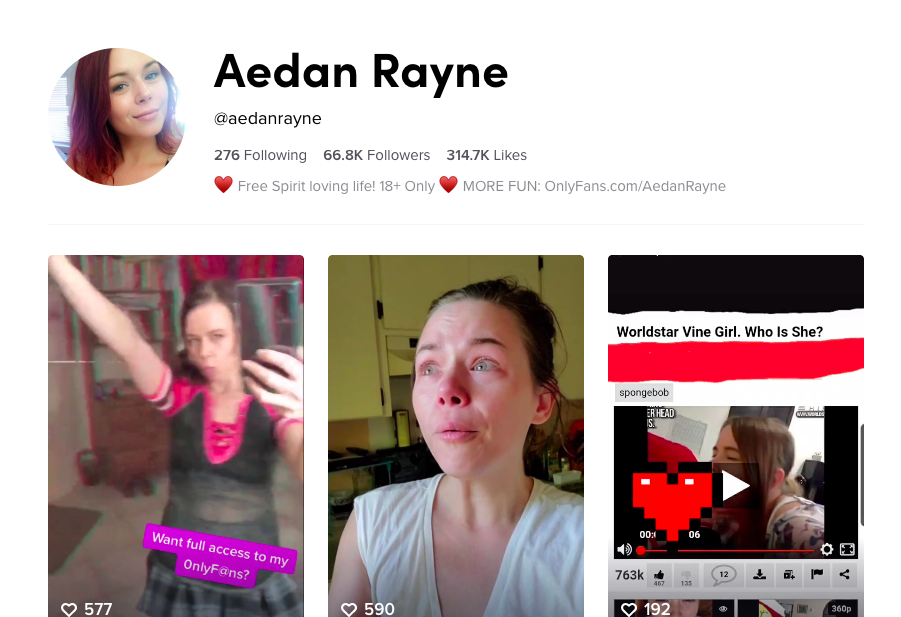 Should we be using TikTok?
While TikTok is a growing platform, with new audiences joining every day, it's important to note the site does have pretty well spelled out community guidelines and it's already known for being strict with adult content. For instance, social media influencer Lena the Plug, who has an OnlyFans where she posts sexual videos and raffles off her Fleshlight, only joined TikTok in the beginning of February 2020.
Within days, her account was gone, despite not having sexually explicit content on it.
please go show my first TikTok some love. thanks ? https://t.co/ljCce4ckGG pic.twitter.com/6QlcaPETr4

— LTP (@lenatheplug) February 4, 2020
According to TikTok's community guidelines, no content can contain sexual activities (penetrative or otherwise), show genitalia, female nipples or butts, depict sexual arousal or depict any kind of sexual fetish. Lena showed only her feet in her video, while implying that she was naked in a tub. That's enough to hint at a sexual fetish, which could be why she was taken down so fast.
That being said, other adult content creators have managed to toe the line and gain a following. But they had to be very careful about what they posted. That means staying clothed and using the app to show off your personality more than anything else. You can use your account to hint at sexual content on other sites, like OnlyFans, but you cannot post any even tame videos that could be construed as acting out something sexual.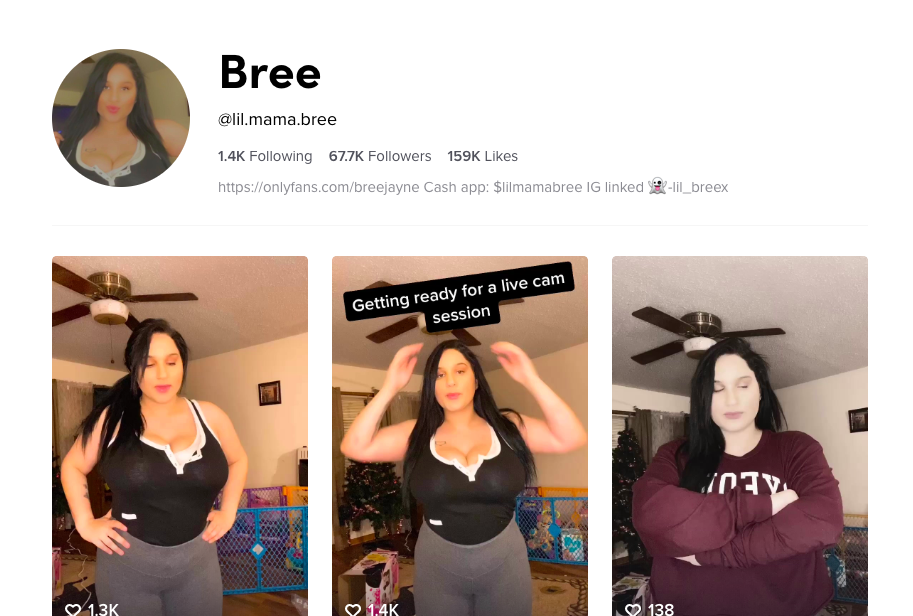 As with Instagram, there's a bit of a frustrating double standard. While women have to stay nearly entirely clothed, men who are cam models and content creators have somewhat of an advantage because they only need to have their bottom half clothed. They can show off more and entice more people to their accounts.
You can and should include your other social media accounts in your TikTok bio and that includes your adult social media platforms. You can also tag the platforms to increase your likelihood of being spotted if someone is directly looking for more adult content. You can also add in your bio that you only cater to the 18 and older crowd, but there is no way to guarantee that no one under 18 is looking at your TikTok.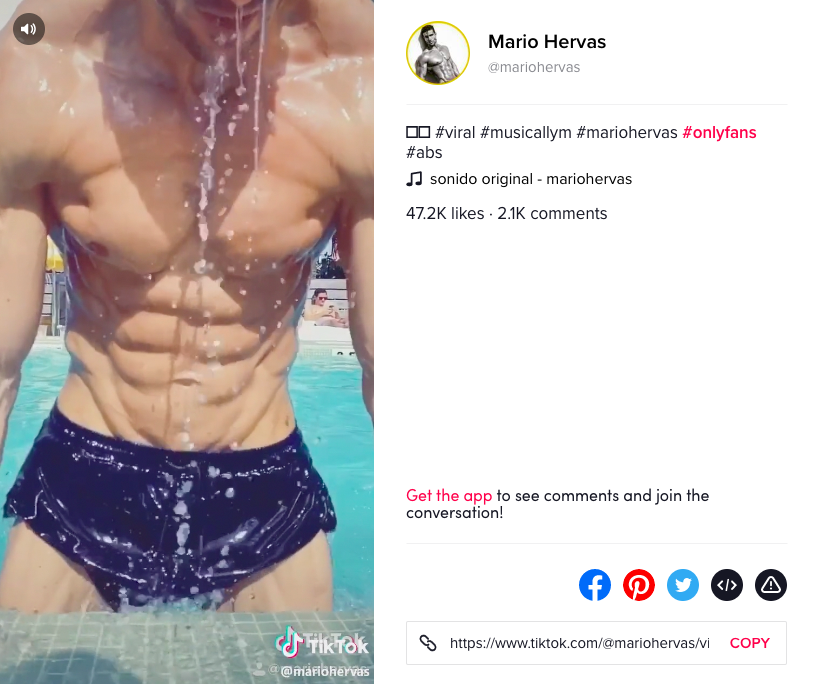 Am I really going to build a following on TikTok that can help me get more customers?
You might, but keep in mind that TikTok was created with teens in mind. Like Instagram, you have to be at least 13 to have an account. As we saw with Instagra though, it's hard to enforce that rule, and some younger users can sometimes get online. When we consider that, it's a little bit easier to understand why those strict content rules exist.
But Instagram's main user base is between the ages of 25 and 34, meaning that the biggest Instagram audience can legally get onto your cam site or your adult sites. That's not true for TikTok. An estimated 60% of TikTok users are between the age of 16 and 24. That means a good portion of users legally can't be viewing your content.
There has however been a transition of more adult users joining the platform. This may have to do with the fact that many millennials were in school during the rise of the short form video app, Vine, and TikTok has become somewhat of a Musical.ly and Vine hybrid. More adult users may be feeling nostalgia since Vine ended several years ago and they might be looking towards TikTok as a substitute. If that trend continues, we may see that TikTok's audience moves closer to Instagram's in terms of age, in which case it may be more worthwhile to use TikTok then.
—
JackieMichele is writer and marketer living in the San Francisco Bay Area. Her work has appeared on Yahoo, Food and Wine and the Huffington Post. She's been an editor, an influencer strategist and ghostwriter, a librarian and a teacher. Follow her Instagram at @jackie_gualtieri and contact her via jackie@ynotcam.com.
Background header image can be found here. All TikTok screengrabs by the author. 
Like, what song did you *think* was gonna go at the end of this post?