By Mz. Kim
It is quiet. The streets are quiet. The park. The neighborhood in which I live lined with lovely homes. Even my favorite grocery store, which on any ordinary given day is filled with a sort of bustle and buzz that makes me happy, is quiet.
The Coronavirus, also known as COVID-19, and subsequent stay at home orders are the reason for the worldwide shutdown. The economy is stumbling downhill, and the US is just holding its uncomfortable breath, hoping and waiting.
The shutdown has impacted every person with a workplace to go to. And the new normal of face masks, bandannas, avoided eye contact and lack of the usual social gatherings have changed us forever. There is a sector of the economy, though, that isn't very much changed or impacted overall — the online sex work economy.
The Online Sex Work Economy 
The online sex work economy is somewhat "underground" and unknown. It is vast, it is varied and it has been stable for me for the last fifteen years. Actually, "stable" might not be the right word. My income has increased every year since I began my work online. I am fortunate during these strange times because my business is booming.
I cannot — and will not — speak for all online sex workers. I know many who are doing quite well. I also know some who are struggling. I do know that when I write "underground" in terms of my work, this strikes a chord. Most people I speak with about my work had never even considered it to be a possibility.
My daily routing of work has changed little. I am an online dominatrix and fetish content producer. I have worked from home, been my own boss, run my own business, paid my taxes and produced my own fetish content for so long now that this shelter-in-place routine has me busier than ever. Nearby however, sister businesses that hosted in-person providers, community BDSM events and community classes like the ones I facilitate have closed down. Like so many venues, they are struggling to pay their rent.
Talking to some of my colleagues, I realized the kind of struggles that they are going through. Travel plans, including tours, have been canceled. They cannot see clients, and they cannot rent out their space for workshops. Some of them have come to me asking for help.
When I was teaching workshops in person, the questions were always similar to the ones I receive now. Do you really make all of your money online? How do you manage so many platforms and so many profiles? How do you keep contact with your clients? Now, the questions have intensified because their own situations have intensified. Those who have worked online before are trying to manage, albeit under duress, because all of a sudden, online work is the only work they have.
What quarantines and lockdowns have shown us is that varied sources of income is necessary. By "us," I mean sex workers. This umbrella term is truly vast. I am an online sex worker with a legal registered business. Many are in-person sex workers, or a mixture of the two.
I had this demand for teaching women how to work online when I started teaching workshops in person. When I saw two of my favorite BDSM spaces struggling, I couldn't stand by and do nothing. So, I decided to do two things and hopefully hit both with a single stone. I decided to make these months in quarantine a time of education and support.
Education and Support Initiatives 
Here are two education and support initiatives I have started in the wake of COVID-19.
"Sextpanther Best Practices" Guide
One of the ways I am trying to support others is through the writing and online publication of a best practices guide for Sext Panther. Sext Panther monetizes texting and online content like photos, videos and phone calls. I had reached #1 on the site several times and started writing down what was working for me. One page turned into ten, and then I decided to self publish.
Here is the synopsis:
Sext Panther is becoming a major income generator by monetizing texting and providing a platform for selling content easily. I have been #1 on Sext Panther several times. With over 10 years of experience and success as a professional domina, in this document, I will tell you the strategies and best practices that have gotten me not just to #1 but how I have become successful on so many platforms. This is a PDF document of In-Depth Tips & Tricks on how to make more money on Sext Panther. The strategies taught here can be applied to many platforms.
You can check out the doc and get your copy via gumroad.com here.
All of the proceeds from the "Sext Panther Best Practices" guide document that I wrote are going to SubRosa.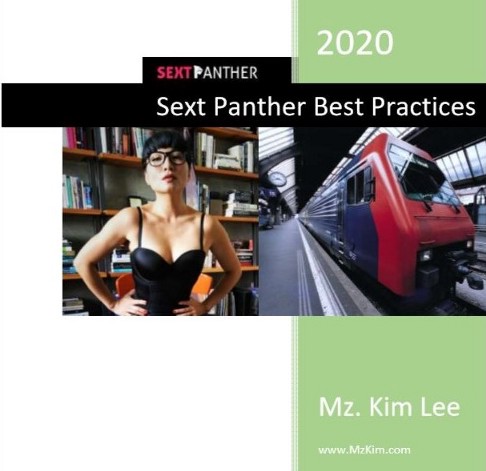 Online Webinar: "So You Want To Make Money Online Through SW (Level 1)"  
Another way to give support was to teach classes. My new class is a webinar, "So You Want To Make Money Online Through SW (Level 1)," so I'm making my experience work for me via an online class to teach about how to work online.
There are so many skills involved in this work — content production, marketing, the art of conversation, modeling, acting, human psychology, sexuality. The list goes on! But we all have to start somewhere, and as the old adage goes: I wish that someone had shown me all of this information when I started.
I thought this class live on April 14 and what I am offering here is a recorded version of it.
All of the proceeds from my "So You Want To Make Money Online Through SW (Level1)" online class are going to Nightshade Sanctuary.
My hope is that, with these initiatives, not only can people find new ways of making money online, these spaces will receive funds necessary to support them in this time of crisis.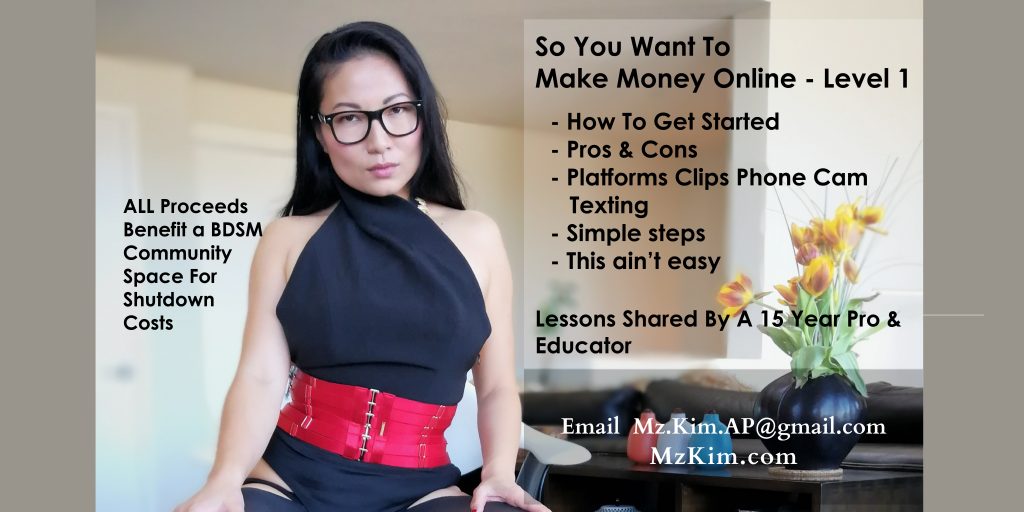 —
Mz. Kim is an online domme and community guru. Read her insightful interview with YNOT Cam right here. Visit her at MzKim.com.