"My favorite excuse when I don't want to do something: I'm not from this country," Mz. Kim explained. "Do you have a moment to talk about the Amazon rainforest? I'm not from this country. Can you spare some change for the homeless? I'm not from this country. Will you do the dishes? I'm not from this country!"
She continued, with a bit of wry humor, "I carry an immigrant's story, as well as one of trying to realize the American Dream of making it in the new world, as so many children dream of being a professional dominatrix and marginalized sex worker."
But, all joking aside, Mz. Kim, who has been in the industry for fifteen years now, says she's grateful she can do the work she does and, as a partial result, live the life she has built.
"The more personal story that most don't know about is that I am a survivor of severe domestic violence," she shared. "And without the financial stability and options that this work has given me, I would not have been able to leave the horrific relationship that I was once in. One day soon, I will write about this story… Maybe it will be of some use for others."
In the meantime, Mz. Kim does her part to give back, donating money and time to various organizations – "Though if I'm approached on the street about any charity, I pretend like I have an emergency phone call every time," she added.
Mz. Kim took some time out to share more about her unique life story, as well as her equally unique path through the vast field of sex work dreams.
—
YNOT Cam: Did you work as an IRL domme before getting online in the manner you are today?
Mz. Kim: One might assume this because of my persona and profession now, but it might surprise you to know that I have never worked as an in-person professional domme. I am experienced in kink and play in my personal life, but my entire career in sex work has been online. I believe this really separates me from many of the dominas you see.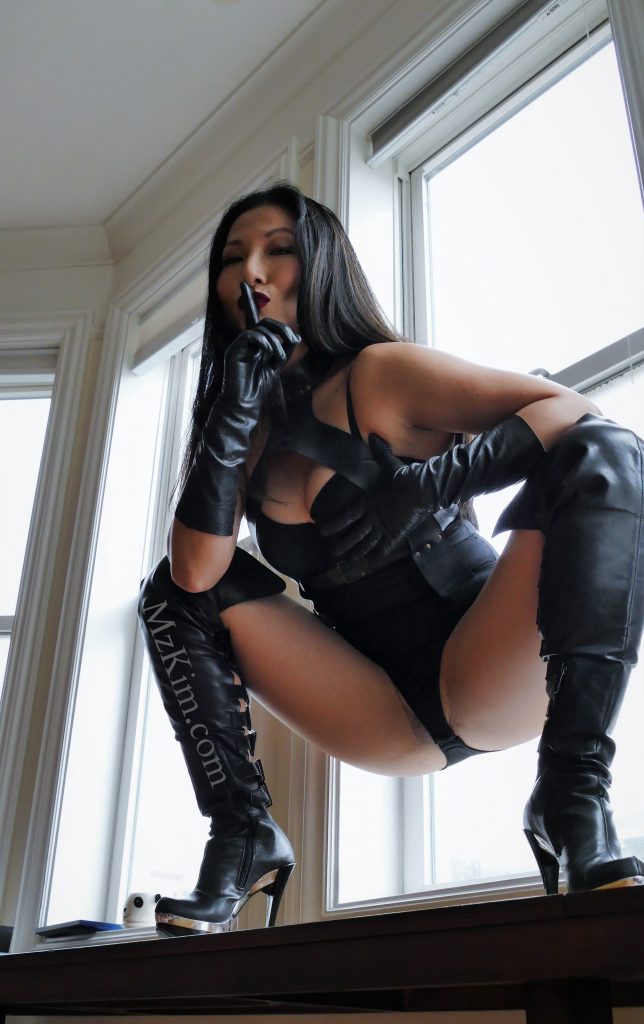 What prompted you to start your career online?
I worked as a corporate lackey for a few years, and then realized that it was sucking my soul out of me. I learned some important skills in big companies but hated the hours and hated the environment. I like being the boss, and I like being my own boss. So, I started to look for ways to work from home.
What are some of the best things about working in the industry in the capacity that you do? What about challenges?
The women! There is a fair amount of isolation in this work, both online and off. To battle these (sometimes intense) feelings of loneliness and isolation, I have learned that it is important to make connections — and connecting with women at different events has made me realize how giving and endearing they are.
There are so many women who are independent, intelligent and absolutely in charge of their path and their finances. I never knew there were so many who are like me. It's humbling to see so many bad ass women who are in charge of the course of their lives — and doing it so successfully!
An observation I've made is that many sex workers don't ask other sex workers questions, sincere, thoughtful questions. I learn the most when I ask people about their experiences and how they have come to the successes they have made. People also don't like to talk about money, or they don't speak truthfully about it. I find that to be a real detriment to people in this work. I am all about financial literacy and transparency and cutting through the mud to get to the nugget of things.
ALLL of my lines are open.
Like ALLLLL of them.

Especially these…

Cam: https://t.co/gp2VImw2PC
phone: https://t.co/XcrBf99xEY pic.twitter.com/BBQDcMX5bp

— 🗝️ Mz.Kim 🗝️ (@MzKimAP) November 13, 2019
You are all over many relevant online platforms and have a pretty active website, too. Is this difficult to maintain? 
Very. I have only begun to scratch the surface. I am a Jill of all trades and maybe barely a master of one. I only started actively making video clips two years ago. I am constantly evaluating my strengths and interests.
This is a privileged position of being able to ascertain what makes me the most money, what I am most interested in and how I want to pursue my work and joys in my future. There is always a balance. What makes a person the most money may not be the thing they like doing the most, and just because you like doing something or you find it the easiest, it may not be the best use of your time or make you the most money.
What do you think about these new "all in one" sites – those that are seemingly trying to consolidate multiple forms of income generation into one space?
I consider these to be subscription sites that are catered to a specific way of making money. It's crowdsourcing. For a small amount of money per month, people can sign up and get far more content than they ordinarily would if they tried to find this content through various social media, or my site.
Some people are better suited for this kind of work. These subscription platforms are just another way of making money, and they definitely have their place. It's not really a matter of being advantageous or not. It's about what you are suited for.
As with any platform, they require time and energy. Those people who really like doing behind-the-scenes stuff, who are high energy, who are very good with their phones, who enjoying posting very often and communicating with people every day… They do the best on these platforms. The one key is consistency and posting often. I also bet that the different ways that people work their fans and their rhythms vary greatly.
What should a domme who is not yet online in any big way professionally know to help set them up for success?
This is a big question and requires quite a bit of time to discuss — so much so, that I put together a class to cover this subject called "Monetizing Your Appeal Online."
One of the first things I ask people to do is identify their strengths and their skills. Then I ask them to think about what they like to do. Where those two areas meet is the focus point of their path.
Because everyone is different, I never give specific professional advice until I get to know their individual situation. What I would say is that grouping cam and clips together is a mistake. They are both online work, but making clips and being on cam require different skill sets. Presenting an idea and recording it is different than being live on cam with a client. The stage-fright or simply trying to come up with things to talk about in a live cam session is a different issue than not knowing how to act in front of a camera. As a general rule, I would also say, practice takes the edge off of everything — practicing on webcam, practicing acting, practice improvising.
Mz. Kim has classes upcoming in Portland, OR (December 7) and in San Fransisco, CA (December 14). Click the links for more information.
Outside of your career, what are you most interested passionate about?  
I am a musician, just an okay one. I see playing music, right now, as a practice to satisfy my craving to discipline my mind and my perfectionist tendencies. Playing a piece of music is truly the best way to understand it.
I am also really interested in the state of sex work and its constantly shifting forms. BDSM business education has become a recent focus and a passion. Because of the many years I have been working as an online domme, with way more than 10,000 hours dedicated to this work, I have begun to get a lot of questions from women who want to do the same. So, I want to encapsulate some of this knowledge and help if I can.
If you could change one thing about today's world, what would it be and why?
Autonomy for women.  This is a big question and there are big answers. I thought about other big issues in our world, but this is what I would change. Autonomy for women would mean so many things. It means changing the mindset of so many cultures around the world. It means starting from birth, giving women the same autonomy to think, do, be that men have. It means that half of the world's population would not only have equal rights, but from the beginning, be able to reach and expand in ways that are absolutely limited now.
Find Mz. Kim on Twitter at @MzKimAP and on her website MzKim.com.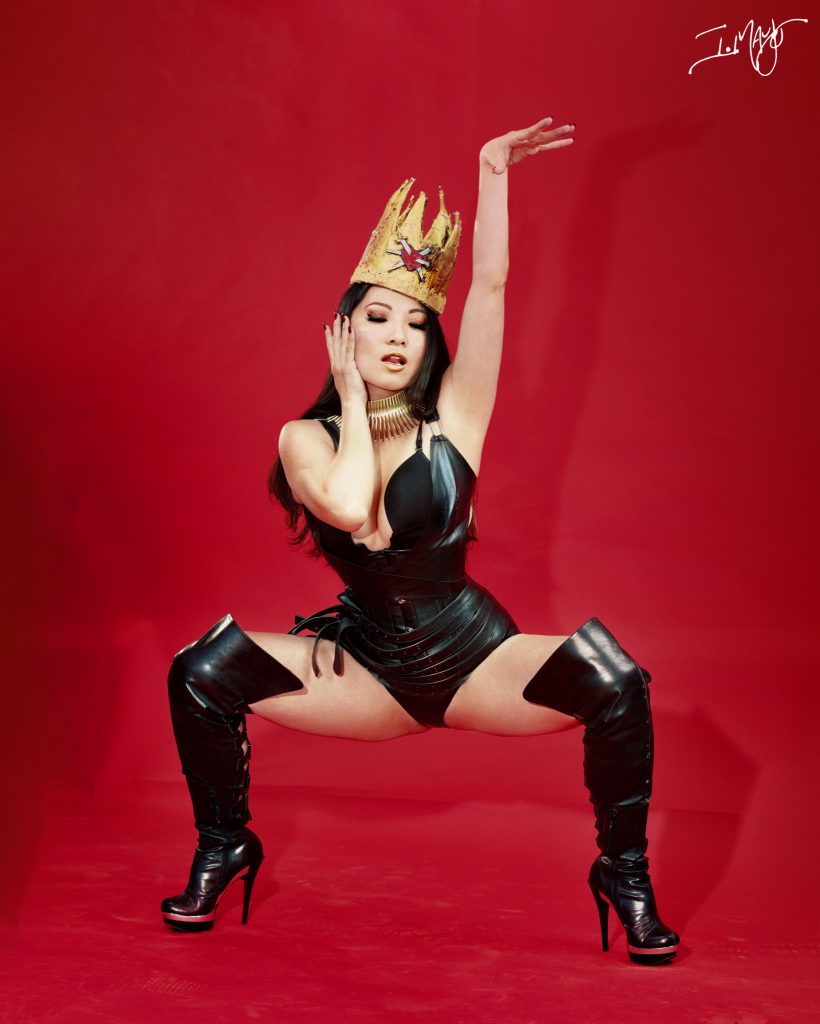 —
Erika is a sex positive people watcher (and writer). Email her at erika@ynotcam.com.