If you want to support black-owned businesses and entrepreneurs, you're in luck!
We found five black-owned online stores that are very relevant to the cam workspace in terms of clothing, toys and cosmetics. Need some "props" or lingerie? We've got you covered.
Lingerie from Size 0-2x — SUZY BLACK NYC
Suzy Black NYC is a New York City and online-based lingerie shop. Inspired by her mother's natural feminine flair growing up, shop owner Diondra Julian launched the store with an emphasis on very sexy, elegant and feminine clothing. Plus, most of Suzy Black's products fall between sizes 0 and 2x.
There are a ton of options to choose from at this shop, from traditional lingerie to robes to unique lacey pants and tops. Most of Julian's designs are lace-based, but many of these designs can certainly fit a wide range of aesthetics.
Kinky BDSM Gear — Overkink
Overkink boasts a pretty wide range of products in the sex toy industry, but the brand specifically focuses on fetish and gender expression products. Overkink also carries unisex lingerie and men's briefs, which can be difficult to find.
Launched by Jaycee Chestier in an attempt to help normalize positive sex in the black community, this shop has quite a diverse range of products for just about any need. Dildos, vibes, fetish gears, lingerie, lubes — you name it, Overkink probably has it in stock. They also stock popular brand-name products like Magic Wang and Lelo.
One awesome thing about Overkink is its loyalty program. "OK Points" can be saved up with every order and used for future purchases. If you've ever shopped for a sex toy, you know that (sadly) loyalty programs are few and far between.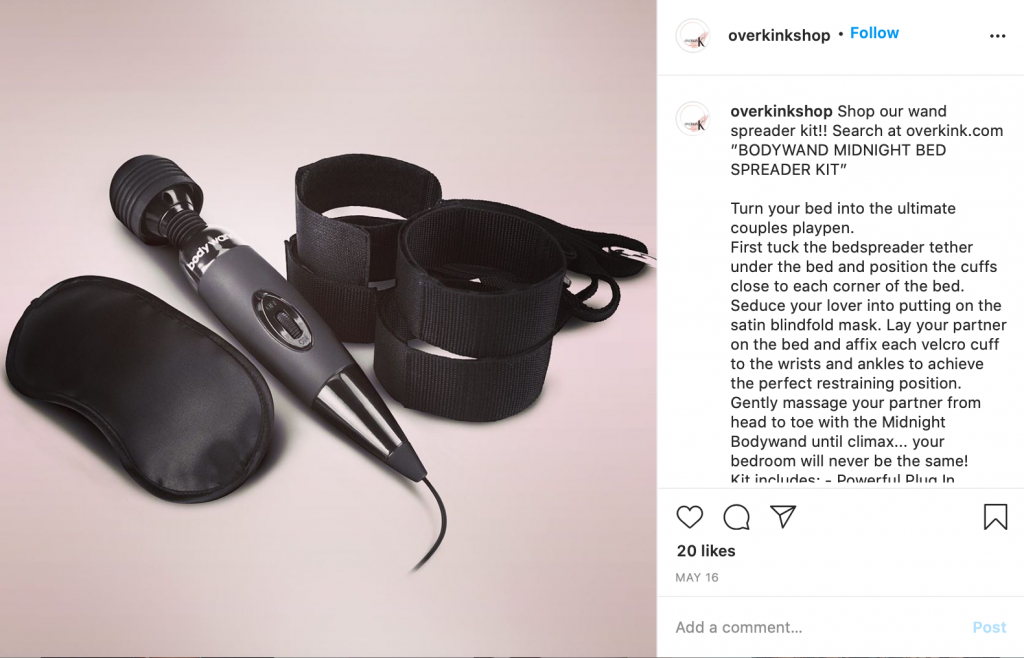 Costumes and Outfits — O'Dolly Dearest
Are you more interested in dressing up in sexy outfits instead of wearing lingerie during your broadcasts? O'Dolly Dearest is one black-owned company that has some very sensual, well-made clothing. This brand mostly sells tops, bottoms, dresses and sets. Not only are many of this brand's pieces extremely affordable, but they're unabashedly sexy as well. We're personally loving the iconic Flirtini Dress and the Denim Diva matching set.
Founder Zoe Martin based many of her brand's designs on celebrity icons from the '90s/'00s in film and music. If you like feminine fashion with some nostalgic flair, give O'Dolly Dearest some support!
Sex Toys — Feelmore Adult Gallery
This Oakland-based sex shop is starting to gain some serious popularity. This likely has a lot to do with the wide range of sexual wellness products and toys that Feelmore sells for affordable prices. But it also has quite a bit to do with the joyful and hilarious online presence of the shop's owner, Nenna Joiner. Feelmore's blog is also a very informative hub for LGBTQ sex education and essays.
Joiner also takes an approach to selling sex gear that focuses on fighting the objectification and fetishization of black bodies.
"I think the black body, in general, has always been policed or highly laughed at if you will," Joiner said in an interview with Blavity, "One thing we do — so you look around at the product boxes in here and you won't see people on there. Here, you'll see the colors of the products, but most sex shops will have people on there. We take items out of those kinds of boxes, so you don't have this objectivity of body."
Cosmetics and Skincare – The Notorious Beauty
Whether you enjoy wearing makeup during streams or you want to make sure your skin is in tip-top shape, Notorious Beauty has some great boutique cosmetic products to try out. All of this brand's products are formulated in Canada with vegan, cruelty-free and paraben-free ingredients.
Notorious Beauty features a beautifully-packaged anti-aging skincare bundle complete with a day cream, eye cream, night cream, anti-aging serum and moisturizing cream. The brand also carries a gorgeous (and gorgeously priced) beauty kit with blush, eyeshadow and lipstick that will flatter any deep skin tone.
How was our list of black-owned businesses that cam models can support? If you know of some other black-owned online businesses that could use some support, drop those deets in the comments below.
—
Em Casalena is a queer sex positive writer and professional protective mom friend. Email them at em@ynotcam.com.
Background header image via Unsplash here. Screengrab by YNOT Cam.