The Black, Indigenous, and People of Color Adult Industry Collective (BIPOC-AIC) will be presenting a cybersecurity workshop led by performer and independent porn producer Daisy Ducati TODAY — August 13 AT 6 pm PST/9 pm EST. The workshop will focus on the needs of sex workers looking to learn how to improve their safety online.
Targeted online harassment has real, potentially negative impacts on the sex working community, which can threaten housing, interpersonal relationships, mental health and the ability to earn a living.
"It is important for sex workers to learn how to manage their privacy and security online because we are often targets of hacking attempts, doxxing and identity theft," Ducati stated in a press release.
Workshop attendees will come away with the skills to protect themselves from unwanted attacks online and also to protect their work from bad legislation. These skills will include using encrypted email, virtual private networks (VPN), navigating online communication and security. Ducati will also discuss SESTA/FOSTA, the EARNIT Act and how both of these pieces of legislation — currently in the case of SESTA/FOSTA and may in the case of the EARNIT Act — impact sex workers.
"As someone who personally experienced doxxing and harassment for working in the adult industry as a result of the insidious PornWikiLeaks debacle, I was elated Daisy offered to provide this peer-to-peer workshop," said Sinnamon Love, founder of the BIPOC-AIC.
"Teaching people to increase their bottom line does nothing if we can't arm them with the tools to keep them safe," Love added.
The BIPOC-AIC aims to financially empower adult performers, content creators and sex workers to earn more money, making them less susceptible to unfair business practices.
Register for the workshop via Eventbrite here.
Ducati's cybersecurity training workshop is only one of several events that the BIPOC-AIC has planned or has held recently.
On Tuesday August 11, Ana Foxxx co-hosted an OnlyFans training event with Johnny Castle (though this was listed as not being a BIPOC-AIC event). On Wednesdays, the BIPOC-AIC sponsors a yoga series, and there is a Workplace Support Circle coming in September.
"As with all of our workshops, BIPOC performers and sex workers are free to attend. Allies are welcome to join by purchasing a donation-based ticket which benefits our mutual aid fund and helps us run our programs," Love wrote in an informative email marketing message.
For more information about the group and upcoming events, visit bipoc-collective.org.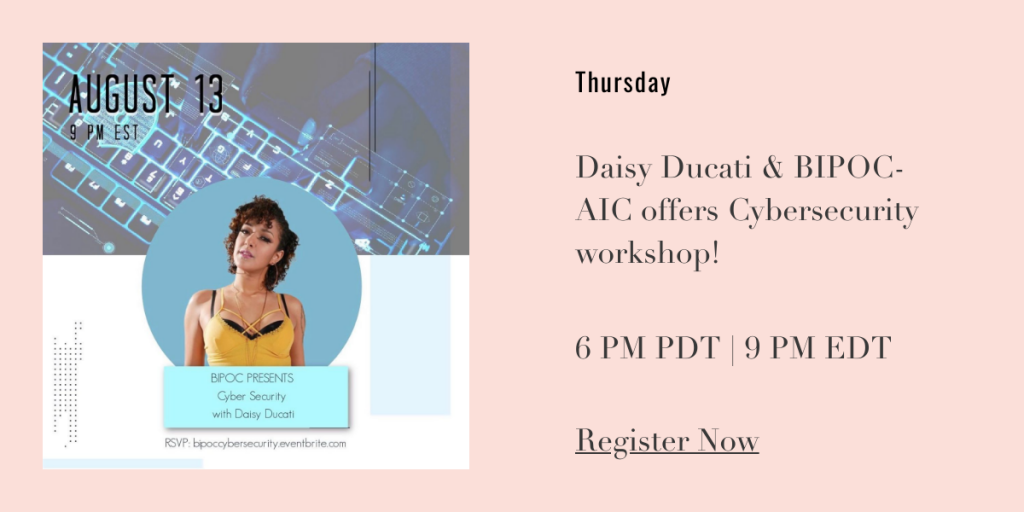 —
Erika is a sex positive people watcher (and writer). Email her at erika@ynotcam.com.