There's all kinds of premium content and fan club sites out there — and more and more, content creators of all types seem to have their pick of places to go to share their content and run their businesses on their own terms.
We recently received an update from Loyalfans.com, a site that "prides itself on transparency, inclusivity, authenticity, and stability." These sound like good things. The platform offers 80% payouts across the board, with optional rev shares available, and is "committed to not putting limitations on earning potential." These also sound like good things.
Here's what they had to say:
Loyalfans.com recently debuted several new live stream features on their site. Per press material, these features will "enhance creators' and fans' experiences alike, giving creators more opportunity for inspired ingenuity and allowing fans to have even more personalized, unique experiences with their favorite creators."
New features include the ability to control who views a live stream. Creators can now set their live streams to paid subscribers only, followers and subscribers, or public. With the public setting, anyone can view the stream.
In addition, creators can now opt to record their live streams — and the ability to record private streams is coming soon. Loyalfans creators can also restream directly to social media platforms, including Twitter and Twitch, as well as to any platform that uses Periscope. The live-to-social restreaming function works directly with the platform's public live stream setting.
"We are thrilled to debut these new live stream functions on Loyalfans," said Loyalfans' co-founder Eduard A. Braileanu. "The possibilities for creative fan engagement are expanding by the day on our platform, and we can't wait to see what our amazing artists come up with."
Worth a look!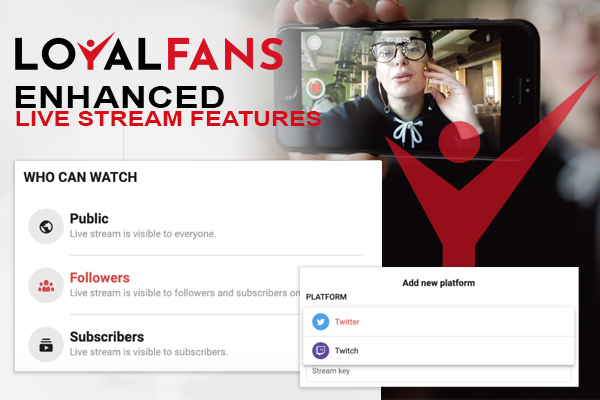 —
Erika is a sex positive people watcher (and writer). Email her at erika@ynotcam.com.