Many people who deal with chronic illnesses have found online sex work to be a suitable career choice. Some of us might make this decision intentionally while some, like me, found sex work a compatible choice after gaining some experience beforehand.
My struggle with depression and anxiety has lasted for several years and has really shown that some career choices are not quite compatible with me — but online sex work has turned out to be a good fit. For this article, I want to focus on the experiences of my fellow sex workers who struggle with various chronic illnesses – both mental and physical.
Editor's Note: The information in this article comes from personal experiences shared generously by community members and peers. These insights are wonderfully powerful, however they should not be construed as advice from health professionals. Always consult with your doctor or other qualified professional.
Dealing with Different Chronic Illnesses as a Sex Worker
One of the first people I talked to was a cam model Emilia Song who has struggled with psychological and neurological issues for most of her life.
"I had a brain tumor when I was a child," she shared. "It was successfully removed, but it did leave me with nerve damage in my face, developmental issues with my sinuses, anxiety, and, over a decade later, seizures. That, combined with ADHD since grade school and clinical depression since high school, has made keeping a normal job extremely difficult."
For Song, online sex work has given the ability to set her own schedule and take time off or reduce her services when needed with no penalty.
"My brain isn't built for today's mainstream work culture, and through sex work, I've been able to adapt the way that I live to better suit my skills and weaknesses," she added.
Sensual pleasures are like soap bubbles, sparkling, effervescent. ✨The pleasures of intellect are calm, beautiful, sublime, ever enduring and climbing upward to the borders of the unseen world. ~John H Aughey 🧜‍♀️ #bubbles #mermaid pic.twitter.com/k9cV3QrX6R

— Emilia Song 🏳️‍🌈 (@TheEmiliaSong) November 16, 2020
Virtual dominatrix and cam model Lady Lydia Darling shared her experiences dealing with endometriosis, chronic fatigue and subsequent depression.
"Flexibility is huge. While I can try to anticipate when things will get bad, it's not always predictable. Being able to move my schedule around as needed has been amazing compared to the anxiety of having to miss days and possibly be let go at a vanilla job," Darling said.
Feeling cute & mean tonight
➡️https://t.co/FCZa0qaT2Z pic.twitter.com/DXs4tIr20X

— 𝓛𝓪𝓭𝔂 𝓛𝔂𝓭𝓲𝓪 🎃🖤 (@Deviantxdarling) November 16, 2020
Clip creator Gem Stoned shared her experiences with chronic Post Traumatic Stress Disorder (PTSD) that affects her mentally, emotionally and physically.
"Sex work has really been a game changer for me," Stoned said. "I set my own schedule and am in charge of my own deadlines, so if I happen to get triggered and have an episode, I don't have to come up with a legitimate excuse to call out of work for or even miss work. I can just give myself time to experience the episode and then get back to my project or stream at a later time or finish editing when I'm feeling better."
So my phone makes little sideshow type videos from my albums out of photos & videos taken on the same day or with similar content. Today's video is made from some throwbacks and named Food Story. Lol. I guess weed is food now. pic.twitter.com/fh4xIHkB0g

— Gem Stoned 💎 Links.stonedcryptoslut.com (@Gem_Stoned) November 17, 2020
How To Deal with Chronic Illness in Sex Work
Since it isn't uncommon to deal with chronic illness in the adult industry, I asked Song, Darling and Stoned what kind of advice they would give to other online sex workers struggling with the same or similar conditions.
"For those dealing with mental illness, finding healthy ways to cope and heal takes time," Song said. "Be patient with yourself. Walking the path towards a happier life comes with a lot of trips and stumbles. Forgive yourself when you fuck up, and use your freedom to your advantage."
Darling added that, "It can be incredibly isolating dealing with chronic pain and mental health issues. Know that you're not alone and if you're struggling, online support groups can be so helpful. Being able to openly talk with others experiencing the same issues and having a supportive environment free from judgement really helped me a lot. Also, be patient with yourself — it's okay to not be okay all the time."
Stoned had some advice more specific to other sex workers who are suffering from PTSD.
"First, be easy on yourself, our nervous system is already so mean to us. Second, learn meditation and yoga and make it into a daily practice," she said. "Third, share whatever you're comfortable sharing with your following. Sharing my healing journey publicly has been intense, but I've gained a lot of amazing connections both with co-workers and extremely supportive members that I don't think I'd have if I hadn't been open and honest with my health journey."
A Few Tips from Me
Before ending the article, I wanted to share a couple of my own tips I found useful while dealing with depression and anxiety.
Set up a bullet journal. With a bullet journal, you can track your progress and remember things you might usually forget. Besides — when your depressed mind tries to tell you that you are lazy and useless, you can look back at the tasks you completed that day and prove it wrong! Learn more about bullet journaling here.
Consider setting a minimum number of tasks that you want to complete for the day. When I just started using this method, I had set a minimum of three tasks a day for myself. It might not seem like a lot, but remember that consistent actions make up great results.
Schedule time off. Although this tip is useful for every human being, it is even more important when you are struggling with a chronic illness. Time off is very important to avoid a burnout and maintain consistency.
I truly hope that this article made you feel a little less alone in your challenging sex work journey. Don't be afraid to reach out to look for support, whether it is inside or outside of the adult industry.
Via Instagram: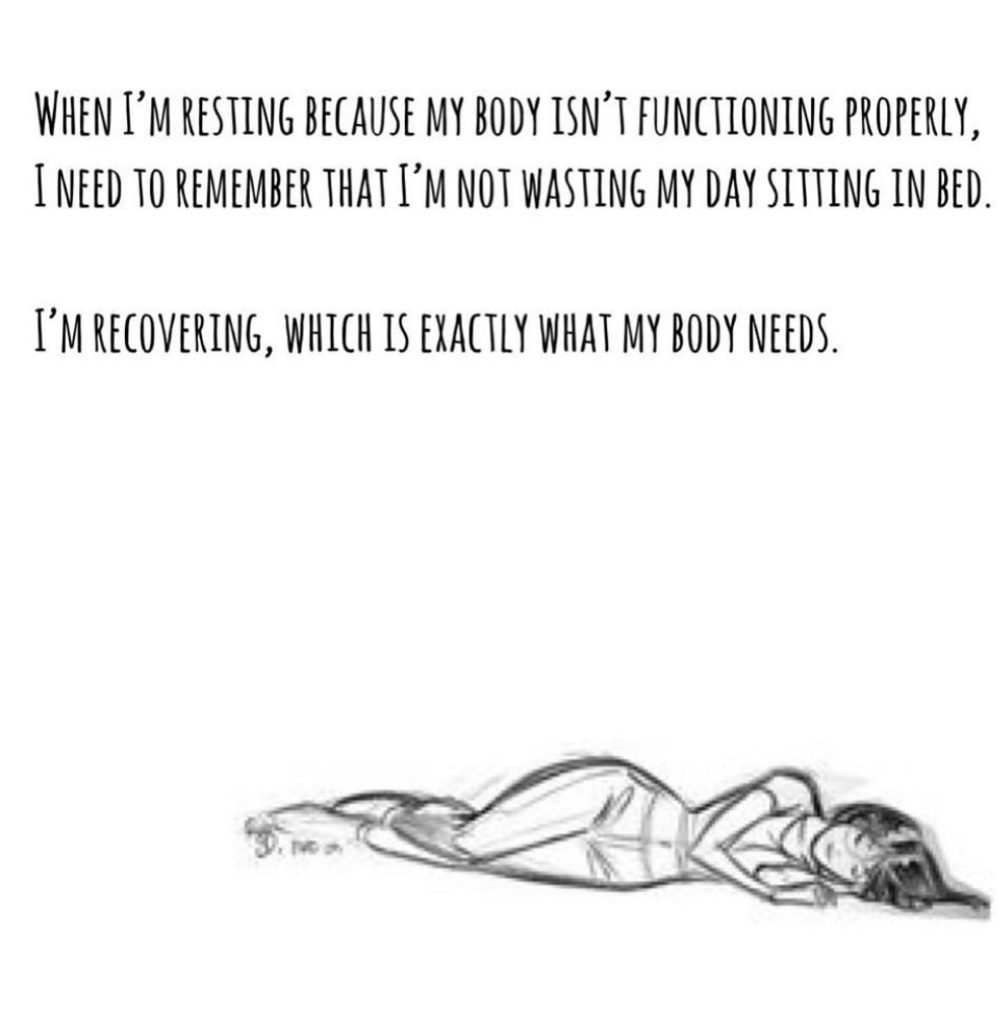 —
Alison Sparks is a solo adult content creator and writer. Find her on Twitter at @itsalisonsparks and email her via alison@ynotcam.com.
Background header image via Pexels here.