It's happening! This week! The YNOT Summit 2.0!
The second all-virtual YNOT Summit will run from December 1 through 3 and registration is *still* FREE. Read on for more details, including who's speaking and what they will be talking about.
—
YNOT Events recently announced additional details concerning the upcoming virtual YNOT Summit, which will kick off on Tuesday, December 1 and culminate with the 10th Annual YNOT Awards on Thursday, December 3.
"We're very excited about YNOT Summit and working hard to put together an even better event than we had in July," said YNOT co-owner Jay Kopita. "I strongly encourage everyone in the industry who can make it to register and attend, because this is going to be seriously informative, valuable – and a hell of a lot of fun, too."
As with the first virtual YNOT Summit in July, the seminars are divided into two categories, the "Webmaster Track" and the "Model Track," with the webmaster track offering topics of interest to business executives, website developers, marketers and affiliates, while the model track addresses subjects pertinent to webcam broadcasters, adult video performers, clips models and industry talent.
On the YNOT Summit website, the seminar schedule can be viewed in the order they occur or can be sorted by track. (Summit attendees, of course, are free to attend sessions from both tracks as they see fit.)
While some details are still to be determined and additional speakers and moderators may be added between now and the start of the Summit, the basic schedule is set. Each of the event's three days will feature informative sessions covering a wide range of topics, from affiliate marketing basics and advice on incorporating sexy cosplay in cam shows, to informative updates on legal issues impacting the adult industry and platform-specific advice for cam performers on generating fan engagement and revenue.
The YNOT Summit will feature an impressive and highly experienced slate of speakers, including popular performers, model advocates, executives from leading companies, publicists, producers, attorneys and developers.
"I'm extremely proud of the list of adult industry luminaries we've assembled for the second virtual YNOT Summit," said YNOT co-owner Connor Young. "I can't thank our panelists and speakers enough for offering their time, expertise and feedback. We got rave reviews from attendees of the July event for the informative and useful seminars and presentations and we're aiming to set the bar even higher in round two."
On the night of December 2, the Summit's second day, Adult Time will hold a screening of Sweet, Sweet Sally Mae, with the film's director and lead actress attending to conduct a Q&A session after the screening. Kopita said further details of the screening will soon be listed on the YNOT Summit schedule.
The YNOT Summit will close on the night of December 3 with the 10th Annual YNOT Awards, which will be held as a virtual event for the first time in the show's history. The full list of nominees is available on the YNOT Awards website. The voting period for the awards closed on November 25.
Registration for the YNOT Summit is now open. The event is free to attend for all qualified industry participants and closed to the public.
Companies interested in exhibiting at YNOT Summit or sponsoring the event can contact jay@ynoteventsllc.com for details. Those interested in speaking or moderating seminars should contact Kopita, as well.
As with the July Summit, the presenting sponsor for YNOT's second virtual gathering is Chaturbate. The event's other sponsors are Clickadu, Paxum, Imlive, iWantClips.com, StripChat, TopOffers, Gaming Adult, MojoHost, Plexstorm, ePayService, BongaCams, JuicyAds and Sex.cam.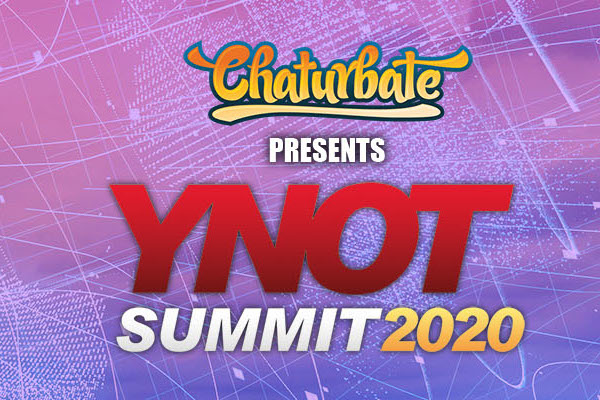 —
Erika is a sex positive people watcher (and writer). Email her at erika@ynotcam.com.