Carmela Clutch has been working in adult entertainment for less than a year – but she's already had a significant impact.
According to her press material, Clutch is "definitely leaving her mark with her exotic look, bodacious booty, and flexibility." Also, she's being called the "Queen of Sweaty Sex."
Clutch has made great strides in the past year, especially considering she began her career in what was arguably one of the most challenging times in history – both for the industry and wider society. Read on for a little bit of insight about this griping, compelling woman.
—
YNOT Cam: What prompted you to start your career in the adult industry?
Carmela Clutch: Funny enough, the opportunity kind of fell into my lap. At the time, I was getting ready to leave to the Peace Corps when my trip was suddenly canceled. I remember not wanting to go back to working for an employer at an average 9 to 5.
After shooting for FREAKMOB and creating content with some Miami talent, I realized I loved the freedom of making my own schedule and being my own boss. Plus, this career combines my love of seduction and creativity with my background in marketing and branding. I've also had the opportunity to work with some truly amazing, talented, like-minded individuals, which is always a nice perk!
Did you have an idea of what you wanted to do when you first started? 
Not really… I knew some of the things that I was into and some of the types of scenes I wanted to try. I wasn't exactly sure how fans or companies would perceive me, which that's a big factor when you're branding yourself and promoting your scenes. For example, I had no idea that people would want to see me as a stepmom, MILF or dominating character — I usually have a very laidback, energetic and submissive demeanor in real life.
But after speaking with some of my fans, I can definitely see where they're coming from — I know I can be spicy sometimes — so I look forward to playing more of those roles, even though I didn't initially see myself in them.
Has anything been challenging or difficult so far? 
It's been a little challenging getting companies to book me as an independent performer.
Since being in the industry, what moment or experience sticks out to you the most? 
So far, I'd have to say self-booking my first major company shoot. Securing those scenes and getting positive feedback was really the first time that I felt like the industry was starting to take notice of all the hard work I have been pouring into this. This is my passion and my dream. I'm pursuing it with everything I have, so it was nice to feel like people are starting to notice.
Join us for brunch!
Go follow my sexy Besty's @alicevisby@littlebbaseXXX #girls #brunch #miami #miamigirls pic.twitter.com/MicPv1YUA0

— ᥴꪖ𝕣 ꪑꫀꪶꪖ 🅲🅻🆄🆃🅲🅷 ✈️MIAMI 6/22-6/27 (@Carmela_Clutch) January 2, 2021
Have you been received well by others in the industry? 
I feel like I have been. It's amazing to feel like part of this beautiful industry with all these like-minded creatives.
When you're not working, what do you like to do? 
I'm pretty boring. I'm a bit of a homebody. I like to read and learn new fun facts, journal, paint, sing, do yoga, jog, hiking and catch up with old friends. My favorite this is traveling. I'm not really into going to nightclubs or stuff like that, especially these days with social distancing.
How do you balance your work and personal life? 
Just like everybody else: I don't! By that I mean, it's really difficult and I often find it to be a struggle. But luckily the majority of my friends understand how crazy and busy my lifestyle has become. We catch up when we catch up, and it's like no time has passed at all.
Find Carmela Clutch on Twitter at @Carmela_Clutch.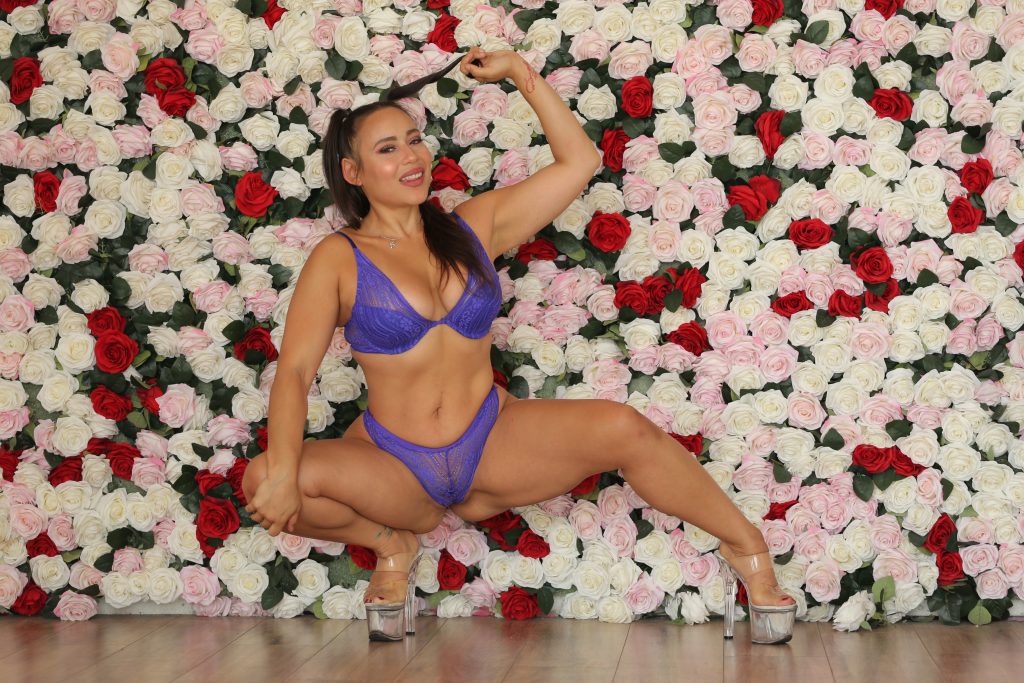 —
Erika is a sex positive people watcher (and writer). Email her at erika@ynotcam.com.