It seems like every single day I read something new about how shitty OnlyFans is — the site's down, no response from support, catfishing profiles left up for seven months or just plain ol' account deactivation for no apparent reason. All these, among many other things.
Though the platform has demonstrated x-strapping at its "finest"/worst, the fact remains that OnlyFans has a level of brand recognition that other fan sites do not — thanks mainstream celebs! This renders it some sort of necessary evil that many people choose and/or feel compelled for various reasons to utilize. No judgement!
With the onerous beast that's today's OnlyFans in mind, we recently received some information about a site/service called OnlyLineup. According to a rep, OnlyLineup.com was:
[C]reated to give content creators on OnlyFans a boost in promotion. It allows content creators to list their profile and add links to their social media channels. Users then visit the site and find new models to follow, support and subscribe to.

The service is completely free to use for both users and content creators. There is no referral or affiliate scheme in place, and we also have a better build and more features coming!
Sounds interesting…
The correspondence from OnlyLineup is reposted in full below after the Vixen Temple grab. Maybe it's a helpful service worth checking out?
Author's Note: FYI, "x-strapping" is something I've written about before. It's a term that ties in with the word "bootstrapping." Bootstrapping refers to making due and getting oneself — or, one's platform or services — off the ground using existing, minimal resources within sub-optimal conditions.
X-strapping is like bootstrapping, but using sex workers and sex media to "make due." X-strapping was done by Patreon, Tumblr and PayPal — and also OnlyFans.
Insta grab from VixenTempleBlog taken by YNOT Cam on January 22, 2021.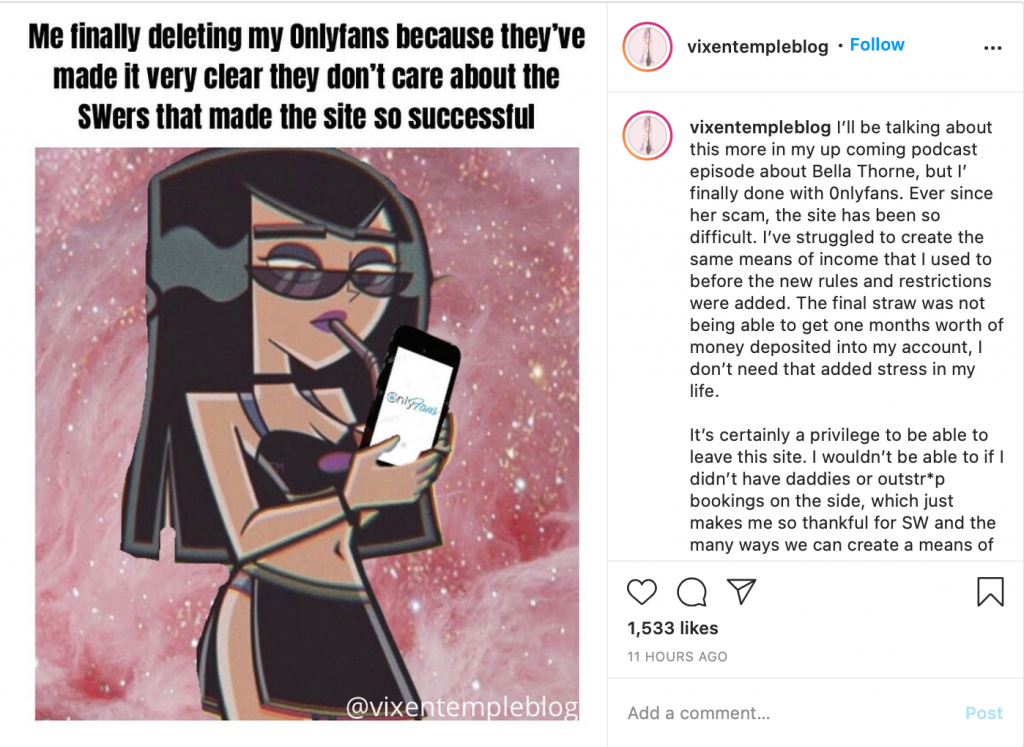 Join the Only Lineup
OnlyFans has become one of the biggest and most talked-about platforms in the industry. Although the platform only launched in 2016, the unique concept led to enormous success that can now boast of having more than 750,000 registered content creators and hundreds to thousands more joining each month.
But what makes the subscription site so popular?
With many of the content creators being models that never would have entered the industry elsewhere, OnlyFans has undoubtedly created a comfort zone for those that once considered the industry taboo. Not to mention, when you have encouraging shout outs from influencing megastars such as Beyonce, it feels and is looked at as more acceptable to join in such a way that OF offer it.
Can anybody make money on OnlyFans?
Many models are clearly jumping onto the ever-growing platform with the mindset that it's a "get rich quick scheme" however, that's not the case. Despite elite models claiming to make hundreds of thousands and even millions on the mega-site, it's unblinded, not the case for everyone or even the majority.
It's more likely that only a small percentage of OnlyFans girls actually make "living money" on there, or any money, to say the least, and that's where onlylineup.com comes in.
The issue is that if you dive in without any personal social media following or fan base, and you lack the knowledge and expertise to build one, then you're unable to make money on OnlyFans. Why? Because OnlyFans are unlikely to promote you personally, they have no list of the content creators on their platform because the concept works that you bring your own fans.
What does Onlylineup.com offer?
Until now, the primary and most popular method of building a fan base would be to hit social media, specifically Twitter and Instagram, and begin your journey. This isn't a bad method; in fact, we promote that method, but it can be a very time-consuming method on its own, and if you don't have patience, you're unlikely to succeed in this game.
Onlylineup.com has sped the process of creating what it takes to be a successful OnlyFans model by creating a completely free to use platform for everyone on OnlyFans.com.
Our platform allows content creators to advertise their OnlyFans profile and be seen in front of thousands of users looking for new models to subscribe to.
We are the first and only, OnlyFans catalog of our sort. While amateur models are listed alongside some of the most elite models such as Jem Wolfie, everybody is given an equal opportunity to jump in front of the spotlight.
How do I get listed on Onlylineup.com?
Whether you're a new model that wants to accelerate on your journey and arrive at the money faster, or you're an established model that wants to continue building your followers and fans, Onlylineup.com is a no brainer. With nothing to lose, you can only gain by using our free service.
Get your free, OnlyFans promotion by joining the lineup today.
—
Erika is a sex positive people watcher (and writer). Email her at erika@ynotcam.com. Header image screen grab taken by YNOT Cam on January 22, 2021.